21 Other Exciting Things Apple Announced at WWDC 2023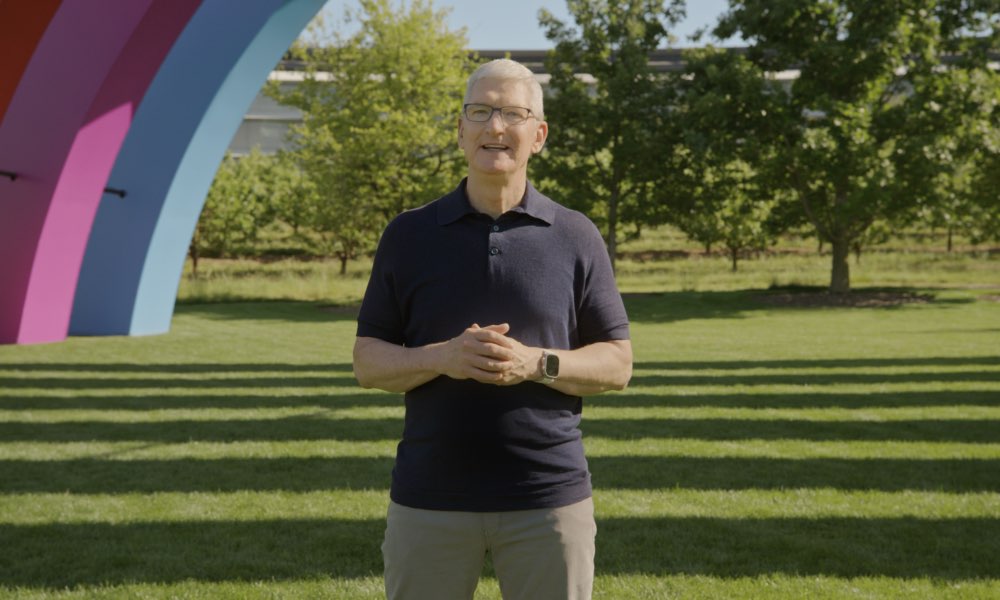 Today marks the beginning of a new era in consumer technology with Apple's unveiling of the Apple Vision Pro — a revolutionary mixed-reality headset that stands to usher in the next generation of computing. While it's a first-generation product that carries a whopping $3,500 price tag and won't be available until next year, it stands to change the way we interact with technology much like the first iPhone did sixteen years ago.
Needless to say, the Vision Pro easily overshadowed everything else at this year's Worldwide Developers Conference (WWDC) keynote, to the point where it's easy to forget everything else that Apple revealed today, from new Macs to the next generation of its mobile operating systems.
In fact, while the Vision Pro took the lion's share of the presentation, it still only accounted for 45 minutes of the full WWDC keynote, which ran over the two-hour mark. Although we'll have more to say about the specifics, here's the highlight of everything else Apple showed off during today's WWDC keynote.
---
The 15-inch MacBook Air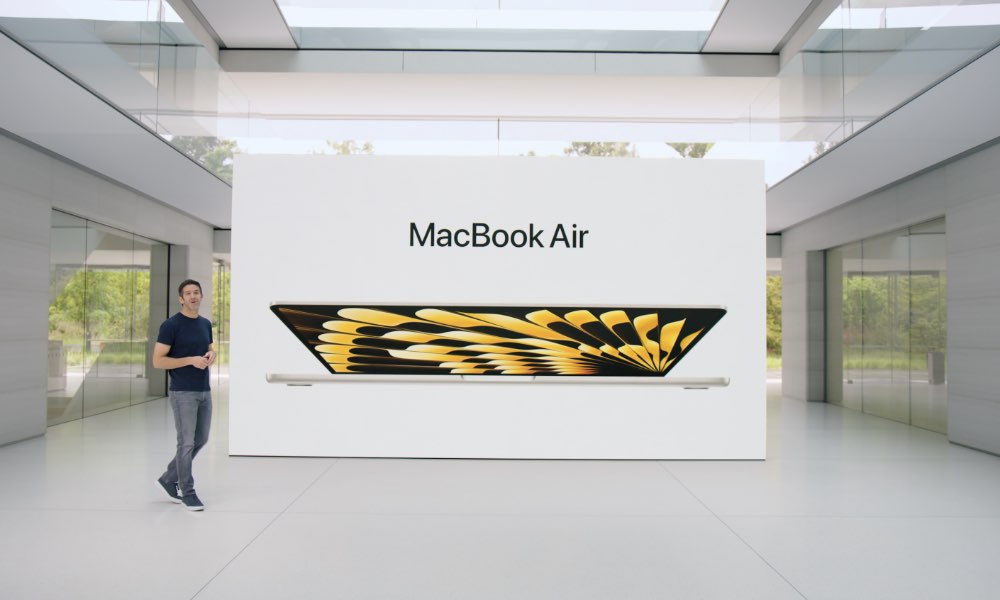 After months of rumors, the arrival of a 15-inch MacBook Air didn't come as a huge surprise, and the specs are pretty much what we expected. Apple's Senior VP of Hardware Engineering, John Ternus, described it as "another product made possible by Apple silicon," which is understandably true since it manages to deliver incredible horsepower and a larger screen while staying true to the quiet fanless design of the original M1 MacBook Air.
Apple product design VP Kate Bergeron described it as the thinnest 15-inch laptop on the market, at only 11.5mm thick and weighing in at 3.3 pounds. Despite that, it delivers performance that's 12 times faster than the last Intel-based MacBook Air, plus 18 hours of battery life, a 15.3-inch Liquid Retina display with a slim 5mm bezel, and all the other features of the 13-inch MacBook Air.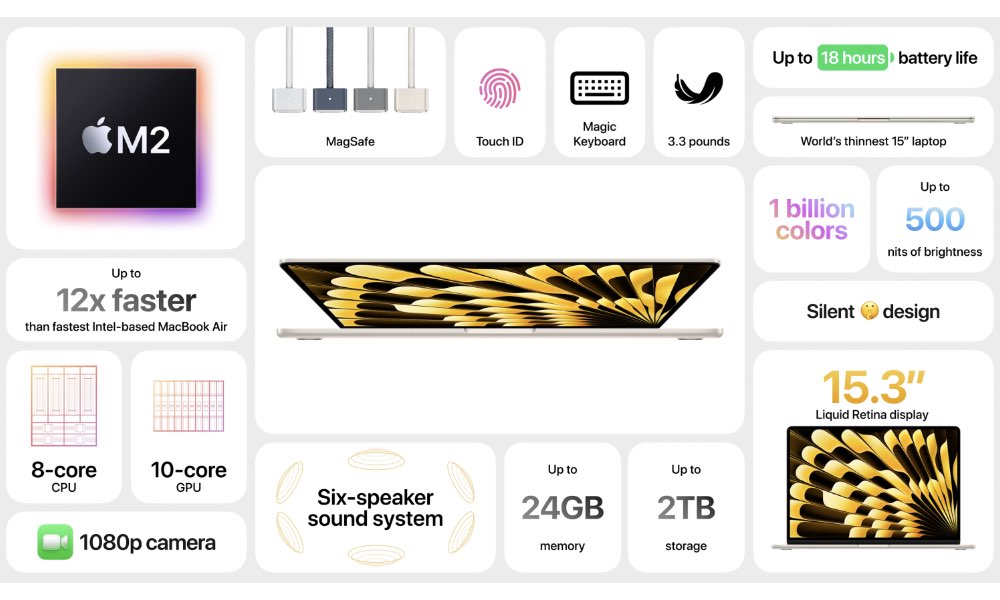 The best part is that it comes with a starting price of $1,299, and Apple is also dropping the 13-inch MacBook Pro to start at $1,099, and leaving the older M1 model on the market with a $999 price tag.
---
The M2 Ultra Mac Studio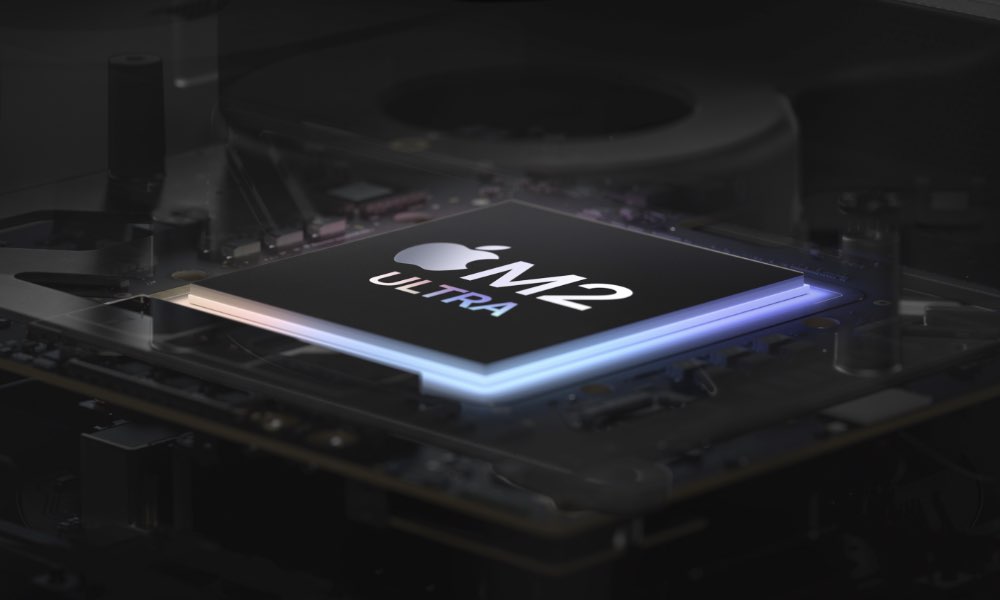 As expected, Apple is also giving its Mac Studio its first significant refresh with the latest M2-series Apple Silicon. While it debuted the M2 Max chip in last fall's MacBooks Pro, the early 2022 M1 Ultra hasn't seen its successor until now.
The new Mac Studio with an M2 Max gains 25% faster performance over last year's M1 Max model, which means 50% faster rendering in After Effects and four times the power of the most powerful Intel-based iMac.
The M2 Ultra Mac Studio naturally takes that to new heights by combining the power of two M2 Max, which gives it a 76-core GPU that's 30% faster and provides up to 192GB of unified memory.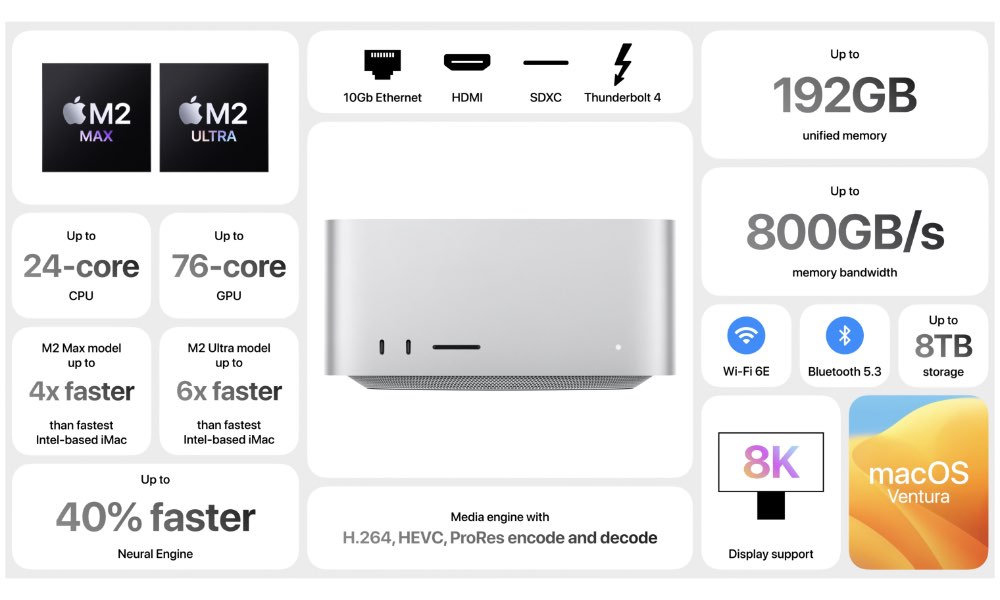 That puts it at 6x faster than the most powerful Intel-based Mac, and Apple notes that the M2 Ultra's media engine can now playback 22 streams of 8K ProRes video simultaneously and render graphics 3X faster in Octane X. This is accompanied by a higher-bandwidth HDMI port that enables 8K resolution with a 240Hz frame rate and supports six Pro Display XDRs, driving over 100 million pixels. The M2 Max Mac Studio starts at $1,999 and can be ordered today and will be in stores next week.
---
The Apple Silicon Mac Pro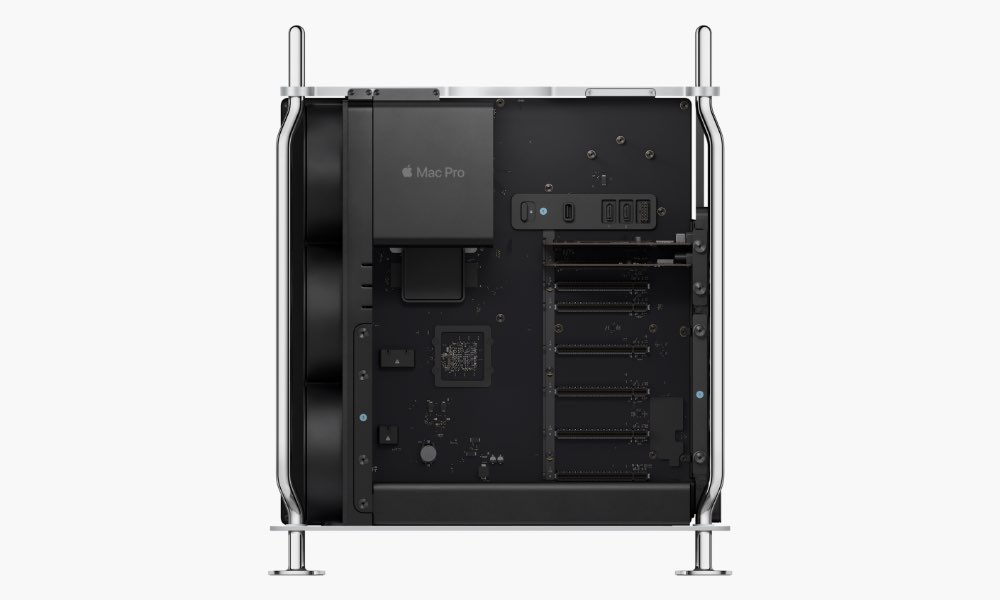 The M2 Ultra Mac Studio provided Apple with a nice segue into the last Mac to make the transition to Apple Silicon — the ultra-powerful Mac Pro.
Surprisingly, Apple hasn't cooked up an even higher-end chip for this. Instead, the Mac Pro packs in the same M2 Ultra chip as the Mac Studio, which means the same performance out of the box. However, as Engineering Program Management Director Jennifer Munn noted, some pro users need ultimate performance with room for internal PCI expansion — precisely the kind of market the Mac Pro has always served.
There's also no M2 Max option — every new Mac Pro will come with an M2 Ultra as the sole chip configuration. While the Intel Mac Pro required an Afterburner card to get the best graphics performance, the M2 Ultra delivers the performance equivalent of having seven Afterburner cards installed, with the ability to ingest 24 4K camera feeds and encode them to ProRes in real-time.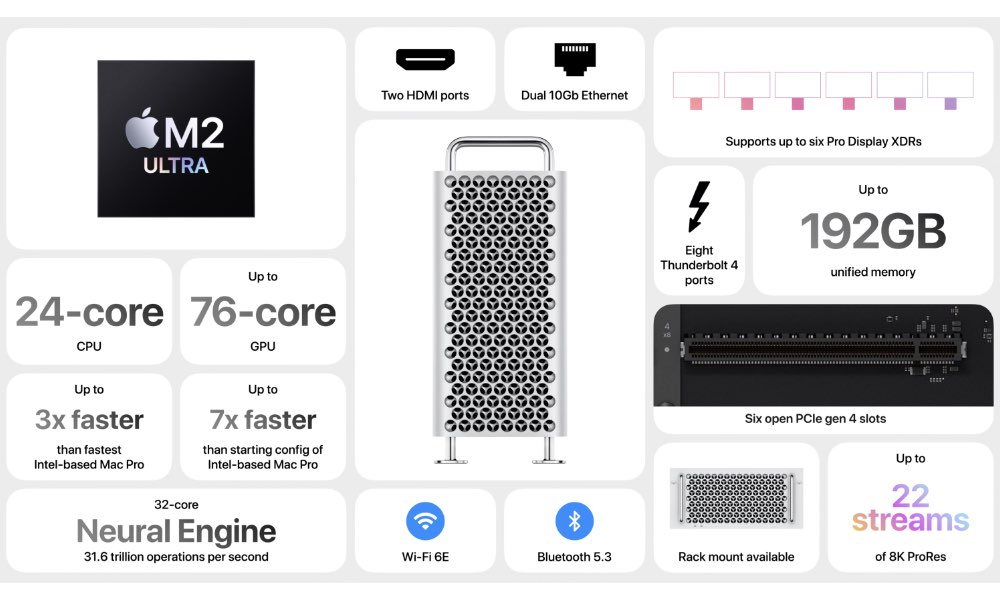 Despite reports over the years that Apple would go with a Mac Pro Cube style design, the new Mac Pro looks nearly identical visually to the 2019 Mac Pro — only the internals have changed for the sake of the new M2 Ultra. That's not surprising, as this one is all about providing room for expansion; there are six open PCI Gen 4 expansion slots inside, plus eight Thunderbolt ports — four more than the Intel Mac Pro. The new Mac Pro starts at $6,999 and can be ordered today and will be available next week.
---
iOS 17 Enhancements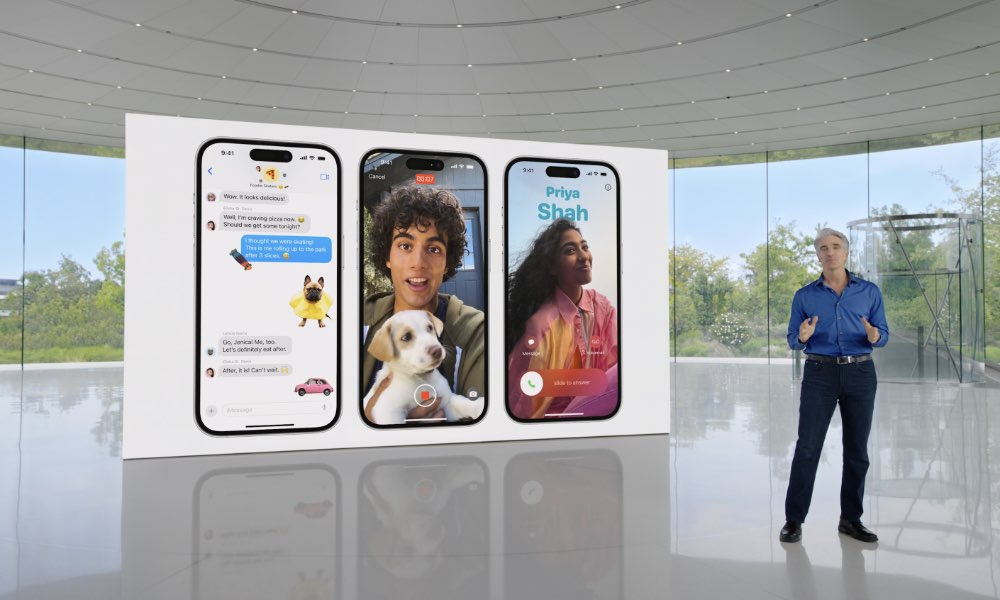 As expected, iOS 17 is less exciting than last year's iOS 16 release, and it looks even less so alongside everything else Apple announced today.
However, that doesn't mean there aren't some cool enhancements coming in this year's iPhone software release. Apple's Senior VP of Software Engineering, Craig Frederighi, said that Apple focused this year on delivering more expressive communication, simplified sharing, more intelligent input, and some new experiences.
This includes significant updates to the Phone, FaceTime, and Messages experience, with personalized contact posters that will let you choose how you're represented when you call someone. This appears as part of your contact card and can be customized in a manner similar to personalizing your Lock Screen. You'll also be able to quickly exchange it with other iPhone users you meet using a new NameDrop feature, an extension of AirDrop designed to share your contact card by bringing two iPhones close to each other.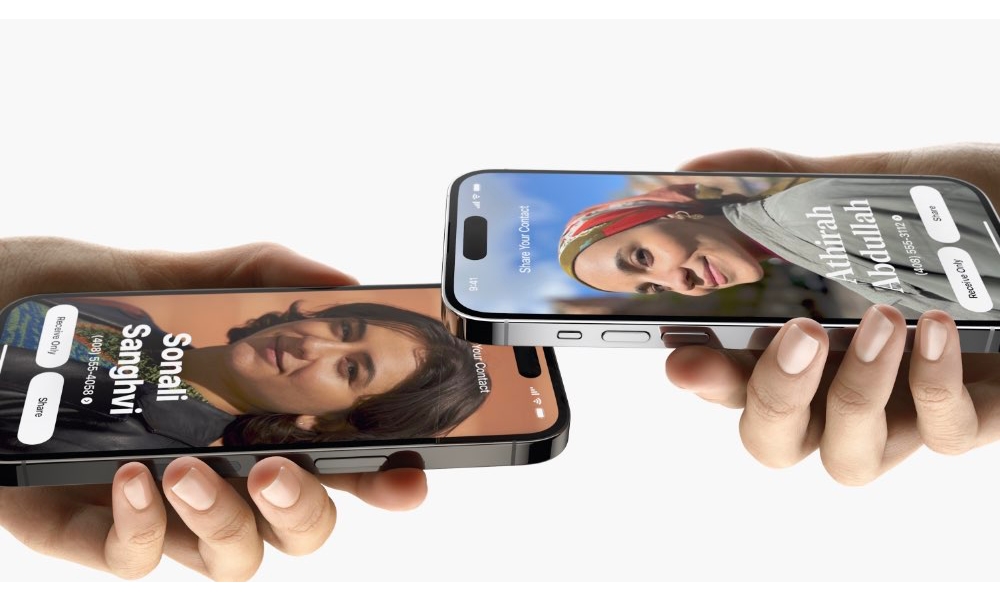 The Phone app is also gaining Live Voicemail capabilities, so you can see the transcription of someone's voicemail on your Lock Screen as they leave you a message and then decide whether you want to pick up the call. FaceTime callers will also be able to leave a video message when a call is unanswered.
Messages is also getting a ton of enhancements, with improved search and some new UI improvements, and significant advances in Stickers that will let you turn lifted portions of photos and even Live Photos into stickers.
---
Standby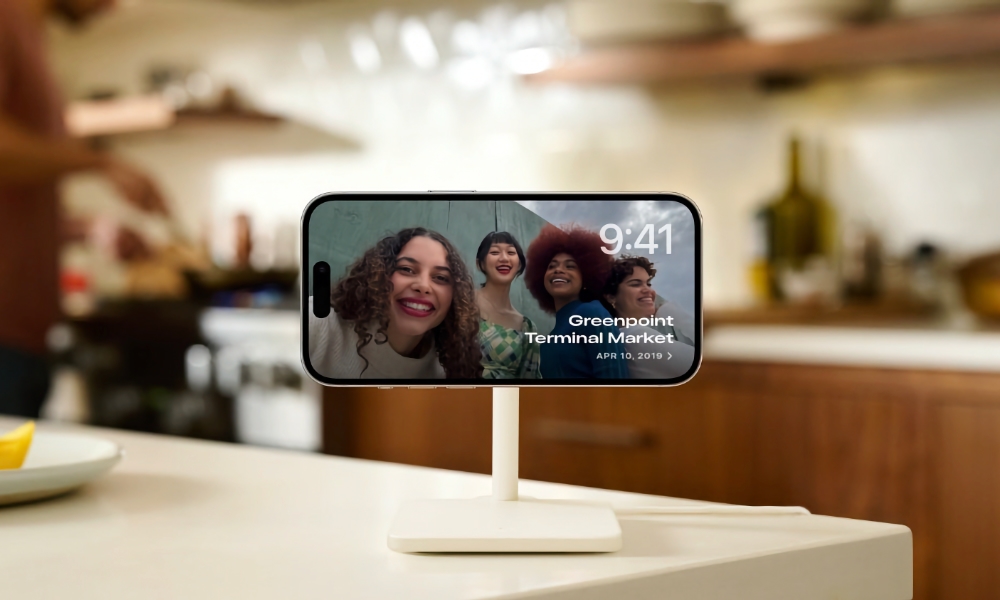 With iOS 17, you'll be able to turn your iPhone into a smart display by placing it on a MagSafe charger in landscape orientation. This will bring up a full-screen experience with glanceable info that's sort of like the Apple Watch Nightstand view but way more powerful.
There's support for widgets to show rich information, with Smart Stacks that work like they do on the Home Screen to surface the most relevant info at the right times. Live Activities are also supported so you can see game scores or the status of a food delivery order. You can swipe up and down to change clock styles or swipe right to bring up a photo album, and the iPhone will automatically go into a low-light mode at night when you're sleeping.
What's even cooler is that your iPhone will be able to identify which MagSafe charger it's docked with, so you can have different standby screen configurations in different rooms.
---
Journal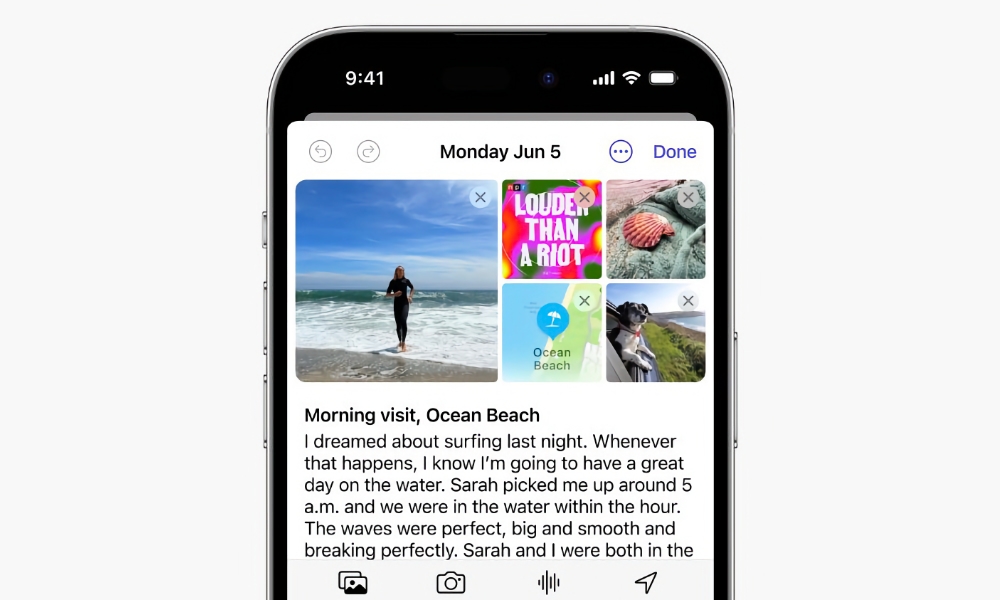 Apple also announced its "Journal" app that we heard rumors of in April. It won't be part of iOS 17 specifically, but rather a standalone app coming later this year.
Journal will use on-device machine learning to develop personal suggestions based on your daily and weekly routines. For instance, it can curate data from the photos you take, the music you listen to, the workouts you perform, and more to provide prompts to encourage you to make personalized journal entries.
Everything is kept private on the device, and of course, these prompts are merely suggestions — it's ultimately up to you when and how much you journal your thoughts, but as Adeeti Ullal, Apple's Senior Manager of Sensing and Connectivity, put it, journalling is "a great way to practice gratitude and has been shown to improve your well-being."
---
Addressing Mental Health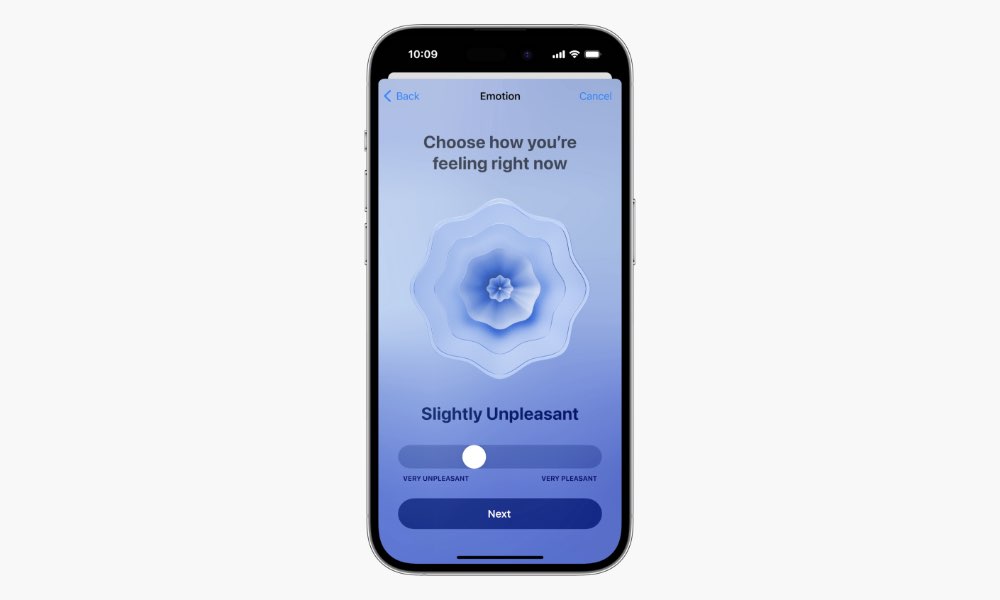 While Journal is a more subtle approach to mental health, Apple will also offer more direct ways to help folks manage their mental health in the Health app.
Dr. Sumbul Ahmad Desai, Apple's VP of Health, explained that watchOS 10 and iOS 17 will allow users to log their emotions and state of mind in the appropriate apps, which will then allow them to view insights into how things like mindful minutes, exercise, and sleep play a role in their moods and overall mental health.
The Health app will also provide standardized assessments where users can answer questions about how they're feeling and see any risk factors for depression and anxiety. Helpful articles and resources will be provided in the Health app, and a report can be compiled to be voluntarily shared with a healthcare provider.
---
Improving Vision Health
Dr. Desai also shared how Apple is offering ways to address vision health in iOS 17 and watchOS 10, with new features that will help reduce the risk of developing myopia, particularly in children, by measuring exposure to daylight and viewing distance from the screen.
An Apple Watch running watchOS 10 will be able to measure the amount of time a child spends in daylight, which can even be done from a standalone Apple Watch using the Family Setup feature, and shared with parents or caregivers via health sharing.
iPhones and iPads equipped with a TrueDepth camera can also measure if the user is holding the screen too close for an extended period, prompting them to change the viewing distance to reduce eye strain and the risk of other vision problems.
---
Interactive Widgets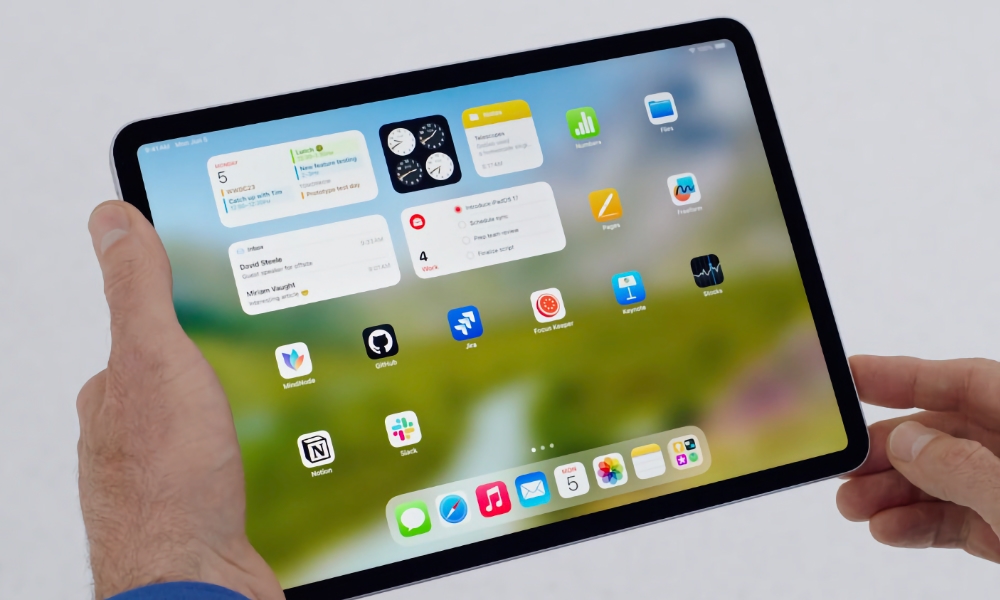 Widgets are getting even more powerful with this year's iOS 17 and iPadOS 17 release. They'll now be interactive, letting you perform actions right in the widget without the need to open the accompanying app.
For example, you'll be able to check off a task in the Reminders app directly and see that change reflected immediately, or browse through music and start playing an album or song right from the Music widget. Naturally, developers will be able to bring these experiences to their widgets as well.
---
A New iPad Lock Screen Experience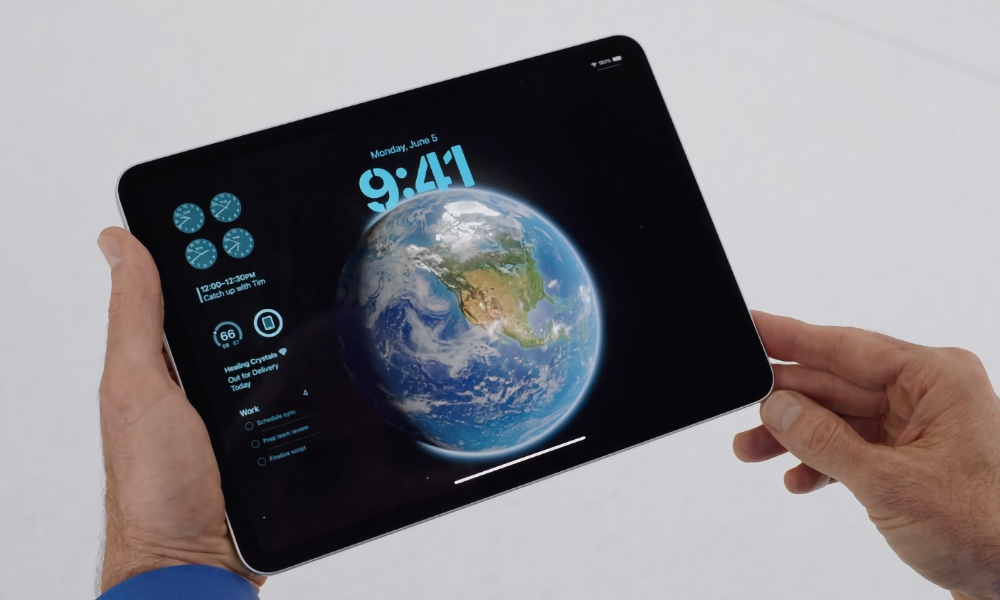 The new iPhone Lock Screen experience from iOS 16 is coming to the iPad in iPadOS 17, and it's properly optimized for the larger screen.
This includes more expansive wallpapers with more features and capabilities. For instance, Astronomy will now feature all the planets in the solar system. Lock Screen widgets are also supported, which will be presented to one side in landscape view, and naturally, you can put more of them on the larger screen. There's also support for Live Activities on the iPadOS 17 locks screen.
---
Better PDFs and Notes on iPad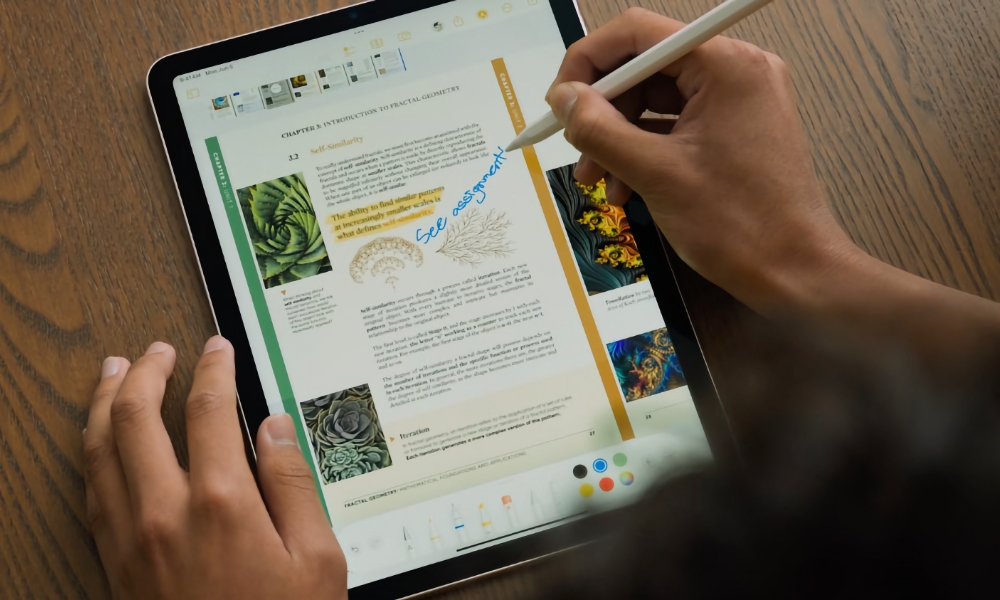 iPadOS 17 will also take your productivity to new heights when working with PDF files, with the ability to automatically detect fields on a PDF form and provide blanks to fill them out. This includes signature blocks, where you'll be able to sign a form with your Apple Pencil right on the iPad screen. This works with forms you download and even those you scan with your camera.
The iPadOS 17 Notes app is also getting more powerful support for handling PDFs. They now sit directly in a note rather than showing up as an attachment, and you'll be able to flip through them and annotate them with your finger or an Apple Pencil. What's more, you can also collaborate on a PDF in a note in real-time with others, even dropping images into a PDF and annotating those.
---
A watchOS 10 Redesign with Widgets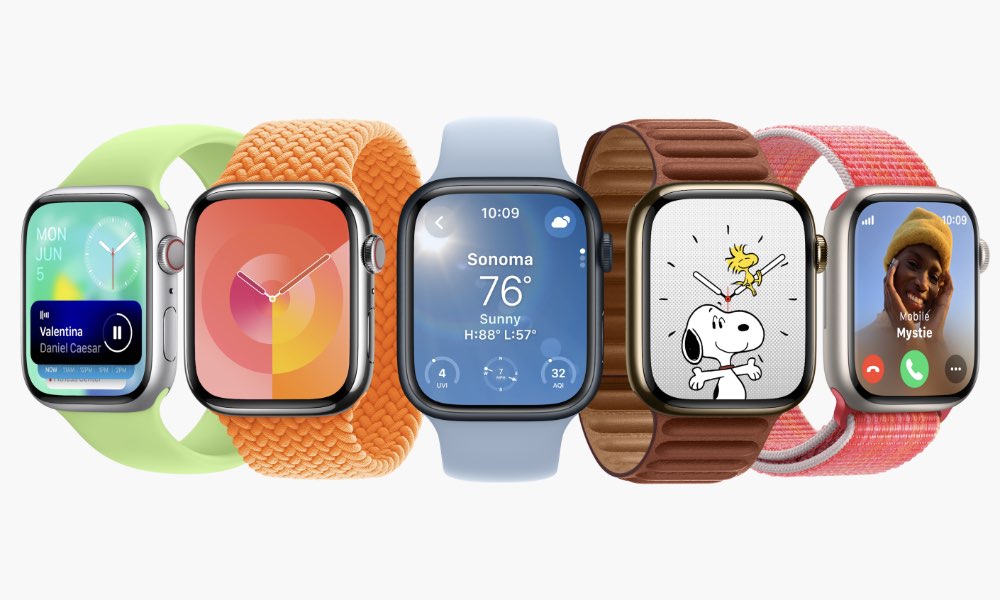 As predicted, Apple is giving Apple Watch users a new way of looking at things with watchOS 10. A widget-like view reminiscent of the Siri Watch Face will now be available from any watch face simply by turning the Digital Crown to bring up a Smart Stack of widgets with relevant information.
There will also be widgets for grouping favorite complications like timers, and you'll see other active sessions show up here, like stopwatch, workouts, and Now Playing.
Apple has also redesigned several of its watchOS apps with a fresh coat of paint, such as introducing dynamic background colors to the World Clock app and adding corner icons and full-screen views to the Activity app. This new design language is also available to developers for their own apps.
As usual, watchOS 10 offers new watch faces, with a Palette face that uses three layers of color to visualize the current time and a rich Snoopy and Woodstock watch face that offers fun animations that interact with the watch hands, weather conditions, and more.
---
Cycling and Hiking Workout Improvements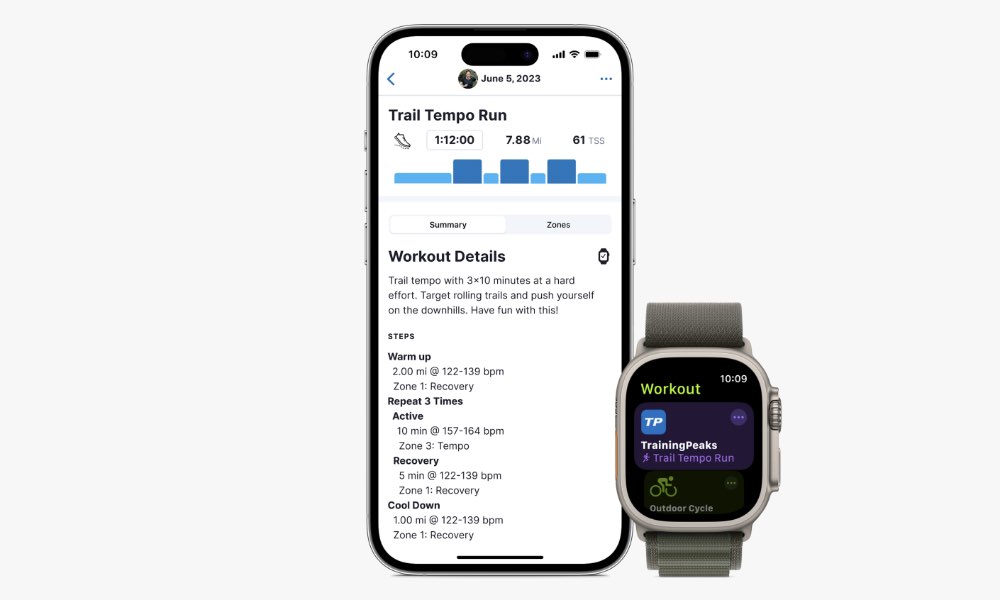 With watchOS 10, cyclists and hikers get more powerful workout features, including connecting to Bluetooth-enabled bike sensors for cadence and power tracking and updated compass and map features for outdoor adventures.
With cycling workouts, the Apple Watch will now estimate functional threshold power (FTP) and provide workout zones using that information. Further, since serious cyclists have more important things to do than raise their wrists, cycling workouts from an Apple Watch will now appear as a Live Activity on a connected iPhone that's mounted on the handlebars, which can be opened into a full-screen display to track your workout status at a glance.
For hikers, the compass app will automatically generate waypoints to show you the last place you had a cellular connection with your carrier and the last place you had an SOS-capable cellular signal with any carrier, so you'll know where to go if you need to make a call. The compass can also be expanded to show a 3D elevation view, and Apple is adding new topographic maps with contour lines along with the ability to identify trail names with difficulty levels, length, elevation gain, and more, so you'll know what you're getting into before you set off.
---
macOS Sonoma and More Widgets
This year's release of macOS 14 is getting dubbed Sonoma, after the California wine valley region. Along with the new name are some stunning new screensavers, which naturally includes one of the rolling hills of Sonoma.
In case it wasn't obvious by now, widgets are a big focus this year, and that's extending to the Mac, where you'll be able to place widgets anywhere on your desktop, not just in the right sidebar.
Since a Mac has a more complex user interface than an iPad, Apple has had to get creative with the design so that widgets don't become too distracting. They'll fade into the background when another app has focus and tint based on the color of your background wallpaper.
What's more interesting is that through the magic of Apple's Continuity features, widgets from iPhone apps can also be added to your Mac, where you'll be able to interact with them anytime your iPhone is nearby or on the same Wi-Fi network — even if there's no corresponding Mac app available.
---
Gaming Mode for Mac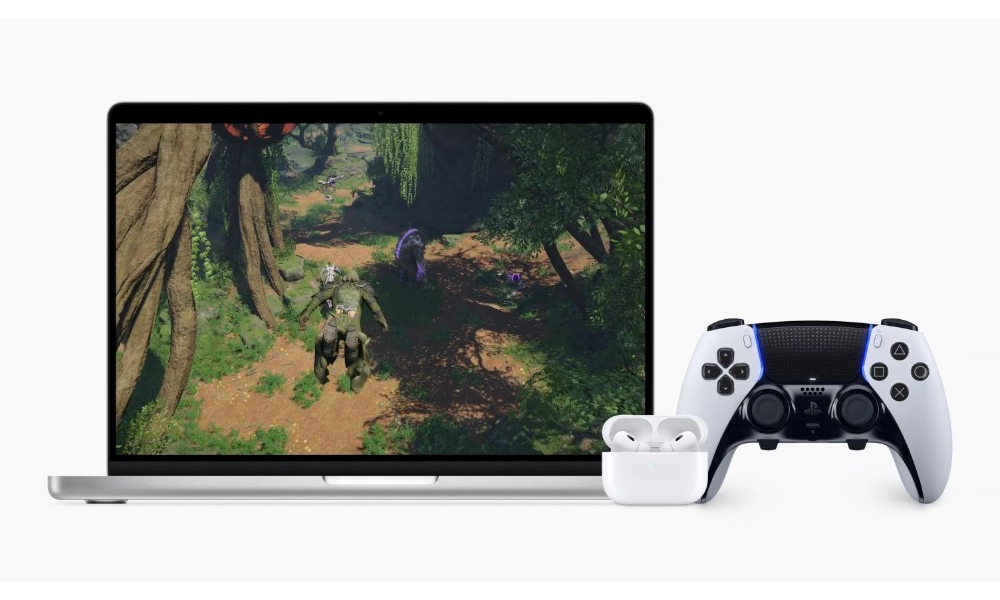 With macOS Sonoma, Apple is also introducing a new "gaming mode" to provide a more immersive gaming experience.
As Jeremy Sandmel, Senior Director of GPU Software, said, gaming mode is designed to "give gamers an edge when performance is measured in precious milliseconds." It prioritizes games over other tasks, reducing input and audio latency with controllers by doubling the Bluetooth sampling rate and increasing responsiveness.
Gaming will work with any game, and Apple is also introducing a new Game Porting Toolkit to make it easier for developers to port over games from other platforms.
---
Safari Browsing Profiles and Web Apps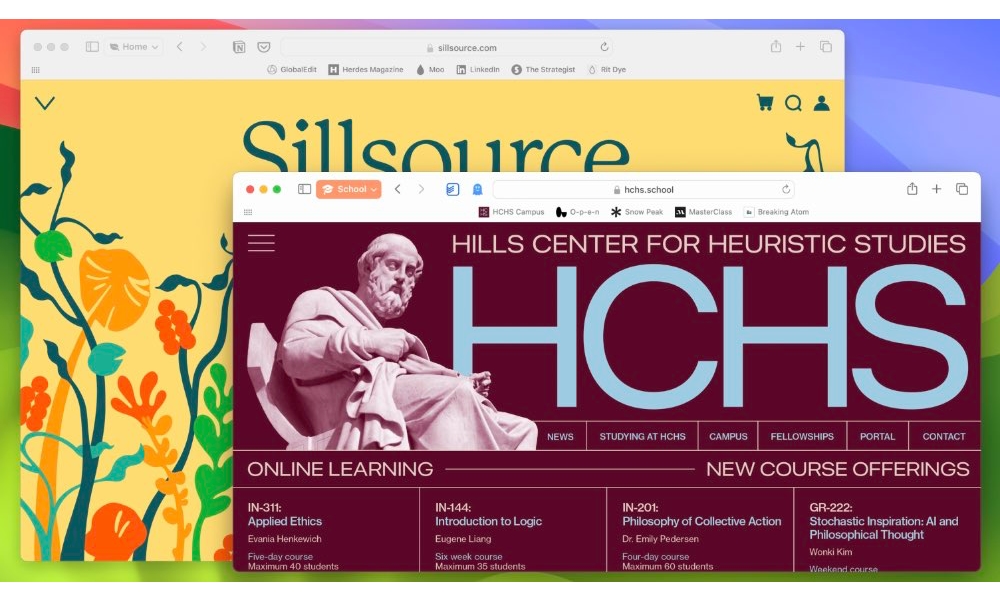 Safari in macOS Sonoma will gain browsing profiles similar to what other browsers like Chrome have offered for some time. This will let you create different sets of extensions, tab groups, and favorites for different uses, such as home, work, and school while keeping cookies and browsing history separate.
You'll also be able to turn websites you use frequently into applets that can live in your dock and open in their own app-like windows. No extra work is required by web developers to enable this, and they'll work with Stage Manager, Mission Control, Spotlight, Siri, and notifications just like any other app.
---
Mac Video Conferencing Improvements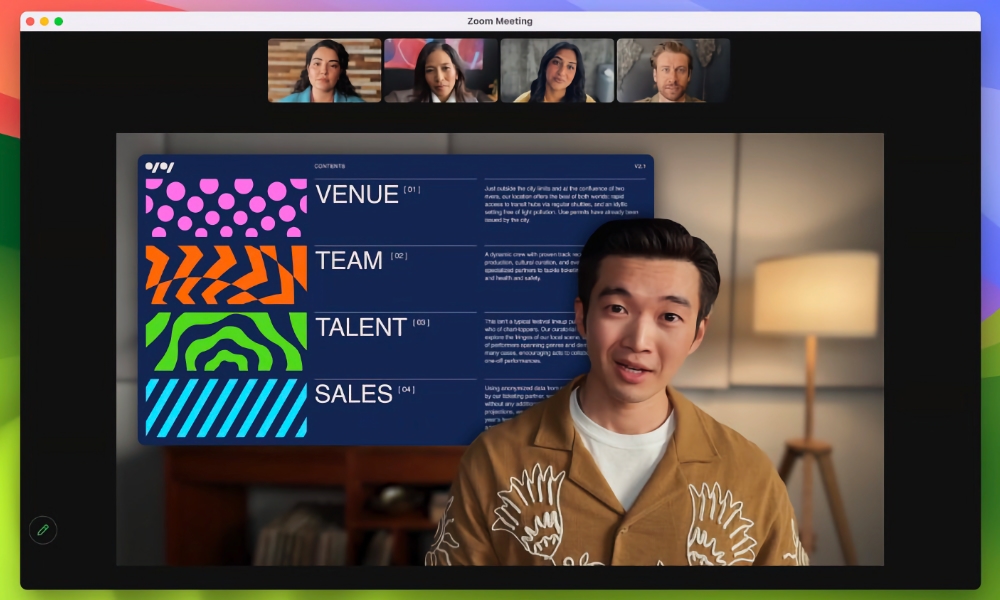 Apple is using its machine-learning chops to power some cool new effects that should make video conferencing more fun and productive, whether you use FaceTime, Zoom, Teams, or just about anything else.
The Presenter Overlay video effect will leave you visible when sharing your screen, shown as a small overlay where you appear in a bubble over the shared content or in a larger view where the shared screen appears behind you as if you're giving a presentation on a screen.
There's also a new reactions video effect that blends features like balloons or confetti into your video with depth, focus, and a cinematic look — and it can even be triggered with gestures.
---
AirPods Adaptive Audio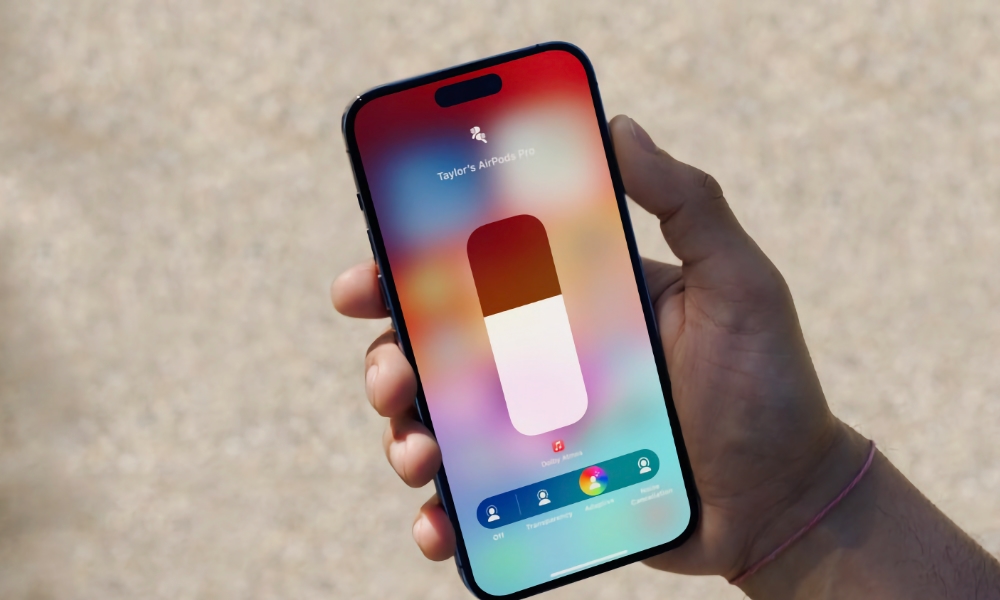 AirPods will be getting an update later this year — likely as a combination of iOS 17 and new firmware — that will power a new Adaptive Audio mode to combine the best of Noise Cancellation and Transparency.
For instance, when Adaptive Audio is enabled, you'll be able to hear important things like someone talking to you or a horn honking at you while still filtering out other distracting background noise. A Conversation Mode will also automatically lower the volume of your music when you start speaking to someone and proactively reduce noise when on calls.
---
AirPlay in Hotels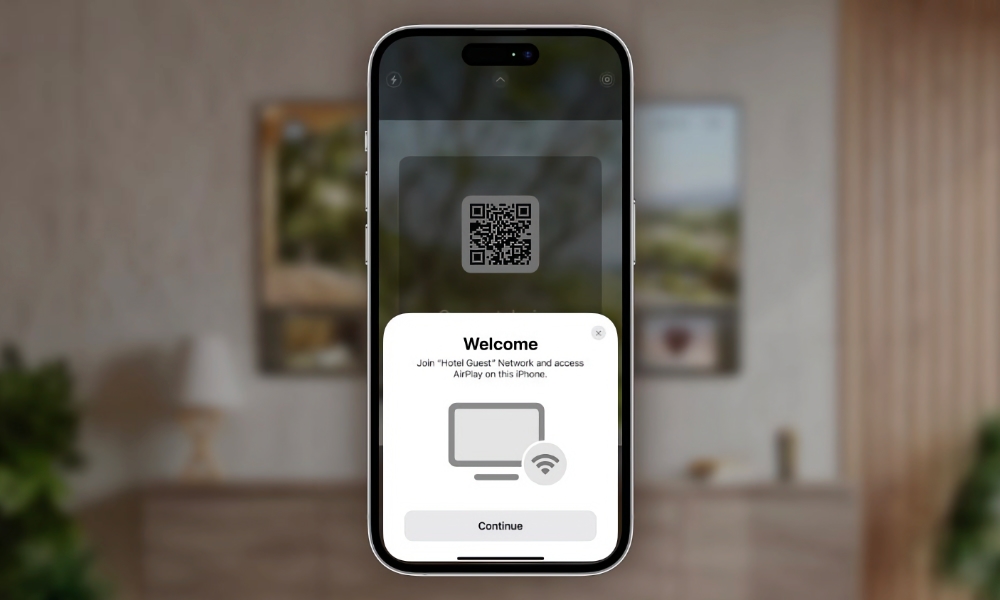 Later this year, participating hotels will begin supporting a new AirPlay mode that will allow a guest to connect their iPhone to the hotel's Wi-Fi and TV simply by scanning a QR code.
---
SharePlay to the Car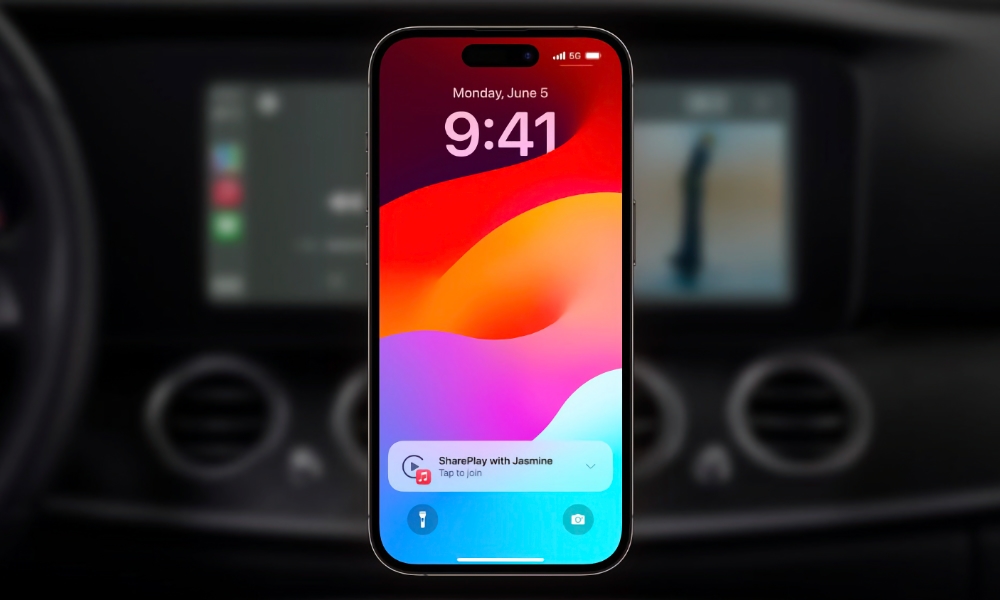 For those who like to take long road trips with friends and share playlists, it will soon be possible to link up multiple iPhones with the driver's iPhone, sharing music through the CarPlay system without the need to juggle connections or USB cables.
---
FaceTime on Apple TV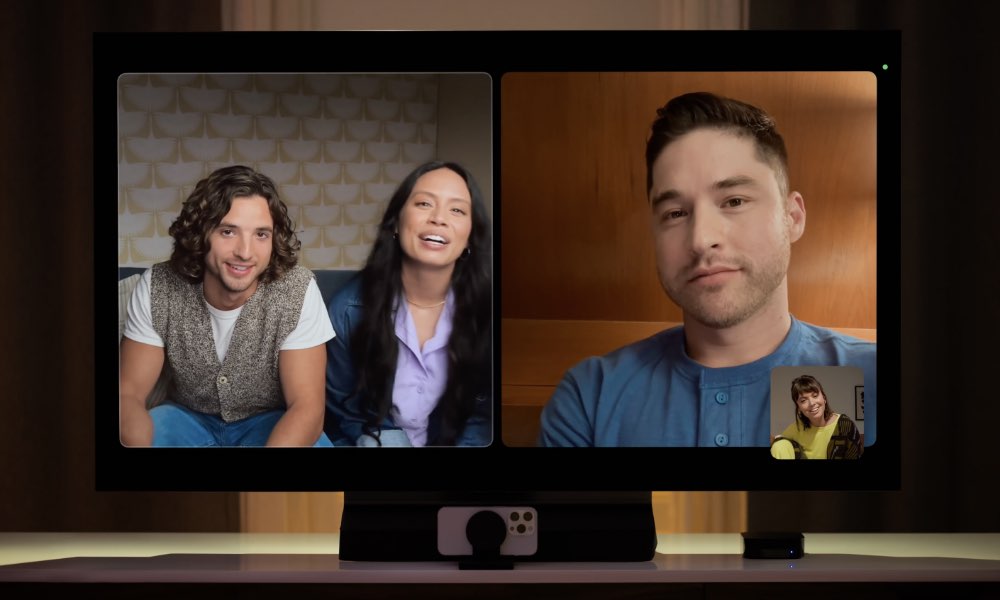 Apple is finally bringing FaceTime to the Apple TV by building on the Continuity Camera feature introduced last year in macOS Ventura and iOS 16.
tvOS 17 will sport a new FaceTime app, letting you start a call right from the Apple TV or transfer an existing call over from your iPhone, iPad, or Mac. The other parties will be shown on the big screen, while your iPhone will act as the camera and mic or the call.
Continuity Camera on the Apple TV will support the same features as macOS Ventura, such as Center Stage, to ensure you and your group stay in the frame. Plus, with the extra screen real estate offered by a big TV, you'll be able to watch content together via SharePlay while keeping everyone in view, similar to how multiview works for sports.