It's Official! Apple Unveils Vision Pro Headset at WWDC 2023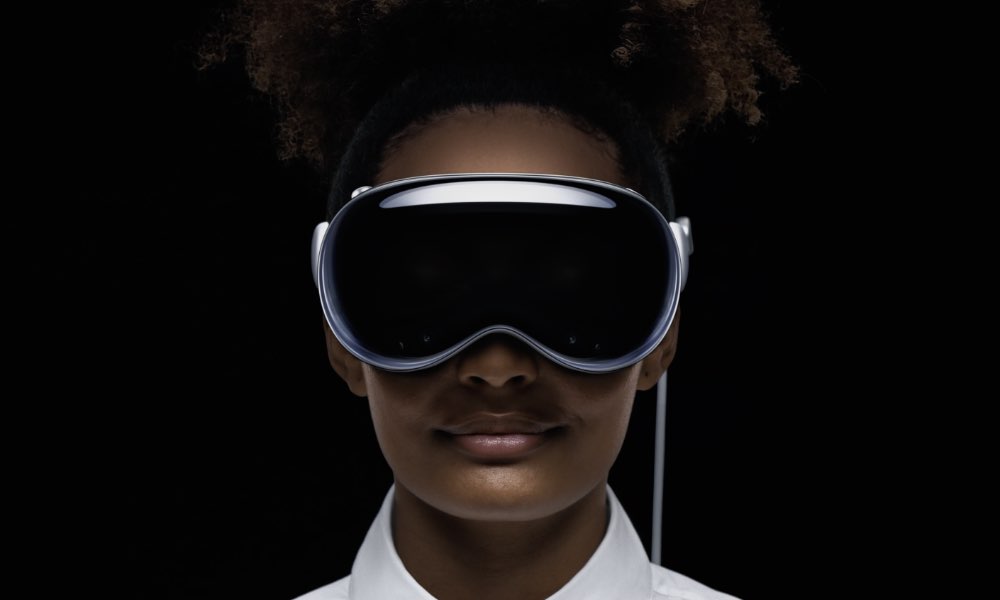 As expected, Apple has officially taken the wraps off its highly anticipated mixed-reality headset at this year's Worldwide Developers Conference.
Apple kept us guessing until the very end of the event, leading with some new Mac updates and its usual assortment of software updates before returning the stage to Tim Cook at about 80 minutes in, who then segued into the new headset announcement with a "One More Thing" that Steve Jobs would have been proud of.
The Apple Vision Pro
While Apple's new headset aligned with much of what we've heard from analysts and leakers over the past few months, we saw one twist that wasn't surprising in retrospect. It's the one thing that nobody ever knows for sure about a new Apple product until the company's executives are ready to show it off: the name.
Apple's new headset didn't get the "Reality Pro" moniker that had been adopted as a placeholder by most folks in the past few weeks. Instead, it's known as the "Apple Vision Pro." The "Pro" suffix implies it's a flagship device — and, as expected, it has the $3,500 price tag to match — but that also leaves room for Apple to introduce a more affordably priced "Apple Vision" somewhere down the road. Reliable reports suggest it's already working on that for a 2025 release.
Beyond the name, Apple's new Vision Pro lined up with everything we've been hearing, but the rumor mill still didn't prepare us for the experience of actually seeing it showed off on stage.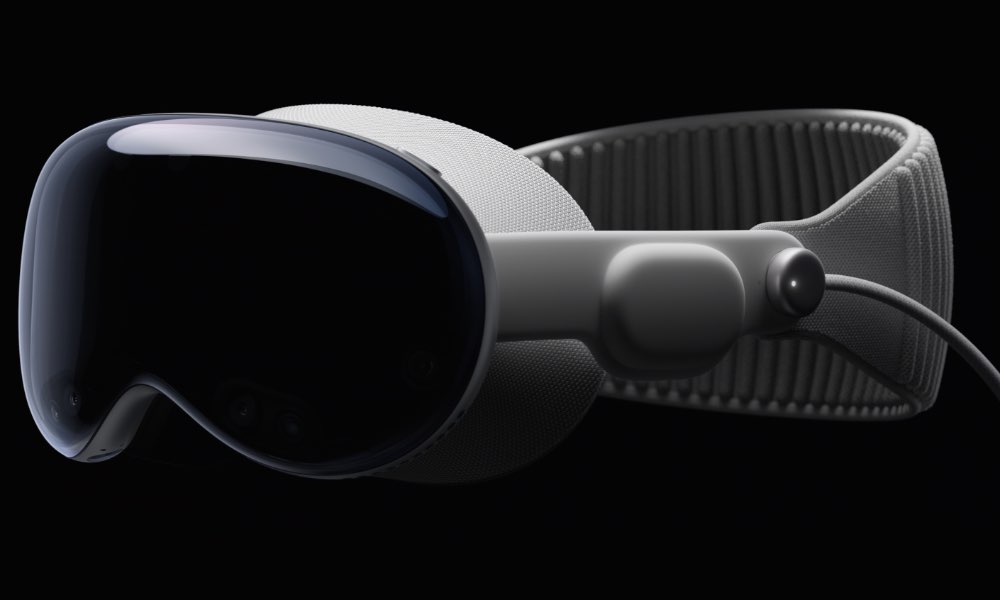 Naturally, Apple CEO Tim Cook led the intro, describing it as "the first Apple product you look through and not at" and something that "seamlessly blends the real world with the virtual world."
Cook clarified that this goes beyond what others have done in the virtual reality space, and it shows. Control is handled entirely through eyes, hands, and voice, yet it doesn't cut the wearer off from the real world around them. While it can act as a fully immersive VR display for gaming, meditation, and similar experiences, it's also an augmented reality (AR) display that places apps and other objects as virtual displays against your real-world environment. Hence the term "mixed reality."
In the same way that Mac introduced us to personal computing, and iPhone introduced us to mobile computing, Vision Pro will introduce us to Spatial Computing.Tim Cook
Following his introduction of the Vision Pro, Cook handed the virtual stage over to a series of other Apple executives and managers to explain various aspects of the device in a 45-minute presentation. Alan Dye, who is Apple's VP of Human Interface and one of the executives who has taken up the legacy of former Apple Chief Design Officer Jony Ive, showed off the user interface, describing the meticulous detail with which Apple has crafted icons, screens, and other elements with a physicality that makes them look and feel truly present in whatever room you're in.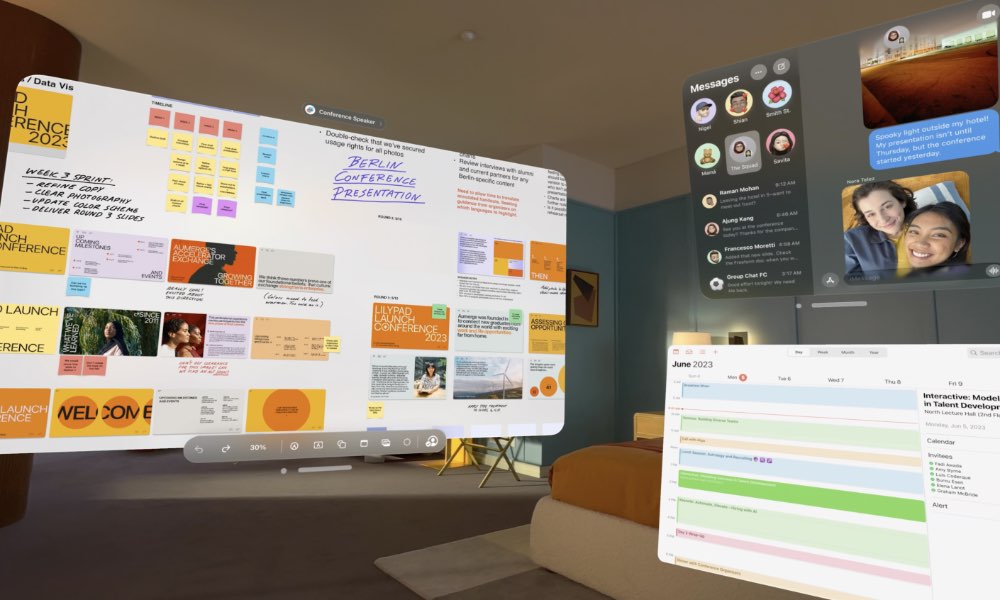 The Vision Pro's operating system allows apps to be scaled and placed anywhere in your field of view or beyond. For example, you can move apps, windows, and other objects to the left and right and then look at them by turning your head.
In its normal mode, Vision Pro will show apps hovering in the area around you, but Apple has also added an "environments" feature that allows you to transform your space with either a partial backdrop or a completely immersive world, with the extent controlled by a Digital Crown on the headset.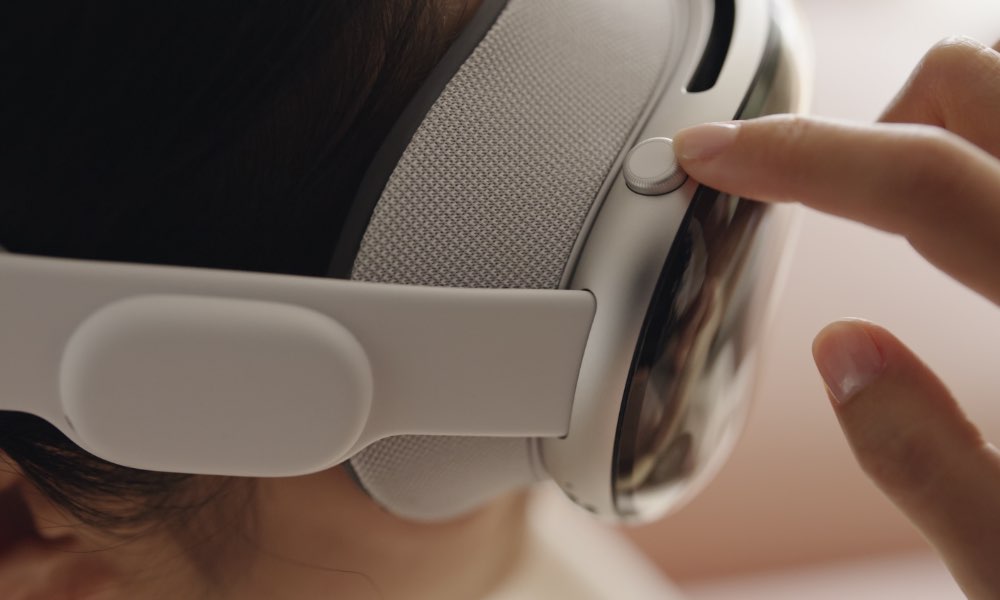 The Digital Crown isn't the primary control mechanism, though. Instead, you'll open and "click" on interactive elements by looking at them with your eyes to highlight them and using subtle and natural finger gestures to activate them. For example, tapping fingers together to select an item or flicking your fingers to scroll through a document or webpage. Siri is also available to provide the usual voice control features, including Dictation for typing or calling up functions like opening and closing apps, playing media, and most other things you'd expect to be able to do with Siri on an iPhone or iPad.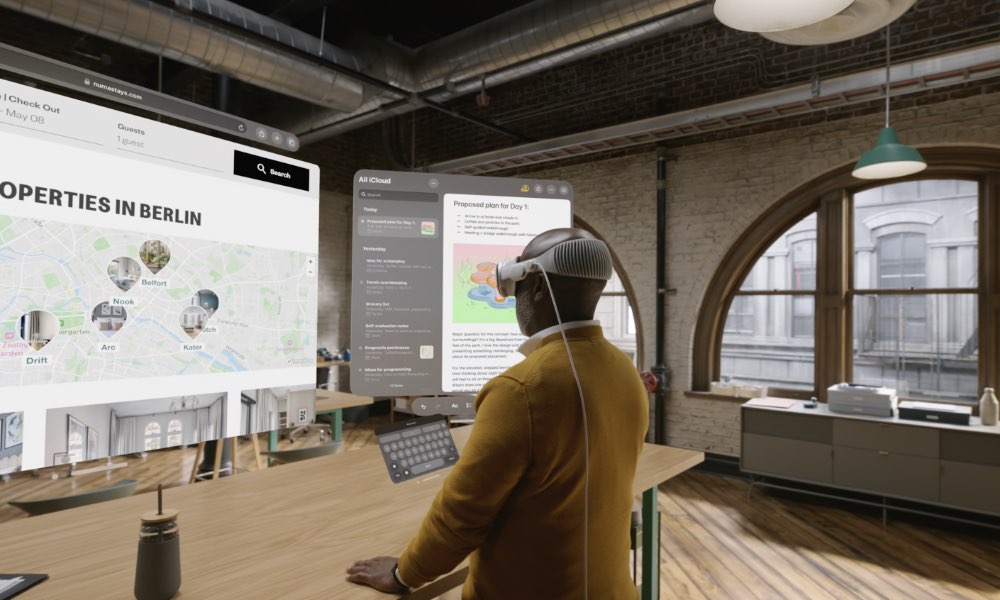 As Alessandra McGinnis, the product manager of the Vision Pro, explained later on in the presentation, there's also a virtual keyboard that can be called up to type, plus full support for Bluetooth accessories like Apple's own Magic Keyboard and Magic Trackpad for folks who find the virtual keyboard doesn't quite cut it for serious work.
EyeSight
As we've heard from a few sources recently, in the early stages of Apple's headset design, Jony Ive had insisted that the headset not isolate the wearer from the world around them. Ive also reportedly remained actively involved in the project even after his departure from Apple in 2019, and maintained that insistence throughout. This led to fears that the headset would feature virtual "googly eyes" on the outside so people speaking to someone wearing the Vision Pro could see more human-like expressions.
While some were skeptical that Apple would do something that might look "goofy", not to mention the additional cost of such a display, it turns out the rumors of the outward-facing display were true, but Apple has also pulled this off in a way that we could have only imagined.
Apple is dubbing the feature "EyeSight," and as Dye notes, it's designed to reveal your eyes and provide important cues to others about what you're focused on. However, it's so well done that when it was first shown in the demo, it looked as if the front of the headset was shifting into a transparent mode to allow the person's real eyes to show through.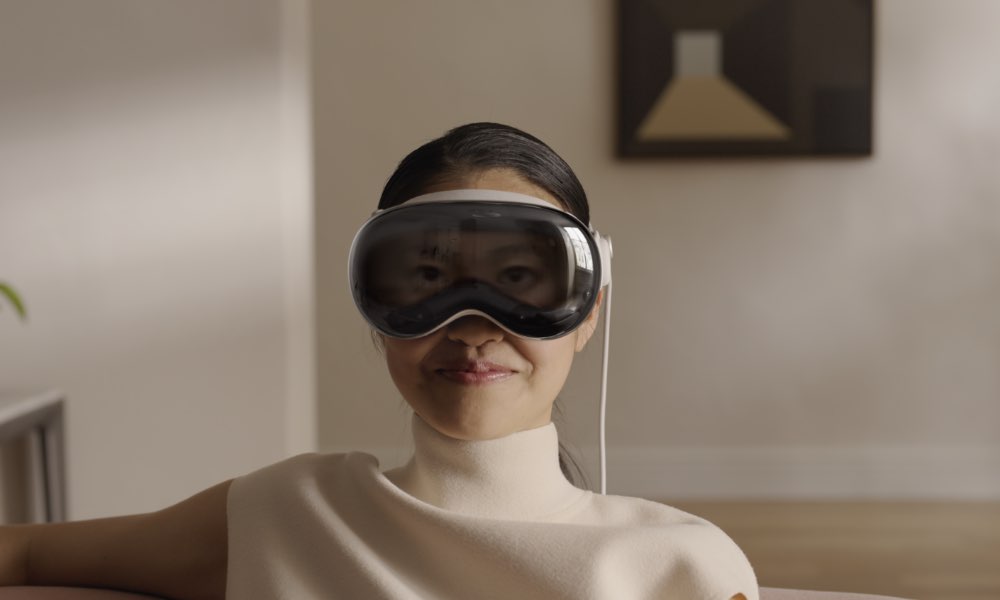 Later, when Apple VP Mike Rockwell, who led the headset engineering team, showed off the hardware inside, it became obvious that the front screen had to be nothing more than a projection of the user's eyes. However, Apple's powerful processing and machine learning allows it to render a realistic virtual representation of the wearer.
The same logic ties into using the headset for FaceTime. Since there's no actual video camera looking at your face like there is on an iPhone, the Vision Pro actually uses an advanced neural network to build a natural representation of your face and mirror your face and hand movements. It's the technology Apple first developed for Face ID taken to incredible new heights.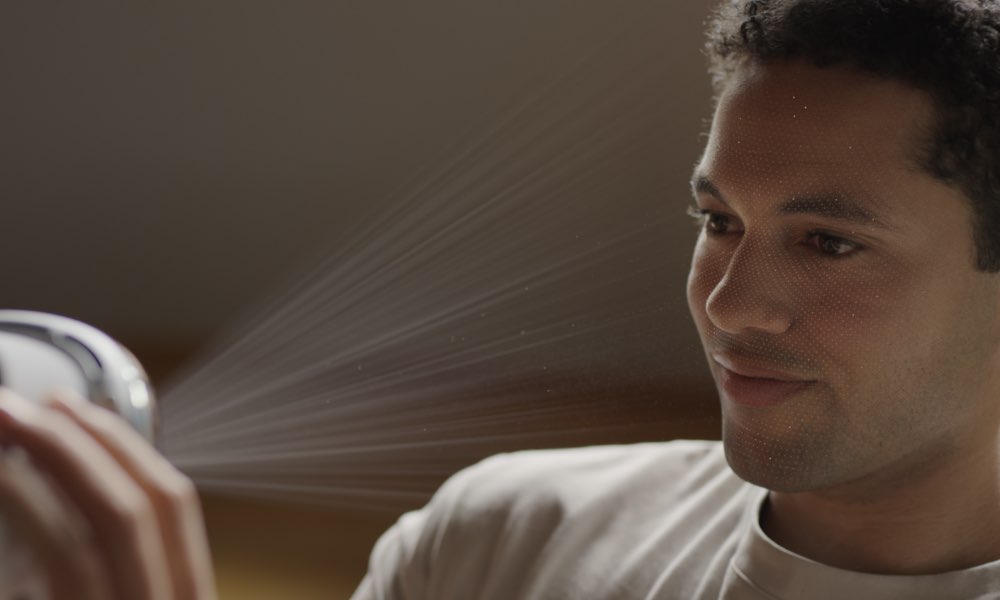 The EyeSight feature is also intelligent enough to detect when someone is nearby and speaking to you, automatically showing your eyes so you can carry on a seemingly normal conversation without removing the headset. At the other extreme, your eyes will be masked out entirely when you fully immerse yourself into a virtual environment as a visual cue that you're not paying attention to.
Apps and Games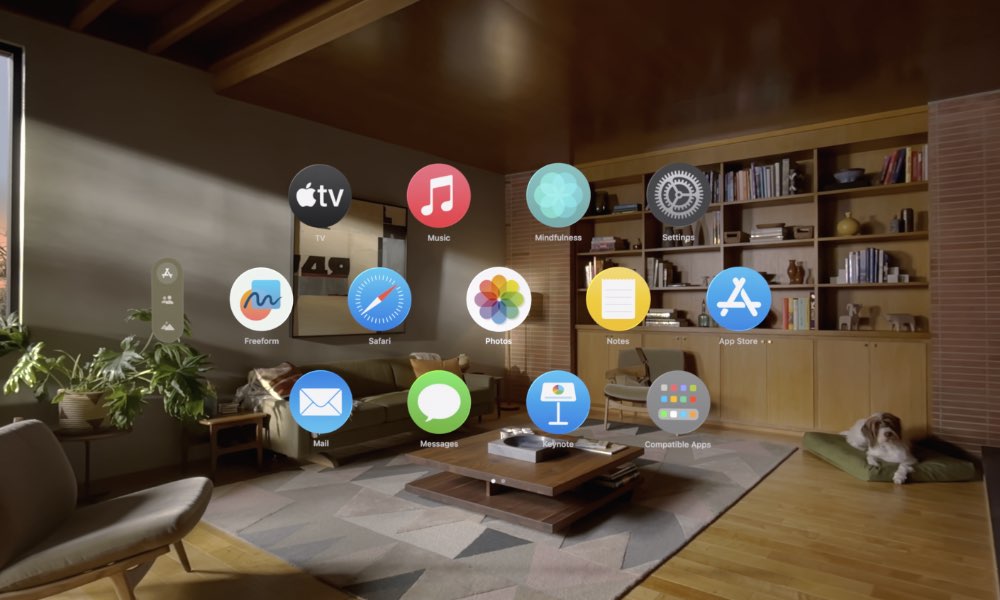 As expected, the Vision Pro will support all of Apple's first-party apps, including browsing in Safari, watching movies and TV shows on Apple TV, browning photos, engaging in FaceTime calls, and much more. Everything will also naturally stay in sync with your other Apple devices via iCloud.
The Vision Pro can also bring whatever is on your Mac wirelessly into the virtual space, effectively becoming a private and portable 4K display for your Mac that can grow as large as your field of vision and beyond.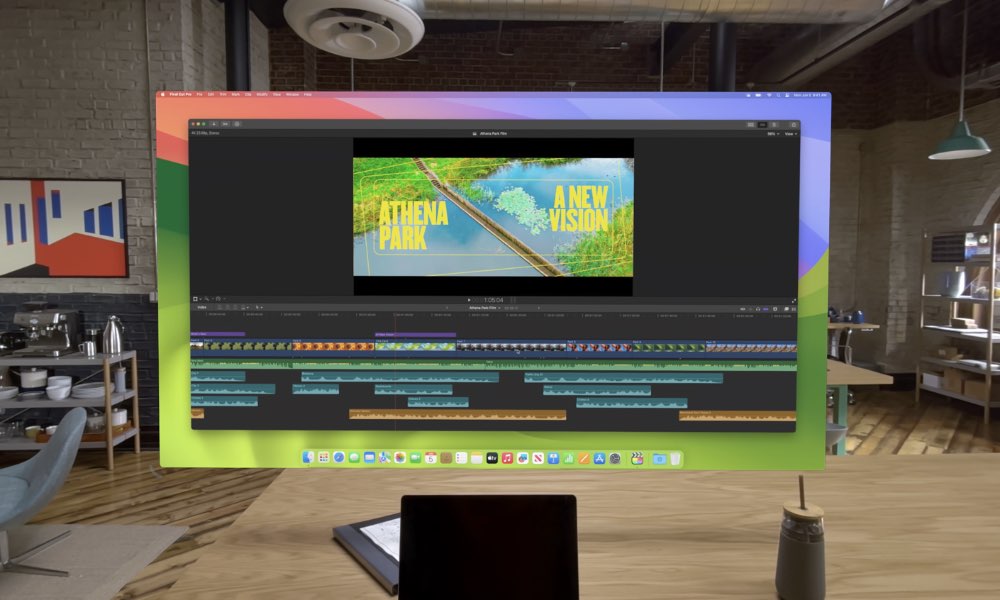 However, McGinnis explained how Apple has enhanced some of the apps to fit the 3D environment. For instance, you'll be able to receive a 3D object in Messages or Mail and then pull it out into the space in front of you, even setting it on a real-world desk or table, and view and rotate it in 3D to see it from any angle.
Apple's Senior Engineering Program Manager, En Kelly, explained how photo panoramas can also expand to wrap around your entire head, giving you a life-size and real-world representation of the original panoramic view.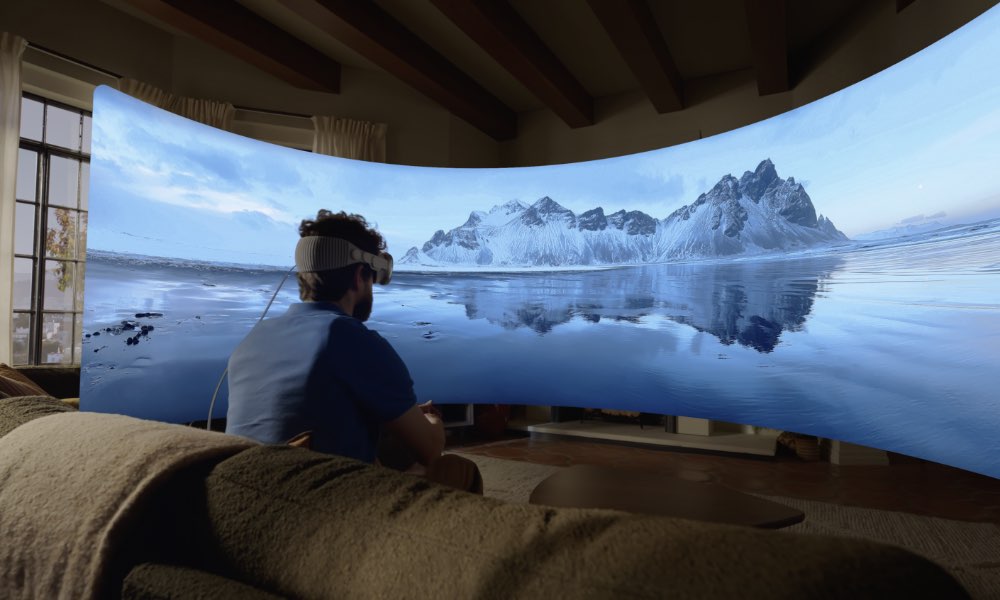 Further, the Vision Pro delivers Apple's first 3D camera, letting you capture photos and videos with spatial audio that can be relived through the headset in 3D, making you feel like you're right back at that moment.
The Spatial Cinema features also combine audio and video to give you an immersive theatrical view of any movie or TV show you're watching through the TV app, dimming the surroundings to create a theatre-like experience that gives you a comfortable living room TV setting or a 100-foot screen for a majestic viewing experience.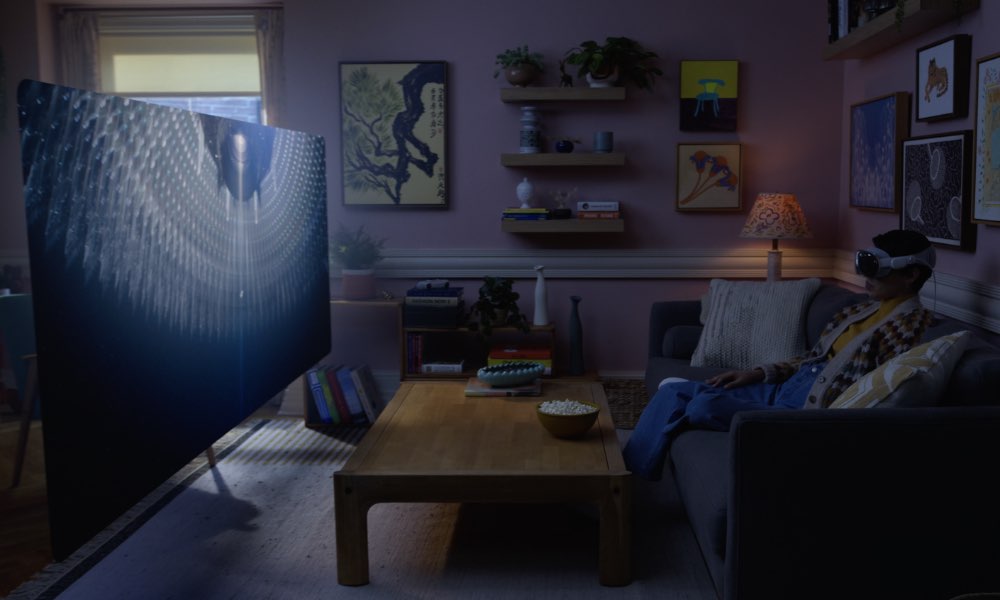 Tim Cook also invited Disney CEO Bob Iger to show off how Vision Pro will "bring Disney to our fans in ways that we thought were previously impossible," by delivering, "deeply personal experiences that bring our fans closer to the characters they love." Iger announced that Disney+ will be available natively for the Vision Pro as soon as it launched, and based on the demo he showed, it will do a lot more than simply provide a theatrical viewing experience.
Kelly also added that Apple is working with developers to bring more immersive games to Apple Arcade for the Vision Pro, with 100 titles expected to be available when the headset launches. Susan Prescott, Apple's VP of Developer Relations, also announced that Apple is working with Unity and a number of other developers to bring Vision Pro support to an even wider range of games.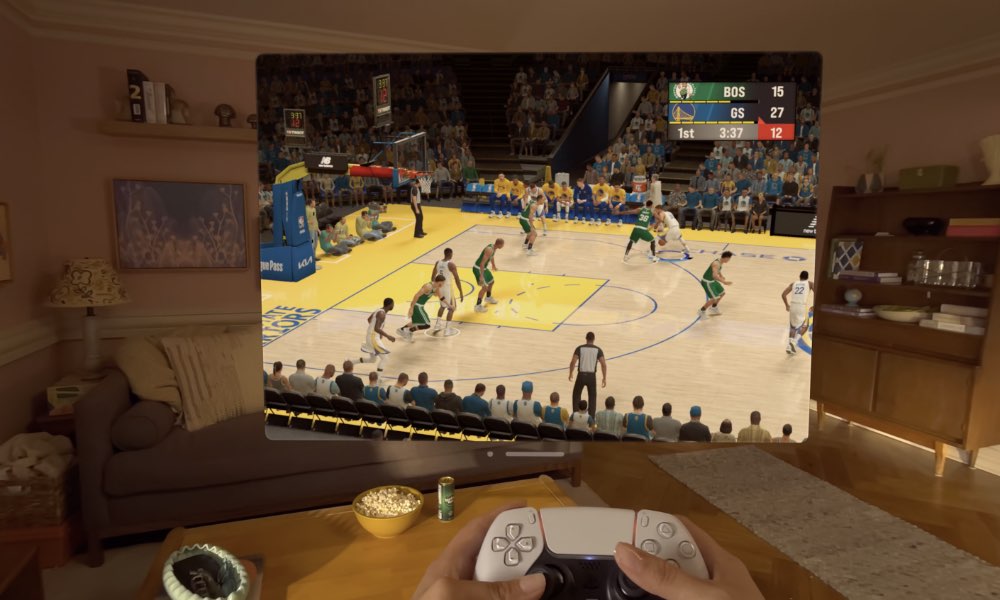 The Hardware
Apple VP Mike Rockwell took the virtual stage to outline some of the hardware features of the Vision Pro, including powerful Apple Silicon chips and unprecedented Micro LED displays.
The displays deliver 23 million pixels across the two panels that are each the size of a postage stamp, with 64 pixels in the same space of a single pixel on an iPhone screen. That's more pixels for each eye than any 4K TV on the market delivers.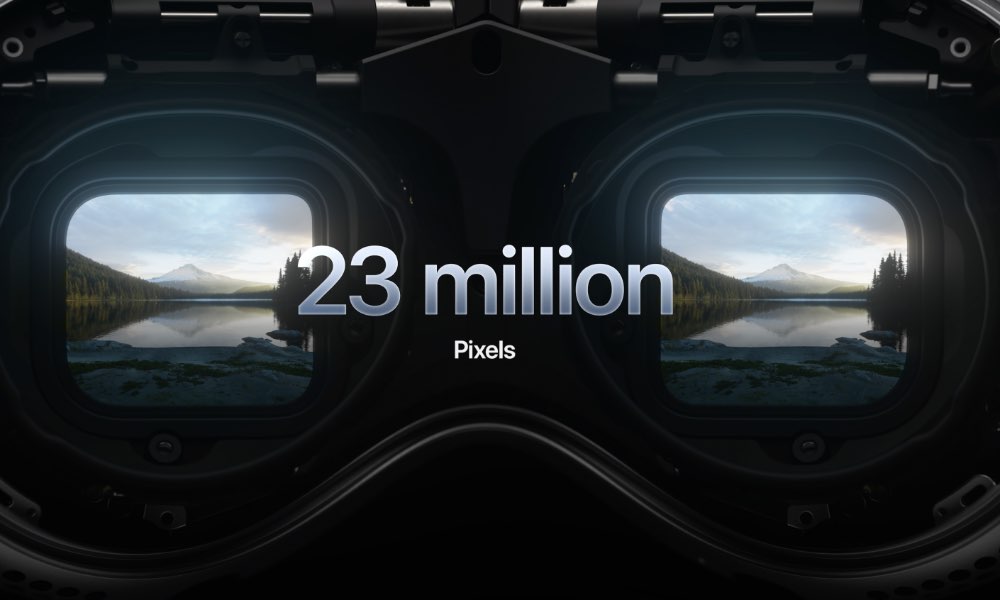 In front of these displays is a three-element lens designed for incredible sharpness and clarity. Zeiss custom optical inserts will be available for those who need vision correction since it won't be possible to wear glasses inside the headset. Apple didn't comment on how well it will work for folks who wear contact lenses.
The audio is delivered through a custom-designed spatial audio system that sits above the ears rather than relying on earplugs — a feature that allows the wearer to be aware of the environment around them. However, Apple engineered the system in such a way as to convince the user's brain that the audio is coming from the virtual space around them, with audio ray tracing techniques that match the sound to the room.
Multiple cameras and sensors inside and outside the handset recognize eye and hand positions, eliminating the need for "clumsy hardware controllers," and this feeds into a new custom Apple R1 chip that's designed expressly for real-time sensor processing. Rockwell notes that this dedicated chip can process sensor data eight times faster than the blink of an eye, eliminating the lag that often causes motion discomfort with virtual reality and augmented reality headsets.
While the R1 chip handles all the sensor processing, the rest of the Vision Pro is powered by a standard M2 chip, which lets it run fast, cool, and quiet while delivering top-notch performance for everything else the headset needs to handle.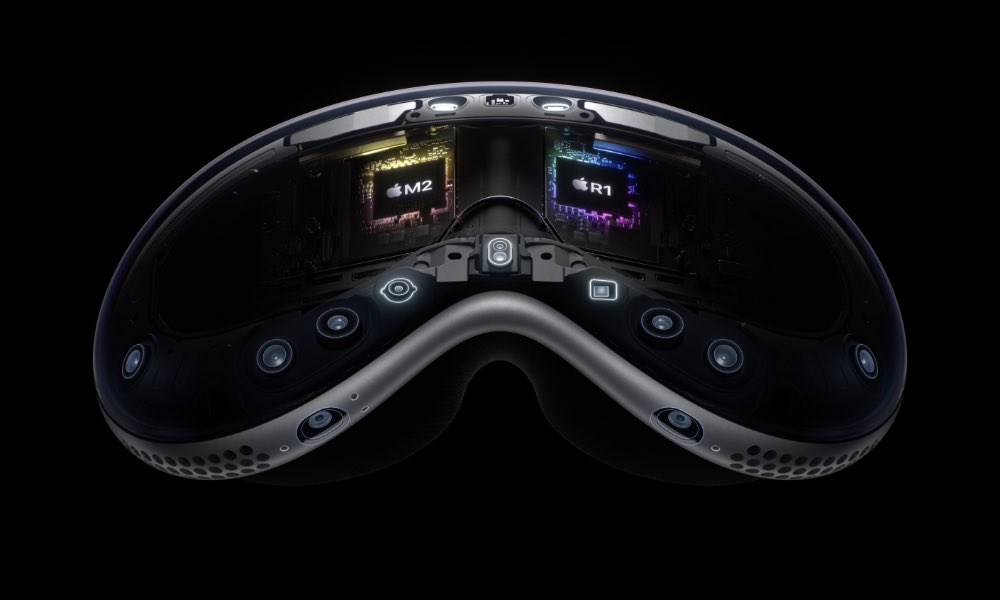 The Vision Pro is also designed to be as lightweight as possible, machined from a custom aluminum alloy, and uses soft textile parts for comfort and wearability. A modular system allows for different fits, with replaceable light seals that come in different shapes and sizes. Apple VP of Industrial Design, Richard Howarth, said that Apple studies thousands of heads to get an understanding of different sizes and shapes so it could create a headset with a comfortable fit for a wide variety of users.
However, keeping the headset comfortable to wear has one significant tradeoff — there's no internal battery. Instead, those who want a portable experience will need to rely on an external battery pack that delivers up to two hours of life on a single charge. The battery pack has a custom connector and a long enough wire so you can keep it in your pocket when moving around with the headset on. Alternatively, the headset can be plugged into a standard power outlet for all-day use.
Privacy and Security
By now, you're probably well aware of how seriously Apple takes privacy and security, and it's engineering its headset with those same priorities in mind.
Just like an iPhone or iPad, the headset will require authentication by the wearer, using a new system that Apple is calling "Optic ID." This will scan your irises, which are even more unique than fingerprints, instantly unlocking the Vision Pro when you put it on without any extra steps required. Optic ID can also be used for other features requiring additional authentication, such as making payments with Apple Pay.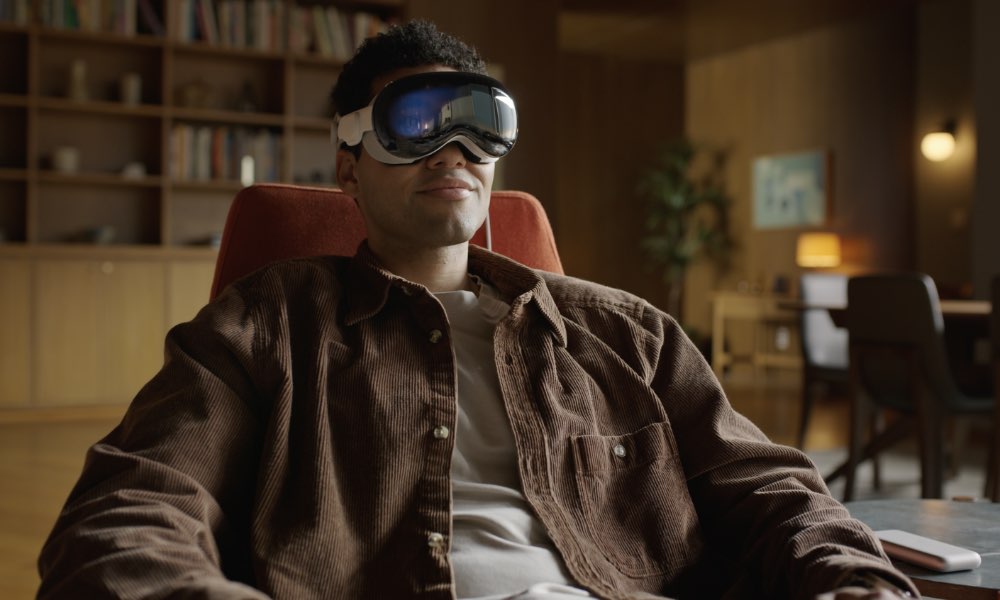 Naturally, just like Face ID and Touch ID, your iris pattern will be stored only on the Vision Pro, in a Secure Enclave where it won't be accessible to Apple or any other apps running on the headset.
Further, Rockwell pointed out that Apple is taking privacy to an even more stringent level with the headset, stating that "Where you look stays private." Apple has designed the headset so that all eye input is isolated to a separate background process, meaning apps and websites will never know where you're looking. Naturally, camera data is also processed at the system level, so individual apps won't get to see your surroundings, either.
Price and Availability
As with most of its groundbreaking new product categories, Apple has announced the Vision Pro well in advance of its availability. Most analysts agreed that it wouldn't be entering mass production until later this year at the soonest, but it appears that even those estimates were overly optimistic.
The Vision Pro isn't coming until early next year, and Apple hasn't said precisely what "early" means in this context. It's a safe bet that it will lean closer to March than January, but it's likely that even Apple doesn't know for sure yet, as there are production and manufacturing schedules to contend with.
It's also important to note that Vision Pro hasn't yet received certification from the Federal Communications Commission (FCC). While that's likely just a formality, it's still a process that will take some time. However, it's not the first time Apple has announced a product before putting it through the FCC. It did the same thing with the original iPhone in 2007 — and for a good reason; since FCC filings are at least somewhat public, pushing this certification gives away a lot of information, and Apple executives would prefer to be the ones to announce major new products.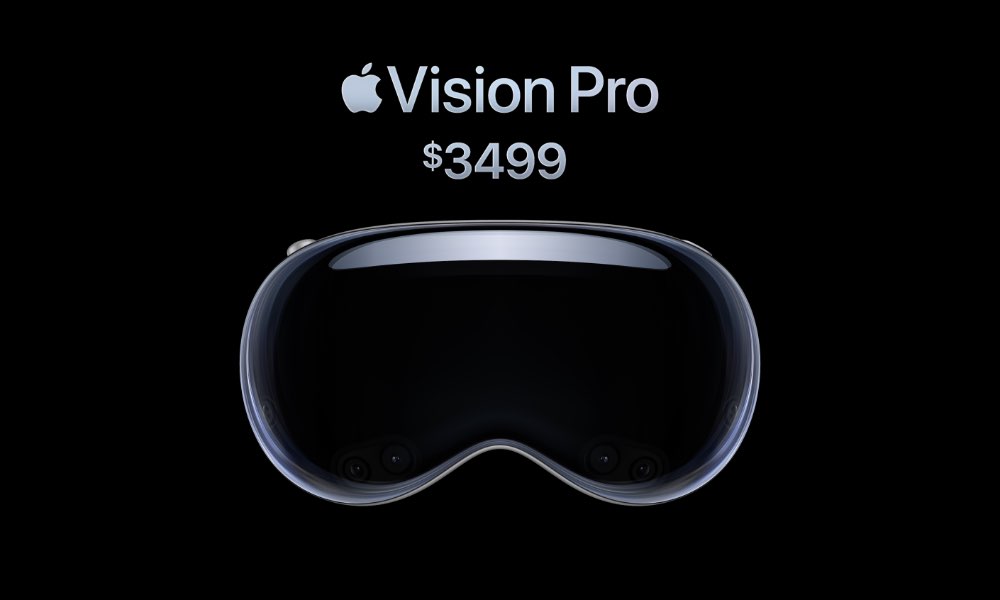 As for the price? The Vision Pro will retail for $3,499 when it arrives next year, but that doesn't include the ZEISS custom optical inserts needed for folks who require vision correction, so expect that price to increase if you don't have 20/20 vision. Apple also notes that accessories like the Head Band are sold separately. That's probably for those who need extra, but what's included in the box is unclear.
Lastly, the Vision Pro is only coming to the U.S. at launch. Apple says other countries will follow later next year, but it hasn't said which ones.