4 New Features That Won't Arrive until at Least iOS 17.1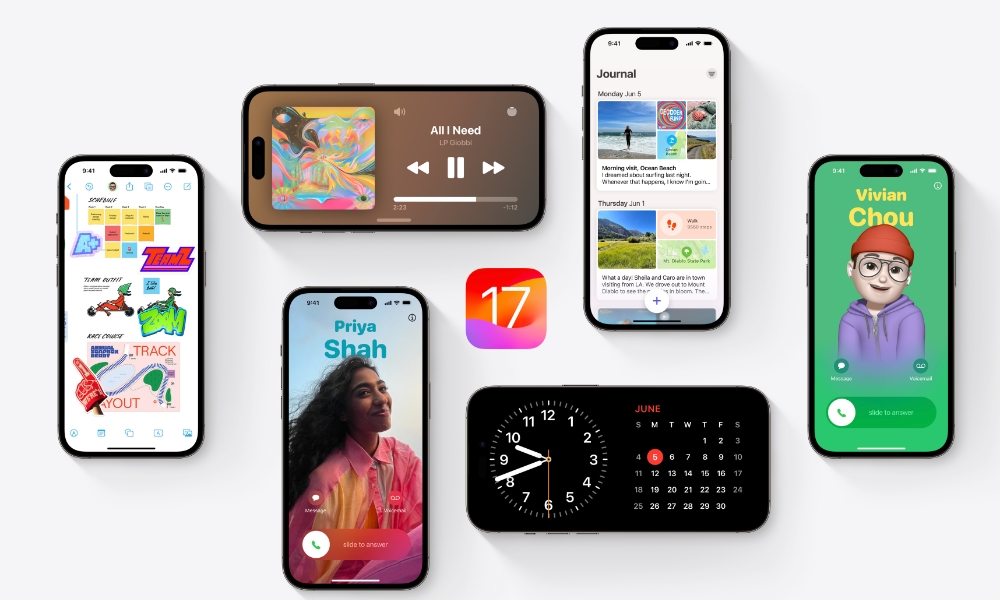 Although Apple has officially unveiled iOS 17 with a multitude of new and exciting features, don't expect all of those to make the cut for the first release of iOS 17 this fall.
For the past few years, Apple's showcase of what's coming in each major iOS release has been more of a roadmap of what to expect over an entire year of point releases, not necessarily a list of everything that will show up in the first point-zero version that arrives each September.
In some years, that roadmap is more extensive than in others. For instance, with iOS 11 in 2017, Apple debuted several significant new features that didn't arrive until iOS 11.3 and 11.4 the following spring. Even with last year's iOS 16 release, we had to wait until iOS 16.4 before the promised web push notifications and new HomeKit architecture arrived.
The good news is that it looks like the list for iOS 17 isn't quite as long as it's been in the past, but there are still a few things that Apple has already said won't be coming until "Later this year." That likely means at least iOS 17.1 or maybe even iOS 17.2.
Journal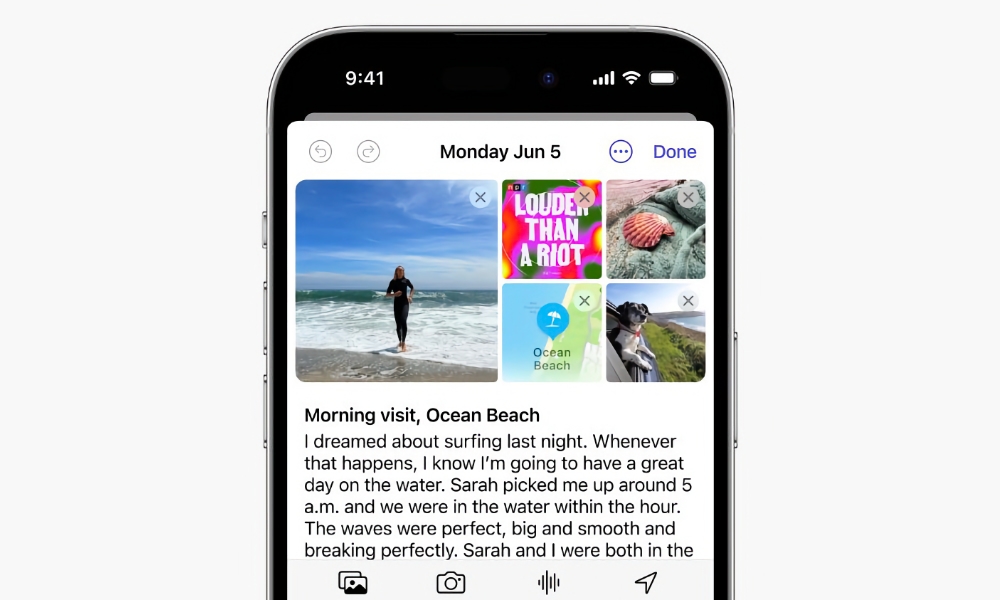 Perhaps the biggest of these is Apple's promised Journal app. This one isn't a big surprise, as the rumors of it prior to WWDC suggested that it wouldn't launch alongside iOS 17, and the way Apple presented this suggests it may even be a standalone app that you'll have to download separately from the App Store, rather than being bundled in any iOS 17 point releases.
There's probably a good reason for this, too. Apple likely wants to avoid any contention that it's competing with other popular journalling apps like Day One, and including it in iOS 17 would undoubtedly raise the specter of antitrust concerns.
Nevertheless, Journal may have a home-field advantage. It's expected to use on-device machine learning to analyze your daily and weekly routines, and based on what we've heard thus far, it may have access to data that third-party apps don't get to play with, such as recent call and messaging histories. It will also tie in your photos, workouts, and musical tastes, but that data isn't off-limits to third-party developers — as long as you grant them permission to access it, of course.
Based on how Apple is presenting it, there's a good chance Journal will require iOS 17, but even that's not a sure thing. After an 18-month wait, Apple Music Classical launched earlier this year alongside iOS 16.4, yet it's compatible with any iPhone running iOS 15.4 or later. Either way, we'll have to wait and see whether it launches alongside iOS 17 or sometime after. If it is indeed a standalone app, it could arrive at any time, although Apple is still likely to tie it into a point release.
Collaborative Playlists
One of the subtler changes coming down the road in iOS 17 could be pretty exciting for music fans. Alongside the new SharePlay in CarPlay feature, which is collaborative in its own right, you'll also eventually be able to invite friends to join your playlist, letting everyone add, reorder, and remove songs.
Apple has supported sharing playlists in Apple Music since the service launched in 2015, but that was always a one-way affair. It's still a great social feature for discovering new music by seeing what your friends, family, and colleagues are listening to, but this will take it to the next level.
It's not clear yet whether you'll be able to share any playlist this way or just a single active queue. However, members of your musical appreciation group will even be able to use emoji to react to the song choices in Now Playing, making for a truly collective listening experience.
Improved AirDrop Transfers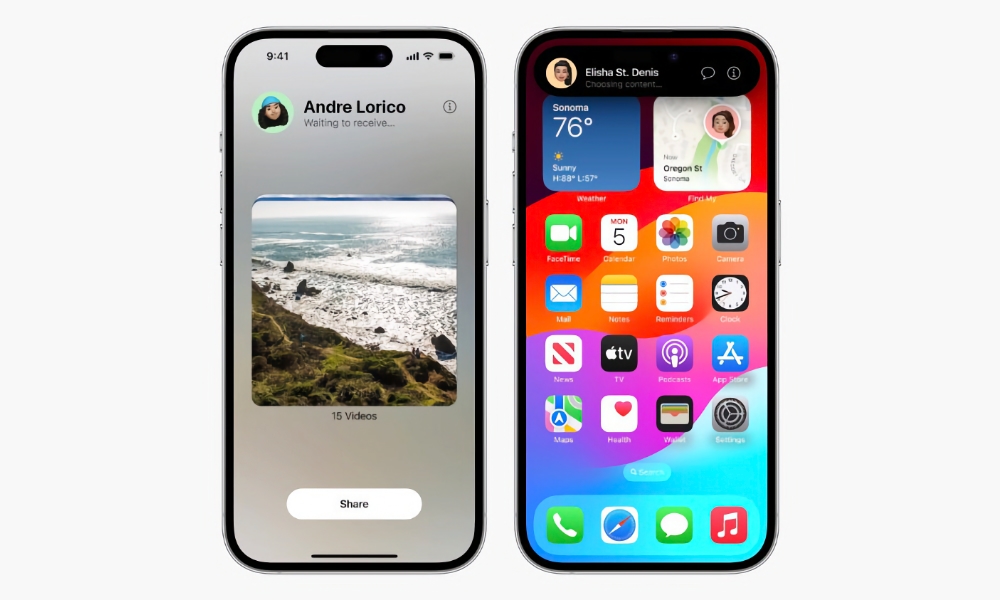 There's quite a bit coming to AirDrop in iOS 17, including NameDrop to let you share contact cards just by holding two iPhones near each other or even an iPhone and an Apple Watch. A similar gesture will also be available to kick off other types of AirDrop sharing, and you'll even be able to start SharePlay sessions via AirDrop.
All of these new features are expected to arrive in iOS 17, but there's one more coming later: the ability to continue larger AirDrop transfers after you walk away.
Right now, AirDrop transfers occur over a direct device-to-device Wi-Fi connection, so sending larger files like 4K videos has always been a pain, as you have to hang out together until the transfer is complete. Once Apple rolls out the ability to finish sending AirDrop transfers over the internet, this won't be necessary anymore.
You'll still need to be together to start the AirDrop transfer, but when you part company, the two iPhones will shift to sending the files securely over the internet — provided you're both signed in to iCloud.
AirPlay in Your Hotel Room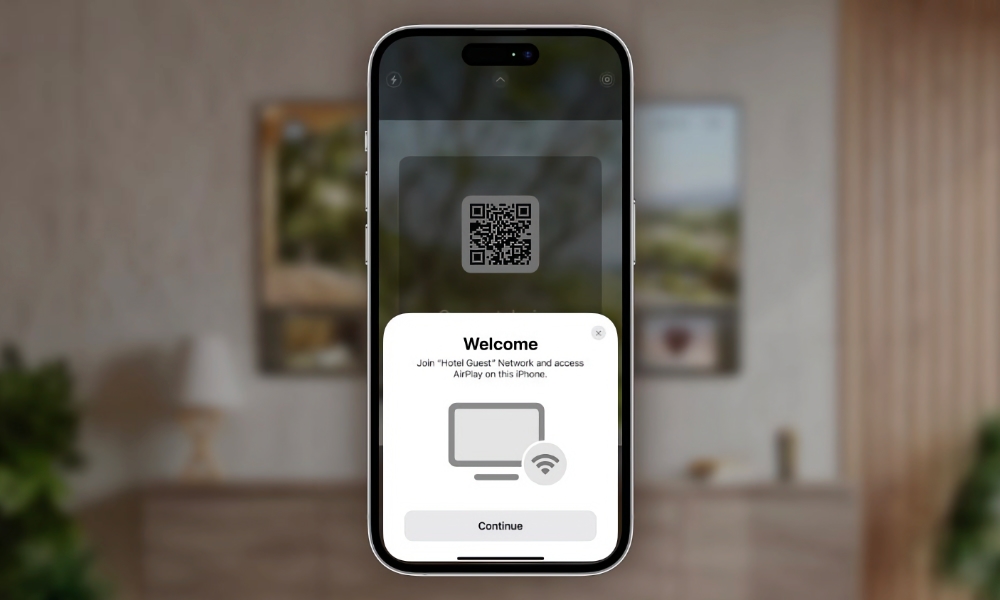 Like Hotel Keys two years ago in iOS 15, Apple's latest initiative for travelers will likely take some before it appears in hotels. Apple has partnered with some hospitality chains to begin rolling out in-room AirPlay, letting guests connect to a TV by scanning a QR code with their iPhone or iPad and effortlessly stream their favorite shows and music.
Since this is just a matter of automatically connecting to a Wi-Fi network and selecting an AirPlay destination, this likely requires minimal development effort on Apple's side, but getting the infrastructure in place in hotels will undoubtedly take a bit more work. In fact, if Hotel Keys are any indicator, it could be a while before this is available in more than a handful of hotels.