Here Are the Changes Coming to CarPlay in iOS 17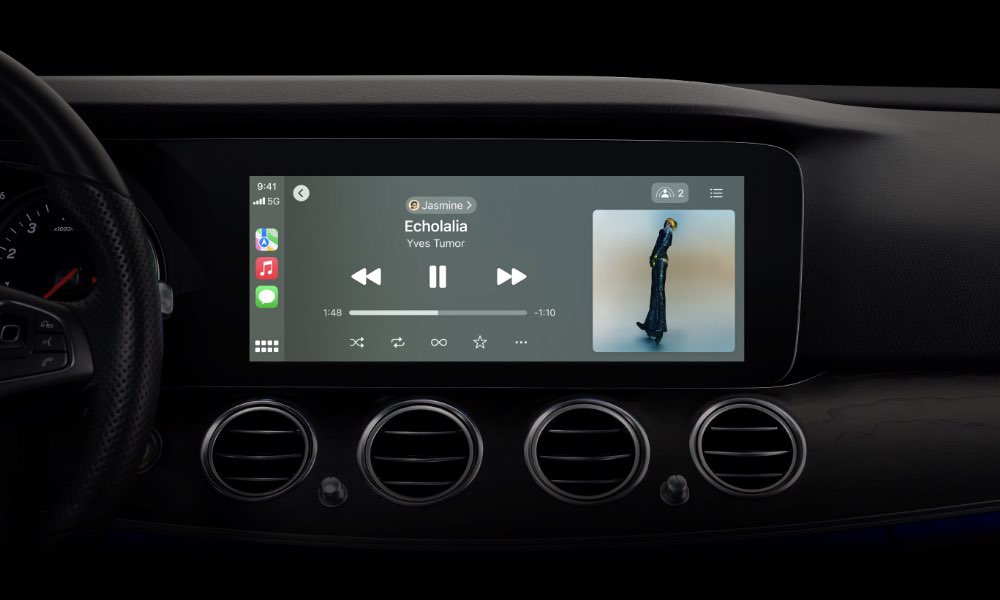 While Apple's iOS 17 is chock-full of new features both and small, it's also going to bring a few interesting enhancements to your dashboard experience — even without a new vehicle that supports Apple's exciting CarPlay 2.0 initiative.
While CarPlay 2.0 promises to be much cooler, it's still a mystery as to how many cars will support the new technology — and when. Most of us will be stuck with the original CarPlay for years to come, so it's good to know that Apple is still upgrading and refining things on that side.
There aren't many big sweeping CarPlay changes in iOS 17, which isn't surprising considering that this year's release lacks the kind of significant "tentpole" features like widgets and new lock screens. Apple's annual CarPlay improvements are usually pretty minor to begin with — iOS 15 added Siri messaging announcements and dark Maps and iOS 16 gave us multiple stops and better hands-free messaging — but iOS 17 does introduce one social feature that's actually a pretty big deal.
'Carpool SharePlayoke'
Apple is adding a new facet to SharePlay, the feature that debuted in iOS 15 to let you watch or listen to media or even join workouts online with friends, using FaceTime and Messages as a launching point.
In iOS 17, Apple is slightly coopting the SharePlay name to describe a feature that's perhaps similar in concept but different in execution: Sharing your music in the car.

In fact, it's kind of the reverse of how SharePlay has worked until now. Instead of joining up with family and friends on FaceTime and syncing up music on your individual devices, CarPlay's SharePlay will let others send their favorite tunes to whichever iPhone is connected to the dashboard.
This works from any iPhone or iPad as long as it's running iOS 17. However, the method of connecting seems a little old-school, as you'll have to bring up a QR code on your dashboard for others in the vehicle to scan. That's likely a security precaution to prevent those in neighboring cars from "finding" your session and trying to join in with their own music. There is an option that suggests the SharePlay session may also be discoverable by "nearby contacts," which would presumably be people listed in your address book, similar to how AirDrop sharing works. However, that doesn't seem to be working right now.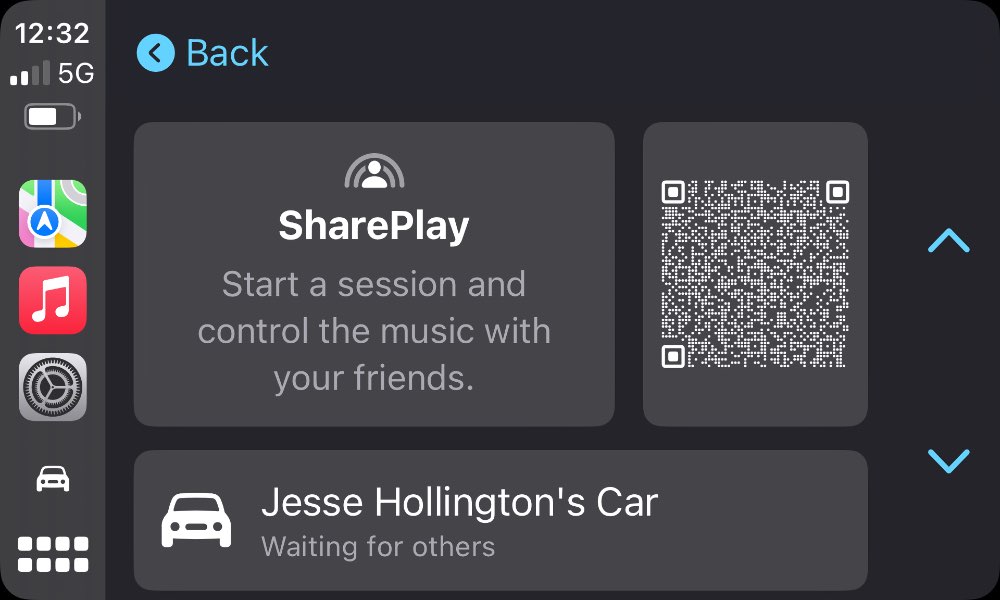 The QR code is displayed on the dashboard by tapping a new SharePlay icon that appears in the top-right corner of the Now Playing screen. You'll see the name of your car at the bottom, which appears to be based on the name on your Apple Music account, and as folks join up, you'll get a count of how many are connected and an "End" button you can tap to cut everyone off.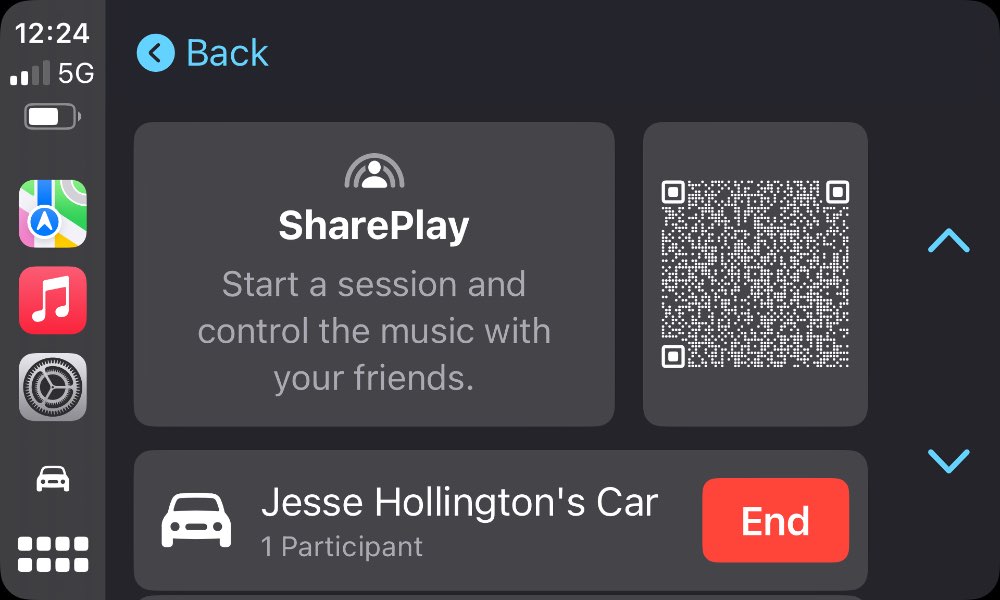 Scanning the QR code on the guest device will show a button that opens the Music app and prompts to connect to the vehicle.
After somebody taps Connect on their device, an approval request will appear on the CarPlay dashboard to let them in. This is a little confusing in beta 1, as I had to scroll down to find it and there's no obvious indication there's anything waiting there, but I'm confident Apple will polish this up before iOS 17 is released this fall.
Once the SharePlay session is up and running, everyone who has joined in will be able to contribute to the shared Now Playing queue or even override what's currently playing with their own selections. A tag will be shown above the song title so you can see whose pick it is.
Siri Overlays
With iOS 17, Apple is once again polishing up the CarPlay user experience, this time by making Siri a bit less invasive.
By default, interactions with Siri will no longer take up the whole screen. Instead, Siri will pop up at the bottom as it does on an iPhone, overlaying the information over whatever app is already on-screen.
For instance, sending a message using Siri will provide the same options as before to cancel, edit, or send the message, but they're now shown in a separate window. Having Siri read incoming messages works the same way, with options to reply or call the person shown on the screen.
While the new presentation looks much nicer, you can still return to the old full-screen with a new Show Apps Behind Siri option in the CarPlay Settings app.
Offline Apple Maps and EV Charging
While it's not a new CarPlay feature per se, Apple Maps will now offer information on the availability of electric vehicle (EV) charging stations along your route. Naturally, this will also be available in CarPlay, where it will be especially useful for finding a place to juice up your vehicle on longer road trips.
Support for offline maps in Apple Maps will also carry over to CarPlay, where it could be helpful when traveling in areas with little or no cellular coverage. While Apple Maps usually does a pretty good job of caching turn-by-turn directions, it won't be able to look up gas stations or roadside stops without internet access. Downloading an offline map of the area you're traveling to before setting off is a great way to ensure this information is available. You can even set Apple Maps to prefer the offline version to save data, which could be handy for avoiding excessive roaming charges during cross-border excursions.