Which iPhone 15 Models Support Wi-Fi 6E?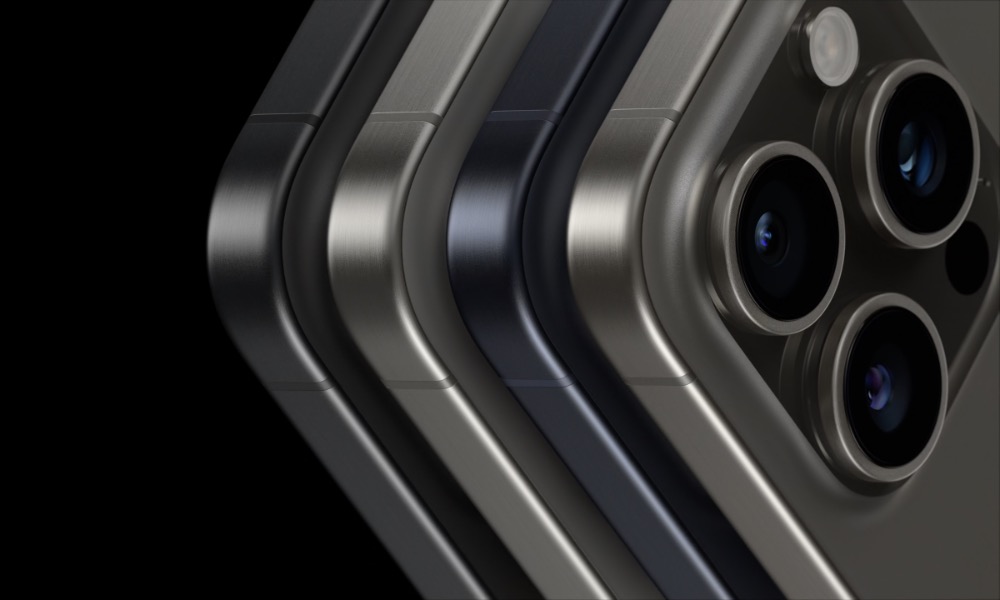 Every year around this time Apple introduces its new iPhones. Well, it's that time again and the iPhone 15 and iPhone 15 Pro are here. All new iPhone 15 models have upgrades over their predecessors in regard to processing power, camera quality, and design.
Apple has also changed the previous Lightning port to USB-C on all this year's new iPhone models and added the Dynamic Island from the iPhone 14 Pro to the standard iPhone 15 models as well. In addition, the iPhone 15 Pro and Pro Max are made of titanium and feature an "Action button" in place of the previous Ring/Silent switch.
In other words, there's some great new stuff — especially on the Pro models — but overall these are still incremental upgrades over last year's iPhone 14 series.
One of the improvements Apple included is Wi-Fi 6E, which is currently only available on the Pro models. It may seem like a small addition, but it can make a difference in how your device performs when connected to a wireless network that supports it.
What is Wi-Fi 6E?
Wi-Fi is always improving and has traditionally been named after the standard it's based on (IEEE 802.11). For example, 802.11ax is the official term for Wi-Fi 6 and 6E. To simplify naming, the Wi-Fi alliance changed the branding in 2018, with 802.11n becoming "Wi-Fi 4." Since then, all Wi-Fi branding has followed this new format.
Wi-Fi 6 is the current approved standard and will eventually be replaced by Wi-Fi 7, which was first drafted in 2019 and is expected to get final approval and become commercially available early in 2024. But until then, Wi-Fi 6, along with Wi-Fi 6E, is the latest and greatest in wireless networking.
If the next big leap is Wi-Fi 7, where does Wi-Fi 6E fit in? Both Wi-Fi 6 and 6E are part of the current standard, the terms simply distinguish the different radio frequencies being used. A Wi-Fi 6 radio utilizes 2.4 GHz and 5 GHz bands, while Wi-Fi 6E uses the 6 GHz band.
In short, Wi-Fi 6 uses more traditional Wi-Fi frequencies and Wi-Fi 6E utilizes the 6 GHz frequency, which offers up to twice as much bandwidth than a 5 GHz band.
What makes Wi-Fi 6/6E better than Wi-Fi 5?
So essentially Wi-Fi 6E is an addition to Wi-Fi 6, which already makes significant improvements over its predecessor Wi-Fi 5, a standard popularized in the early 2010s. Unlike Wi-Fi 5 — which only operates on the 5 GHz band — Wi-Fi 6 utilizes both 2.4 GHz and 5 GHz frequencies. Wi-Fi 6E completes the set by adding a 6 GHz band.
In addition to being faster, Wi-Fi 6 introduces new features and improves upon existing ones found within its predecessor. These upgrades include OFDMA, BBS coloring, and improved beamforming (a type of spatial filtering).
Other improvements include the introduction of the WPA3 security protocol, Target Wake Time (TWT), and more. Wi-Fi 6E helps offer these same features over the 6 GHz frequency.
Wait… what does all that mean???
If you're having a hard time following, that's okay. Let's break it down into real-world terms.
Wi-Fi 6 and Wi-Fi 6E offer the following improvements over previous versions:
Faster speeds.
Quicker connection times.
Reduced lag and network congestion.
Increased reliability and stability.
Improved battery life for some devices.
The ability to communicate with more devices simultaneously.
Improved beamforming.
And enhanced security using WPA 3.
Wi-Fi 6E makes further improvements by increasing speeds over shorter distances, but it's not supported by all Wi-Fi 6 devices — hence the "E."
Think of Wi-Fi 6E as an express lane for supported devices. It helps isolate them from the traffic on 2.4 GHz and 5 GHz frequencies and puts them on a less-crowded frequency (6 GHz).
On its own, Wi-Fi 6E also isn't backward compatible with older Wi-Fi standards, which is why it's essentially an add-on to Wi-Fi 6.
What do I need to use Wi-Fi 6E with iPhone?
Devices with Wi-Fi 6E will work with any modern Wi-Fi network, but in order to connect to the 6 GHz frequency that defines 6E, you will need a few things.
A Wi-Fi 6E-capable router: Connecting to a Wi-Fi 6 router will not utilize Wi-Fi 6E. You must buy a Wi-Fi 6E router. Wi-Fi 6E devices will connect to Wi-Fi 6 routers, but they will not utilize the 6 GHz band.
An iPhone with support for Wi-Fi 6E: It goes without saying, but to use Wi-Fi 6E on your iPhone, you have to have an iPhone that supports it.
Which iPhone Models Support Wi-Fi 6E?
All iPhone models released since the iPhone 11 support Wi-Fi 6, including the 2020 and 2022 iPhone SE.
However, among the new iPhone 15 lineup, only the Pro models support the 6 GHz frequencies. This means the iPhone 15 Pro and iPhone Pro Max are currently the only two iPhones that support Wi-Fi 6E.
How does Wi-Fi 6/6E Work?
If by some chance you're wondering how improvements are achieved, let's dig in deeper.
Wi-Fi 6/6E utilizes the following:
Target Wake Time (TWT) to help improve battery life.
Improved beamforming to reduce interference.
Orthogonal Frequency Division Multiple Access (OFDMA) to reduce congestion on crowded networks.
Overlapping Basic Service Sets (OBSS) to help further reduce congestion and improve reliability.
And the WPA 3 (Wi-Fi Protected Access) security protocol for increased security.
Target Wake Time (TWT)
Traditional Wi-Fi devices connect to a network when they're awake and transmitting data; but when they go to sleep, they don't deactivate their Wi-Fi radio—even when they disconnect from the network.
Every time the device wakes — either in the background or because it's in use — it needs to search for and reconnect to the network. It's time-consuming and uses up battery life.
Wi-Fi 6/6E attempts to alleviate this issue using Target Wake Time (TWT).
With TWT, a supported device can stay connected to the network and only activate its Wi-Fi radio as needed. This results in lower power consumption which usually means increased battery life.
Orthogonal Frequency Division Multiple Access (OFDMA)
Even its acronym is a mouthful, but OFDMA is an important feature of Wi-Fi 6/6E.
Traditional Wi-Fi exchanges data with different devices one at a time. If the data is lost, the device has to wait its turn to retransmit. This creates network congestion on crowded networks and can result in a laggy connection.
With OFDMA in Wi-Fi 6/6E, multiple devices can send and receive data within the same transmission, resulting in a stable, more reliable connection.
Spatial frequency reuse
Another tool Wi-Fi 6/6E uses to reduce network congestion and improve reliability is "spatial frequency reuse" or basic service set (BSS) coloring.
When you're in a loud crowd it can be hard to communicate. You might wait for the noise to die down or talk louder to be heard. It's a similar situation with Wi-Fi 5 and earlier.
Traditional Wi-Fi devices wait for radio noise to clear before they can "talk" to their network. This includes noise from other networks, not just the one they are trying to connect to.
BSS coloring solves this issue by categorizing transmissions into sets or "colors." These colors help networks differentiate between which transmissions they should accept and which they can ignore. Using this information Wi-Fi 6/6E networks adjust their transmit power to reduce interference and improve reliability.
Is Wi-Fi 6E worth it?
In conclusion, Wi-Fi 6 has many improvements over Wi-Fi 5. We only covered a few of the features that make it better. But is Wi-Fi 6E worth it?
There's no simple answer. Wi-Fi 6E is still very new, and if you want to get the most out of your network — and have devices that support it — purchasing a router with support for Wi-Fi 6E is a great idea.
But if you've recently purchased a new Wi-Fi 6 router or don't plan on buying an iPhone 15 Pro or another device with Wi-Fi 6E, you can probably wait until the moment is right for you — and remember, Wi-Fi 7 is just around the corner, too, and it could be coming to next year's iPhone 16 lineup.