Apple Music Classical Arrives on Android
But it's still not available for the iPad or Mac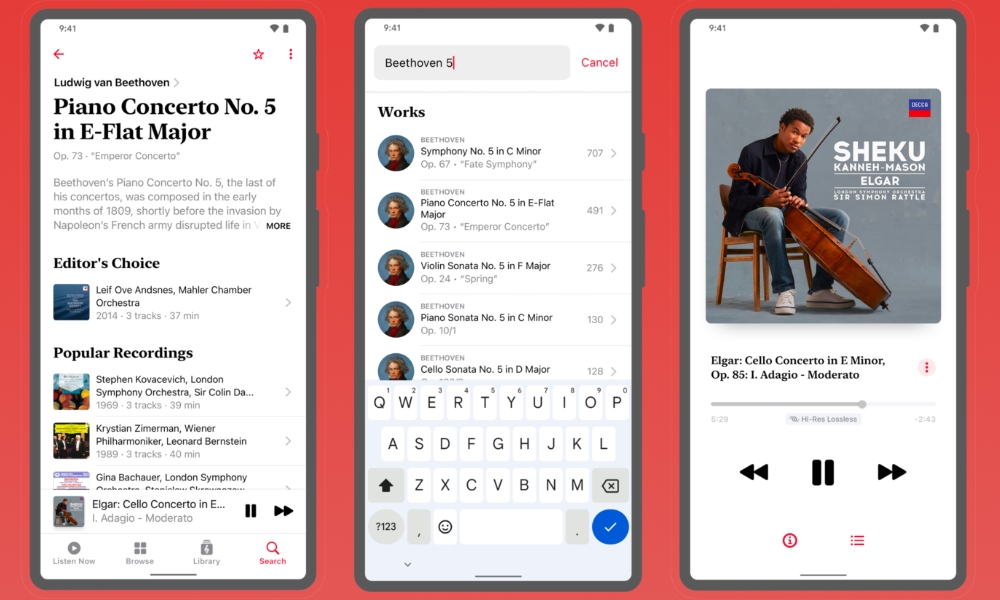 As promised, Apple Music Classical has just arrived on the Google Play Store, allowing folks with Android phones to take advantage of Apple's curated music experience for classical music enthusiasts.
Following a year and a half of speculation on when it would appear, Apple officially took the wraps off Apple Music Classical at the end of March in the form of a dedicated iPhone app for lovers of classical music and an expanded library of five million classical music tracks — all available in lossless quality.
However, core to the new Apple Music Classical experience was a precisely curated set of metadata, much of which it gleaned from the August 2021 acquisition of Primephonic, which kicked off Apple's journey toward a dedicated classical music app and service.
After all, Apple Music has offered an extensive collection of classical music tracks since its inception in 2015, and the iTunes Store was filled with classical works for purchase years before that. The problem is that organizing classical music is much more complicated than more modern genres. It's not just about artists and albums but also composers, movements, orchestras, conductors, and soloists. Then there are the unique catalog classifications that need to be factored in.
As any fan of digital classical music knows, trying to organize a classical music library was awkward, even in a personal iTunes library, despite Apple offering custom fields for composer, grouping, and work name. It was even more challenging in the standard Apple Music layout, so it was clear that Apple needed to create a new experience built around classical works, and the Apple Music Classical app was born.
Apple Music Classical is more of a new lens into the Apple Music library; it doesn't add any new music but rather provides a new window that lets classical music listeners more easily explore and search for the classical works that are already part of the broader Apple Music catalog. For instance, you can dig down into your favorite instruments in the Browse tab, dig through the library by recording or work, or search by conductor, opus number, and more.
It goes beyond better searching, though. Apple has sweat the details, hiring a dedicated editorial team to surface some of the best works, writing background information on composers and movements, and even commissioning high-quality digital portraits for some of the most famous composers like Beethoven, Bach, and Chopin.
Apple Music Classical for Android
Naturally, Apple wants to spread many of its services as far and wide as possible. Eight years ago, Apple Music led the way by becoming the first mainstream Apple app to grace the Google Play store.
Since then, Apple has continued to improve the Android experience, supporting unique Android features and even some features we wish were available in the iPhone Music app.
So, it wasn't much of a surprise that Apple had Apple Music Classical for Android waiting in the wings. The company said as much when it unveiled Apple Music Classical in March.
What's a bit more surprising is that the Android app arrived before Apple Music Classical has even come to the iPad or Mac. Apple has yet to say when or even if Apple Music Classical will come to its other devices. Although the entire classical music library is available through the standard Apple Music app, it doesn't deliver the same experience. At best, folks can use Apple Music Classical on an iPhone to build playlists that can be accessed from the standard Apple Music app.