This New iPhone 14 Color Is Coming Soon
We all live in a yellow iPhone 14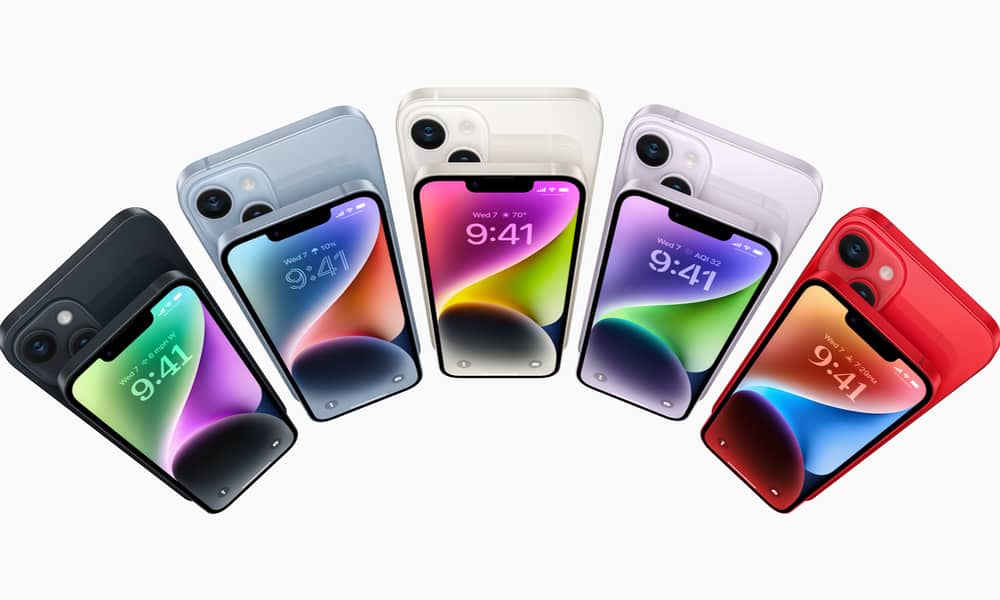 Over the past few years, Apple has offered a "mid-cycle" refresh of its flagship iPhone lineup each spring, introducing a new colour option to help boost sales. There's no reason to believe this year will be an exception, and if the latest rumour is true, this year's spring colour may be a bright, lemony yellow.
Technically, the first time Apple released new spring colours was in 2017 with a special edition (PRODUCT)RED iPhone 7. It followed that up in the spring of 2018 with a (PRODUCT)RED iPhone 8 that changed up the front white bezel on the prior model with a sleeker-looking black one.
However, since these were special editions, most folks assumed they were exceptions to promote Apple's longstanding partnership with (RED). When the iPhone XR landed a few months later, it offered a rainbow of colour selections for the first time in years, and the (PRODUCT)RED model was among those. The iPhone 11 followed suit, and new spring colour surprises became a thing of the past — or so we thought.
Even though the iPhone 12 still came in an array of five colours — including a (PRODUCT)RED edition — six months later, the company surprised us by releasing a new purple finish for the iPhone 12 and iPhone 12 mini. Then, after already shaking up its colour palette in its 2021 lineup, it gave us another new colour in early 2022 with a green iPhone 13.
In retrospect, we probably should have seen it coming. The iPhone XR and iPhone 11 each came in six colours at launch; Black, White, Yellow, Coral, Blue, and (PRODUCT)RED for the iPhone XR, and Black, White, Yellow, Green, Purple, and (PRODUCT)RED for the iPhone 11.
By comparison, the iPhone 12 and iPhone 13 both offered one less colour at launch — Black, White, Green, Blue, and (PRODUCT)RED for the iPhone 12, and Midnight, Starlight, Pink, Blue, and (PRODUCT)RED for the iPhone 13 — leaving room for a new colour to appear in the spring.
The same holds true for the iPhone 14, which is currently offered in Midnight, Starlight, Blue, Purple, and (PRODUCT)RED. So, it's a safe bet there's a sixth colour waiting in the wings. The only question is: which one?
Survey Says: Yellow
Multiple sources report that Apple has a product briefing planned for next week, although nobody is quite sure what the company plans to announce. However, the company has yet to send out press invites, so if this does occur on schedule, it would likely be a smaller "boutique" event for selected members of the press. It's also possible a more significant product event could be held later this month.
Last year, Apple held a fairly significant event on March 8, where it unveiled the Mac Studio, the third-generation iPhone SE, and the green iPhone 13 and Alpine Green iPhone 13 Pro colours. This also marked the first time Apple had introduced a new colour mid-cycle for its higher-end flagship.
So, a March announcement for new colours would be right on track, and the consensus from folks who claim to be in the know is that it's going to be yellow this time around.
The first hint of this was shared by Mac Otakara from a post by Mr. Setsuna Digital on the Chinese social media site Weibo. While that source has no proven track record, the report was later independently corroborated by 9to5Mac.
Yellow seems like the most logical choice for a new colour since it's been out of circulation for a while. The 2018 iPhone XR and 2019 iPhone 11 both came in yellow, but it hasn't been seen on an iPhone since.
While a new colour for the iPhone 14 (and iPhone 14 Plus) seems like a safe bet, it's less clear whether Apple plans to repeat last year's introduction of a new shade for the iPhone 14 Pro lineup.
Last year, the standard Green and Pro Alpine Green options were in the same family, but it's harder to imagine a shade of yellow that would work for the iPhone 14 Pro without being too similar to the gold version that's already available. Perhaps Apple has perfected the "Sunset Gold" that was once rumoured for the iPhone 12 Pro, but it seems we'll have to wait and see.
[The information provided in this article has NOT been confirmed by Apple and may be speculation. Provided details may not be factual. Take all rumors, tech or otherwise, with a grain of salt.]