Apple's Services Now Have Nearly One Billion Subscribers
It was only a little over three years ago that Apple began its big push into services, and it's clearly been a wild and successful ride for the company. This week Apple CEO Tim Cook announced that the company now has nearly one billion active subscribers to services like Apple Music, Apple Arcade, and Apple TV+.
The report came during yesterday's quarterly earnings call, where Cook disclosed that the company had reached 975 million subscriptions to its various services, which undoubtedly contributed to its services revenue breaking the $20 billion barrier for the first time.
It's also been growing at a remarkably steady pace. In February, Apple boasted 935 million active paid subscriptions, an increase from the 900 million threshold it had reached in the fourth quarter of 2022.
In other words, Apple's services have been gaining well over 10 million new subscribers every month with an increase of 75 million new subscribers this year alone.
How Apple Got Here
To be clear, there's much more to Apple's Services business than just the high-profile offerings. While Apple Music, Apple TV+, Apple Arcade, Apple Fitness+, and Apple News+ are the most visible, subscriber numbers also include everyone who is paying for any amount of iCloud+ storage — even those who are simply on the $1/month 50GB plan — as well as folks who are paying for AppleCare+ coverage every month.
However, while Apple Music launched in 2015, and iCloud storage plans have been around for over a decade, Apple's other services have only come along since 2019. This began with Apple News+ in the spring of that year, followed by Apple TV+ and Apple Arcade in the fall. Then, at the end of 2020, Apple Fitness+ rounded out the collection.
While Apple doesn't disclose numbers for its individual services, it's fair to say that Apple Music is likely pulling in the lion's share of those premium services; the music streaming service was estimated to have around 88 million subscribers as of June 2022, while Apple TV+ came in at an estimated 25 million as of March 2022. The estimates for Apple's other services are quite a bit murkier, but they're likely all coming in as distant runners-up — at least by themselves.
In late 2020, though, Apple One bundles came along as a more affordable way for Apple fans to take advantage of multiple Apple services for a lower price. The basic individual and family plans offered Apple Music and Apple TV+ for less than the price those two services cost by themselves, effectively throwing in Apple Arcade and either 50GB (individual) or 200GB (family) of iCloud storage to sweeten the pot. Those who wanted more could go for the Premier plan, which added Apple News+, Apple Fitness+, and 2TB of iCloud Storage for an additional cost equivalent to only one of those three services. So, you were paying for one and getting the other two thrown in, along with Apple Arcade.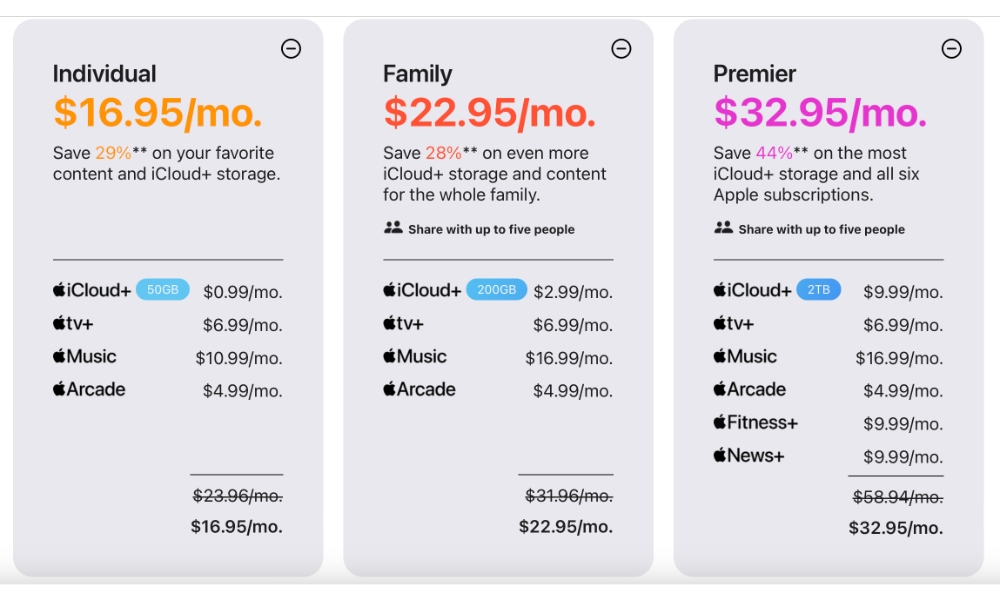 Just before launching its biggest new services, Apple also began offering monthly AppleCare+ plans in the U.S. in 2018, replacing costly one-time up-front purchases with a more affordable option that many customers likely found easier on the wallet. Plus, while the prepaid AppleCare+ packages had fixed two-year terms (three years for Mac), those opting for the monthly AppleCare+ plans could keep on paying every month for extended coverage. In 2020, the monthly AppleCare+ option also expanded to Australia, Canada, and Japan, allowing even more customers to opt for monthly payments and thereby become "subscribers" to Apple's services.
Finally, in 2021, Apple sweetened the pot for potential iCloud customers when it introduced iCloud+. Suddenly, you weren't just getting more storage by subscribing to iCloud, but also security features like iCloud Private Relay, a pseudo-VPN for Safari, and custom domains for iCloud Mail. These features were available to anybody paying for any amount of iCloud storage, from the $1/month 50GB plan up to the 2TB $10/month plan — and, of course, to folks getting iCloud storage as part of any Apple One bundle.
Needless to say, there are plenty of good reasons to subscribe to one or more of Apple's services — and a myriad of ways to become a subscriber. With more than two billion active Apple devices out there and the number of customers who own more than one Apple device, it's starting to look like everyone who owns an iPhone, iPad, or Mac subscribes to Apple's services in one way or another. The biggest question is how long this growth curve is going to continue.