Apple Announces Apple Watch Pride Edition Sport Band for 2023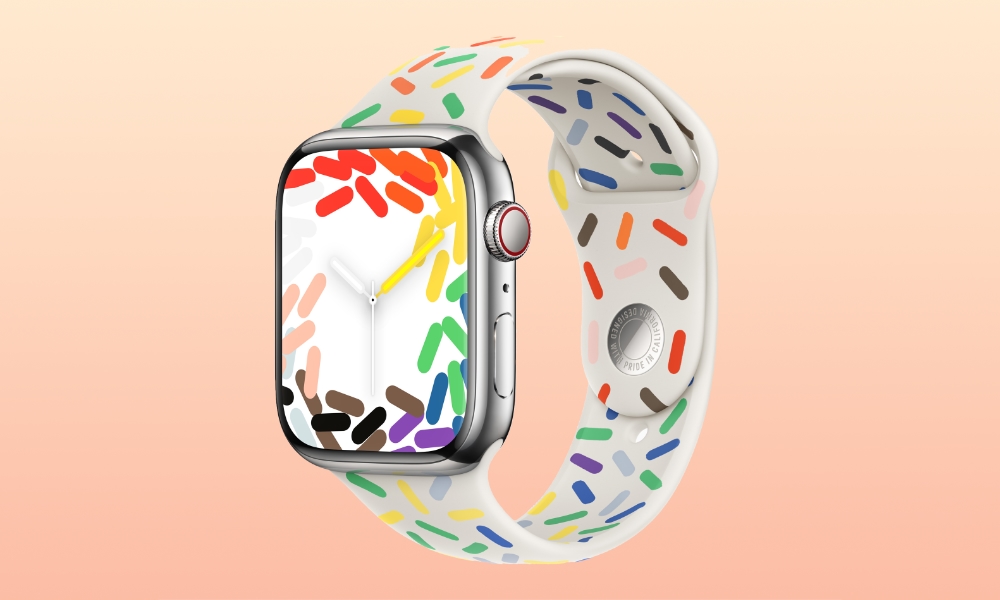 It's that time of year again when Apple takes the wraps off its latest special-edition Apple Watch band creation to celebrate the LGBTQ+ community.
Apple's Pride Edition watch bands have become an annual event over the past several years. The trend of creating a special rainbow-colored Apple Watch band to mark the occasion of Pride month actually began in 2016 with a limited-edition band that was given only to Apple employees in recognition of the 30th anniversary of Apple Pride, the company's first Diversity Network Association.
The band became so popular that Apple decided to release that version for sale to the general public the following year, declaring that a portion of the profits would go to support LGBTQ advocacy organizations. This was followed by new watch band designs in 2018 and 2019, accompanied by custom Pride watch faces built into watchOS 4.3 and watchOS 5.2.1.
Each year after that brought a new design with a new watch face to match. In 2021, after watchOS 7 introduced downloadable watch faces, Apple shifted to including an App Clip on the Pride Band packaging to let users download the new face directly, which was simpler than releasing an entire watchOS update to line up with the event.
This year is no exception, but along with the new Pride Edition Sport Band and accompanying watch face, Apple is also providing a Pride-themed iPhone wallpaper to go with the new customizable lock screens in iOS 16.
Apple describes the new Sport Band design in its newsroom announcement, saying it "showcases the original pride flag rainbow colors and five others — black and brown symbolize Black and Latin communities, in addition to those who have passed away from or are living with HIV/AIDS, while light blue, pink, and white represent transgender and nonbinary individuals."
The additional colors to celebrate greater diversity were first added in 2021; however, this year, Apple has taken its artistic design in a new and interesting direction, replacing the vertical stripes that have long graced its Pride Edition watch bands with a new confetti-like array that Apple says "integrates a joyful rainbow of geometric shapes" against a white background.
More significantly, the shapes have been compression-molded into the final band with a forming process that creates slight variations in how they're laid out. This makes each band as unique as the individual wearing it.
No two bands are exactly alike, reflecting the individuality of all members of the LGBTQ+ community.
The watch face follows the same design motif, which animates the colorful shapes around to give an effect of them moving in from the watch band onto the display.
The new iPhone wallpaper offers a similarly "vibrant interpretation" of the design, dynamically moving when you unlock your iPhone. While custom wallpapers have been supported on the iPhone since the very first model came along in 2007, the ability to animate the wallpaper with the new Lock Screen features in iOS 16 is likely what inspired Apple to invite the iPhone to the party this year.
The Pride Edition Sport Band will be available to order from Apple on May 23 for $49. It's expected to arrive in Apple Stores on May 24. As with all of Apple's watch bands, it's available in 41mm and 45mm sizes that are compatible with all Apple Watch models; officially, Apple lists that as the Series 3 and later, but it should work fine with older models as long as you're willing to live without the accompanying watch face.
The Pride Celebration watch face and iPhone wallpaper will be available beginning next week, and interestingly, Apple notes that they'll require watchOS 9.5 and iOS 16.5. This seemingly confirms what we heard yesterday about Apple's timeline for iOS 16.5, although the reason for those requirements isn't entirely apparent.