iOS 16.5 Could See a Public Release Soon | Here's What to Expect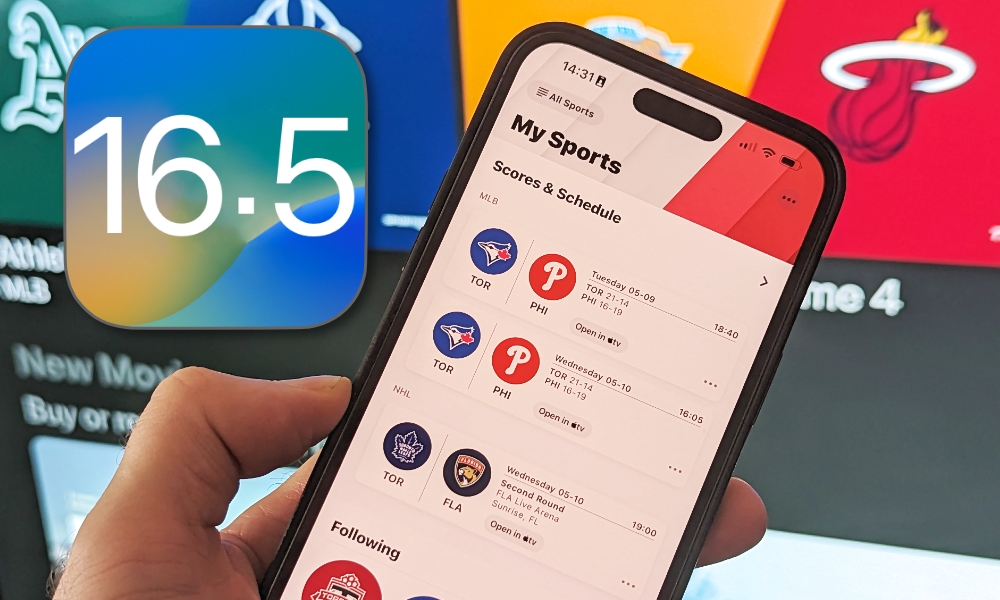 Even though Apple has checked off most of the features it promised for iOS 16 at last year's WWDC, the company is still pushing ahead with another iOS 16 point release that could arrive as soon as next week.
As reported by MacRumors, a protected Twitter account that regularly shares pre-release iOS build numbers just before release has tipped off the iOS 16.5 Release Candidate (RC) for developers with a build of 20F65. This suggests that the iOS 16.5 RC will likely arrive for developers and public beta testers this week. A final public release typically follows a week after the RC lands. By comparison, the current public beta has a build number of 20F5059a.
While iOS 16.5 will likely be the last iOS 16 update to arrive before Apple unveils iOS 17 at next month's Worldwide Developers Conference, it may not be the final word for iOS 16. There have already been reports of an iOS 16.6 being tested internally at Apple, and if iOS 16.5 indeed arrives next week, the first iOS 16.6 betas could show up just before WWDC.
That would follow last year's beta cycle for iOS 15.6, which also began in the weeks leading up to WWDC, with a public release in late July. We saw a similar timeline with iOS 13.6 two years earlier, although in 2021, Apple actually had iOS 14.6 out and available two weeks before WWDC unveiled iOS 15. However, that version also went to iOS 14.7 in July.
Still, unlike some of those prior point releases, it appears that iOS 16.5 may be a bit less exciting. From the betas thus far, the only user-facing changes are facilitating easier access to My Sports in Apple's News app and letting you start screen records via Siri.
An iOS Update for Sports Fans?
The Sports tab in Apple News is helpful for folks who want quick access to scores, schedules, and highlights on what's happening with their favorite teams. However, this isn't a new feature, per se — it's merely a refinement of the My Sports feature that arrived in iOS 16.0.
The overall My Sports in Apple News provides a dedication section in the News app where you can see the latest scores, standings, schedules, and news for your favorite teams — across a whole variety of different sports, from mainstream leagues like MLB, NBA, NFL, and NHL, to golf, tennis, NASCAR, boxing, UFC, and more.
The main change with iOS 16.5 is that sports fans will have a much faster way to get at this. As things stand now, the complete sports section can only be found by scrolling down through the "Today" view until you come to it. The first time you hit this section, you'll be prompted to add your favorite teams, and once you've done that, these will appear on the Following tab to let you access scores, schedules, and news for specific teams. However, the only way to access the complete overview of all your favorite teams is to go back to the Today view and scroll through the rest of the news until you come to that section.
The Sports tab is a means of accessing that directly for those who want to zero in on sports news without being distracted by everything else happening in the world. It will also benefit those who haven't set up any favorite teams, as you'll be prompted to do that the first time you visit the new Sports tab.
Your favorites also sync with Apple's TV app, so you'll have quick access to upcoming games for those teams through any streaming app or service that integrates with the TV app.
However, the bigger change in iOS 16.5 may not be immediately apparent: a new multiview feature for watching several games at once.
With iOS 16.5, it appears that Apple will join the club of mainstream sports broadcasting apps like ESPN by offering a multiview feature that lets you simultaneously put up to four different sports games on the screen in a four-by-four grid. It's something that YouTube has been toying with as well, so Apple isn't about to be left behind.
Many folks running the tvOS 16.5 public betas have already seen it go live for games streamed through Apple TV+ — those on MLB Friday Night Baseball and MLS Season Pass. It remains to be seen whether the feature will expand beyond Apple's sports packages, particularly since most other sports stream through their own third-party apps rather than Apple's TV app. However, at the very least, it suggests that Apple is getting even more serious about sports, and it's a safe bet that any other leagues that come to Apple TV+ will also be able to take advantage of the new multiview feature.
[The information provided in this article has NOT been confirmed by Apple and may be speculation. Provided details may not be factual. Take all rumors, tech or otherwise, with a grain of salt.]