iOS 17.1 Makes Photo Shuffle Lock Screens More Customizable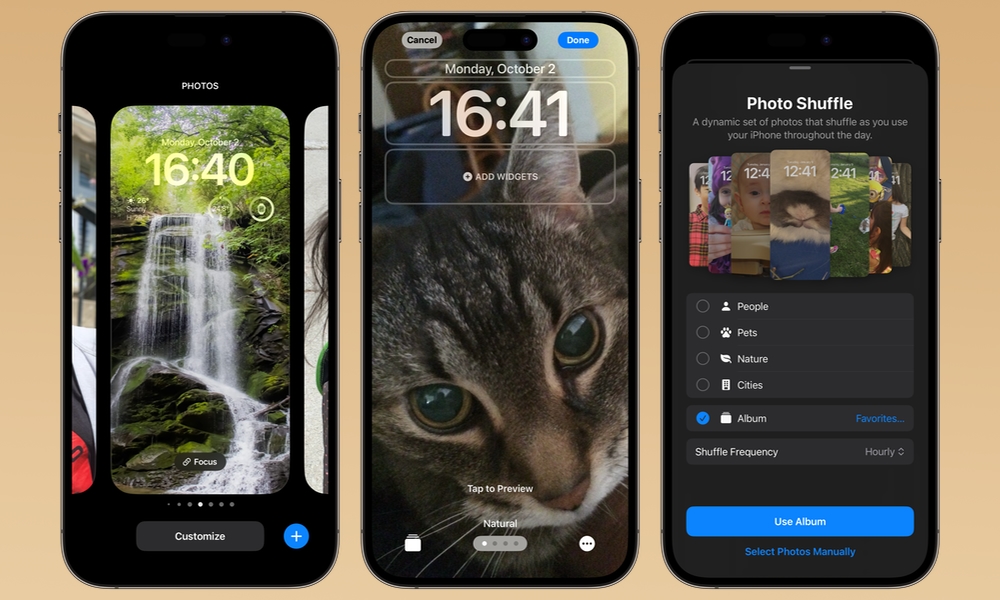 In addition to unveiling its new iPhone 15 lineup and releasing iOS 17, Apple finished off September by sending out the first beta of iOS 17.1 to developers and public beta testers alike.
While we're still in the early stages of exploring what iOS 17.1 will ultimately bring to the table, it appears to at least be laying some of the groundwork for iOS 17 features that are yet to arrive, and it's also fixed a few annoying bugs along the way.
However, it also brings a few other fun and useful tweaks. One of which is, as the folks at 9to5Mac discovered, a much more flexible way of displaying your favorite photos on your Lock Screen.
One of the most significant and fun features to arrive in iOS 16 last year was the ability to customize your Lock Screen far beyond a single static wallpaper. A wealth of new options let you turn your iPhone screen into something more akin to an Apple Watch face, complete with complication-style widgets, live backgrounds for things like astronomy and weather, and even dynamic photo galleries.
That last one was a breath of fresh air for those who like to keep things interesting, but sadly, it had a few limitations that meant you weren't always seeing the best of your photo collection whenever you picked up your iPhone.
The Lock Screen, dubbed Photo Shuffle, could randomly cycle through images, either changing them up on an hourly or daily schedule or each time you unlocked or tapped your iPhone. However, your selections in the dynamic album were limited to filtering by four categories: People, Pets, Nature, or Cities.
While the People category let you choose who you wanted to include pictures of, the other three relied on Apple's machine learning to select images that Apple thought might be worth putting on your Lock Screen.
Although iOS 16 later added a way to remove specific photos from the shuffle, that had to be done individually for each image and could get quite cumbersome if your iPhone brought up a larger list of photos you didn't want to see.
Thankfully, Apple has added a new option in iOS 17.1 that should prove highly useful for Photo Shuffle fans who were disappointed with what iOS 16 had to offer.
As 9to5Mac discovered, creating a new Photo Shuffle now offers the option to use an Album instead of the predefined categories. For now, at least, this is an either-or choice — you can use a single album, or you can choose the People/Pets/Nature/Cities categories, but you can't mix both.
For the most part, the album selections are also mostly limited to those you've manually created. The Favorites album is available, but other Smart Albums like Selfies, Portrait, and Recents aren't included.
Further, once you've saved a Photo Shuffle Lock Screen using an album, you won't be able to switch it over to the categories or vice-versa. You can change the selected album, but if you want a Photo Shuffle Lock Screen for people or pets, you'll need to create a new one.
The same applies to using an album for an existing Photo Shuffle Lock Screen. The album option doesn't appear when editing a current screen, only when creating a new one. However, it's important to remember that we're dealing with the very first iOS 17.1 beta here, so that could change before the final release.
Note that even when using an album for Photo Shuffle, iOS 17.1 will still try to limit what appears to those photos that are appropriate for your Lock Screen, but unfortunately, there's no Don't Feature Photo option on the pop-up menu when pulling photos from an album, so the only way to get rid of a picture you don't want is to remove it from the album entirely. Again, though, that might change by the time iOS 17.1 is released to the public.