Does the iPhone 15 Support Faster Charging?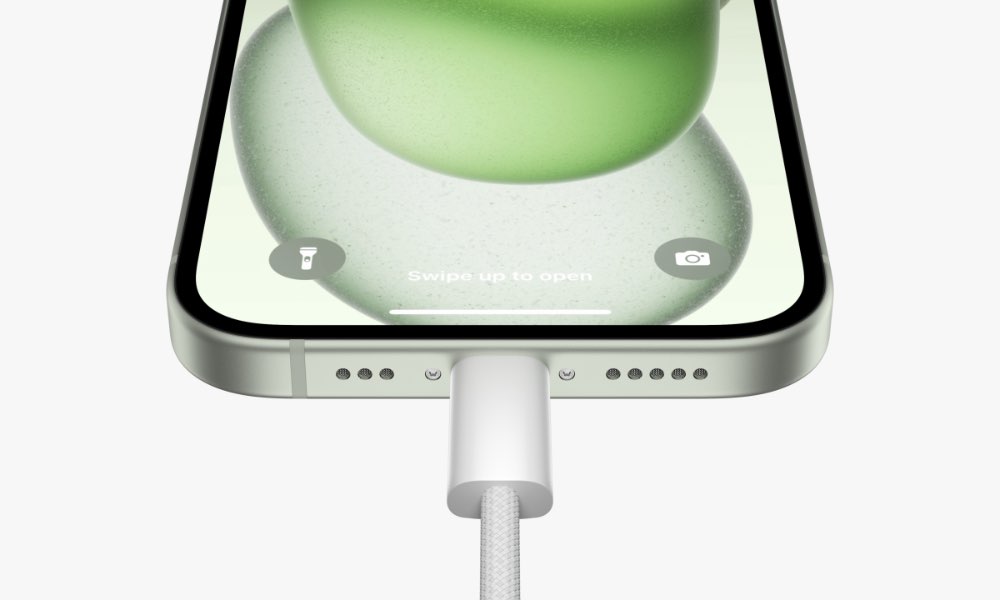 Multiple rumors leading up to the release of Apple's iPhone 15 and iPhone 15 Pro lineups last week suggested that the new models could gain support for faster charging speeds alongside the switch to USB-C.
However, when the event came and went with nary a mention of charging performance, it seemed likely that any performance gains were minimal at best. This was confirmed when Apple published the official specs for its various iPhone 15 models, showing the same text as the equivalent prior models.
For the iPhone 15 Plus, iPhone 15 Pro, and iPhone 15 Pro Max, that's "Up to 50% charge in 35 minutes with 20W adapter or higher." For the iPhone 15, that's only 30 minutes, same as with last year's iPhone 14.
Apple notes in the fine print that your "actual results will vary," but the point is that these numbers aren't any more optimistic than what we've been seeing for years.
Of course, charging times don't tell the whole story. It's entirely possible Apple packed significantly larger batteries into this year's iPhones, in which case the rumored 35W charging may have been necessary only to maintain the same charging times as prior models.
We'll have to wait for the inevitable teardowns in a few days to know for sure. Still, even if this means some iPhone 15 models are drawing more power, we're clearly not getting the kind of faster charging that was rumored in the days leading up to Apple's Wonderlust event.
However, it turns out we may not even be getting more power. Japanese blog Mac Otakara claims to have information that the top-tier iPhone 15 Pro Max still draws the same 27W as its predecessor, which itself remained unchanged from the iPhone 13 Pro Max that first introduced 27W charging to the iPhone lineup.
We haven't seen any real-world tests to confirm this, and it's not clear where Mac Otakara is getting this information, but based on everything we've seen so far, it's not surprising. Apple only recommends a "20W adapter or higher" for the best charging speeds. However, as we saw with the prior two iPhone Pro Max models, Apple's 30W adapter will undoubtedly charge the iPhone 15 Pro Max a bit faster.
To be clear, the switch to USB-C never inherently meant faster charging speeds. Even if the rumors were true and Apple had put a Thunderbolt/USB4 port on the iPhone 15 Pro and iPhone 15 Pro Max, they wouldn't have necessarily charged any faster. USB 3, Thunderbolt/USB4, and even Thunderbolt 4 are standards for faster data transfer — they have nothing to do with charging speeds.
The part of the USB standard that impacts charging speeds is USB Power Distribution (USB-PD), and Apple has supported this over the Lightning port since 2017 when the iPhone 8, iPhone 8 Plus, and iPhone X gained 18W wired charging. Remember, Lightning is just a connector; what's on the other end is still a USB power brick, and it has to follow the same USB standards as any other electronic device that uses USB charging.
This is also why rumors that Apple was planning to artificially limit faster charging speeds to certified Made for iPhone (MFi) accessories were preposterous from the beginning. While Apple has required authentication chips for specific accessories that communicate with the iPhone, iPad, and iPod since the days of its 30-pin Dock Connector port on the fifth-generation iPod, it's never used authentication chips to restrict charging cables.
It remains an open question whether that kind of control over specific accessories that unlock iPhone features like CarPlay will continue into the USB-C era. However, it didn't come as a big surprise to hear confirmation that the iPhone 15 USB-C ports are 100% industry standard when it comes to charging and data transfer cables and accessories.
Still, if you were hoping Apple would match its rivals like Samsung and add 45W or faster USB charging to the iPhone 15 lineup, it doesn't look like that's happening this year. Apple has never put a lot of stock in upping wired charging speeds the way some of its Android competitors do, and it's not alone; even Google's latest Pixel lineup still supports the same 25W-ish wired charging as Apple's iPhones.
Clearly, Apple feels that getting up to 50% in around 30 minutes is sufficient for most folks with a depleted iPhone. The added bonus is that slower charging is better for the environment and easier on the health of your battery, which are also both important things to consider.