iOS 16.4 Brings Optimizations for iPhone 14's Crash Detection Feature
This is to help prevent false 911 calls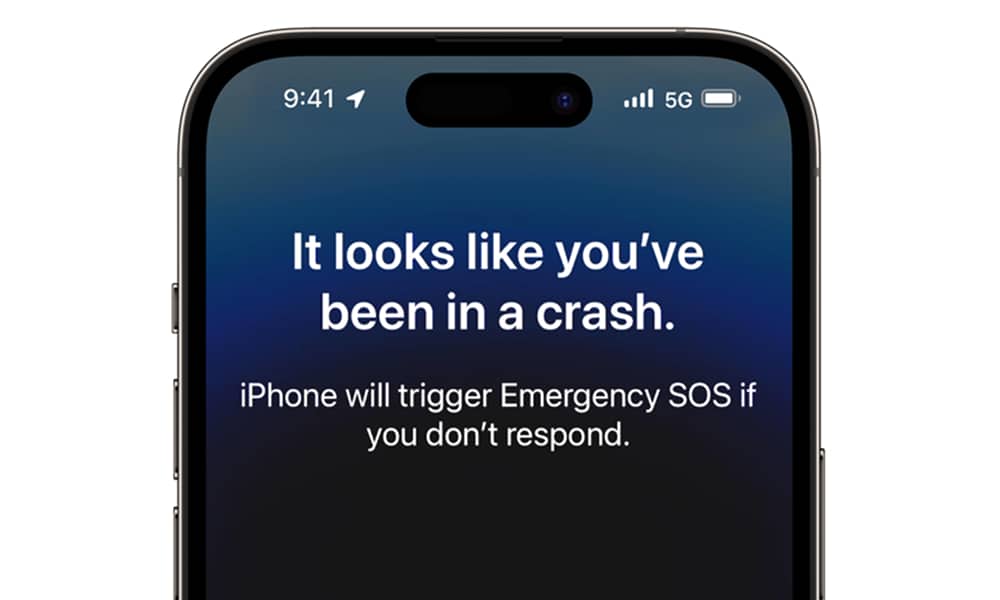 Apple's iOS 16.4, which was released last week, brings new optimizations of the Crash Detection feature on iPhone 14 and iPhone 14 Pro handsets. The feature, while it has proven helpful, has also resulted in multiple false emergency calls in the United States and Canada.
According to the release notes for the iOS 16.4 Release Candidate, the the version of the operating system includes "Crash Detection optimizations on iPhone 14 and iPhone 14 Pro models."
Although Apple hasn't shared any specific details about the RC optimizations, the iPhone maker has been working on improvements to the Crash Detection feature. Several emergency dispatchers in the United States and Canada have received an influx of false emergency calls, usually from skiers and snowboarders that have inadvertently triggered the emergency calls during the winter sports season.
Crash Detection on the iPhone 14 and the Apple Watch leverages both devices to call for help. Whenever a severe vehicle crash is detected, the emergency services call prompt appears on the user's Apple Watch, as the wearable is most likely to be closest to the user, although the emergency call is placed through iPhone if it is in range, in order to provide the best possible phone connection. A call is placed to emergency services if the driver doesn't respond to the device's prompts before 20 seconds have counted off.
Unfortunately, emergency dispatchers in Canada and several U.S. states have reported numerous false emergency calls. False emergency calls have been received in Colorado, Utah, New York, Pennsylvania, Minnesota, and other popular skiing areas.
These false calls are putting a strain on already stressed dispatchers in call centers, resulting in personnel and resources being diverted away from where they're actually needed.
Summit County dispatchers in Utah say that while they have seen an increase in accidental emergency calls from skiers, none have been activated on purpose. They say three to five emergency calls per day are coming from Apple devices.
Dispatcher say that people don't respond at first because they don't know that the call has been placed. "They're usually like, 'Oh, I'm sorry, I was skiing. Everything's fine,'" said Summit County Dispatch Center supervisor Suzie Butterfield.
"They're usually like, 'Oh, I'm sorry, I was skiing. Everything's fine,'" Summit County Dispatch Center supervisor Suzie Butterfield
As reported in December, emergency dispatch centers in Colorado have experienced an increase in emergency calls from skiers after their iPhone 14 and newer Apple Watch models misinterpreted a wearer's ski fall as a car accident. The Pitkin County emergency call center reported receiving up to 20 of these accidental calls a day during December.
It should be noted that when the Crash Detection feature works correctly it saves lives. In January, the feature alerted police in minutes, following an early morning auto accident in Tasmania.
Five people ranging in age from 14 to 20 were rushed to the hospital after a four-wheel drive towing a horse trailer with four horses crashed into a tree stump in northern Tasmania at 1:45 a.m. The Crash Detection feature alerted nearby police, who got to the scene within eight minutes All of the passengers were unconscious and would have been unable to manually make an emergency call.
One crash victim with serious injuries was transported to Melbourne by air ambulance. Unfortunately, the four horses died of their injuries.
At this point in time, we can't be certain if the update's new optimizations fully alleviated above mentioned issues, but we'll soon find out once enough testing has been done.
This information first appeared on Mactrast.com