Apple's Rapid iOS 17 Patch Trend Continues with iOS 17.0.2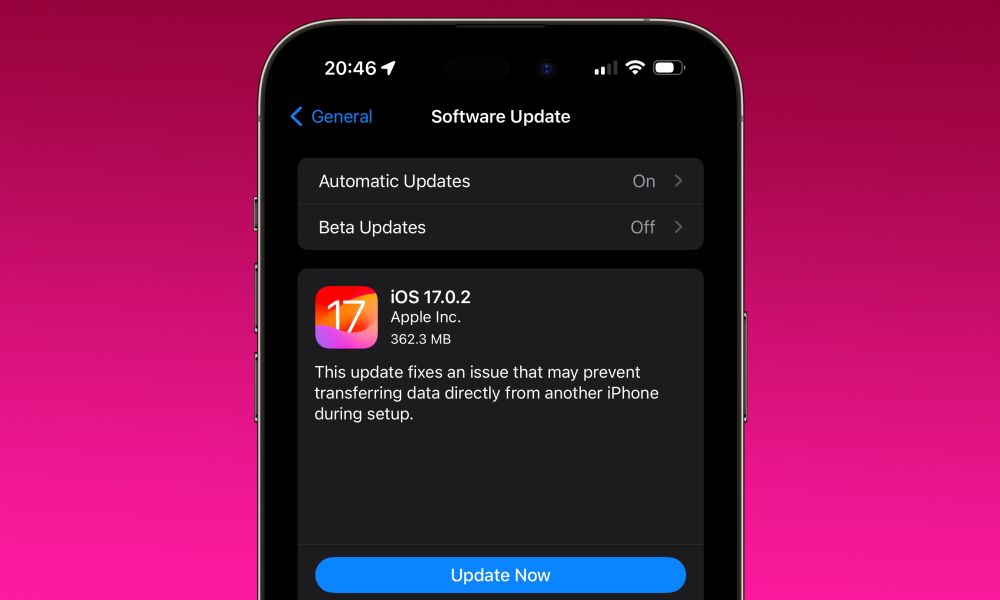 It's been less than a week since Apple pushed out iOS 17.0.1 and its brethren to the iPhone, iPad, and Apple Watch, and now the company is already rolling out iOS 17.0.2, iPadOS 17.0.2, and watchOS 10.0.2 to all supported devices.
The iOS 17.0.2 update first appeared on Friday, the day after iOS 17.0.1 went live. However, at that time, the update was exclusively available for the iPhone 15, iPhone 15 Plus, iPhone 15 Pro, and iPhone 15 Pro Max, purportedly released to fix a data transfer bug with Apple's newest iPhones.
This led to the assumption that perhaps this update fixed a problem that was unique to those new iPhone models, but now it looks like Apple just had to rush the iOS 17.0.2 update out for the iPhone 15 lineup as those devices began arriving in customers' hands, and were thus the ones most likely to be impacted by this glitch.
However, today's wider release of iOS 17.0.2 with the same release notes suggests that the data transfer problem is much more widespread — a bug possibly introduced in iOS 17.0 or iOS 17.0.1.
While Apple's release notes also state that iOS 17.0.2 "provides important bug fixes [and] security updates," that part is omitted from the description that appears when the update comes up on the iPhone under Settings > General > Software Update.
This update fixes an issue that may prevent transferring data directly from another iPhone during setup.
The Software Update screen on an iPad shows the same description for iPadOS 17.0.2 (except, of course, with the word "iPhone" replaced with "iPad"), suggesting that users may have run into similar problems transferring data to a new iPad running an earlier version of iPadOS 17.
Unlike most other recent iOS/iPadOS updates, Apple's Security Releases page notes that iOS 17.0.2 and iPadOS 17.0.2 have "no published CVE entries," indicating that they don't include any significant security fixes.
Several users who attempted to transfer data to their new iPhone 15 models running iOS 17.0/17.0.1 last week reported the device getting stuck on the Apple logo, requiring them to restore their iPhone to factory settings using a Mac or PC. iOS 17.0.2 was explicitly released to fix whatever problem was causing this hang-up.
The rushed release of iOS 17.0.2 could also explain recent reports of overheating iPhone 15 Pro and iPhone 15 Pro Max devices. While we haven't been able to glean any specifics on whether the overheating is limited to those users who installed iOS 17.0.2, the number of reports coming from folks upgrading from older models and restoring backups onto their new iPhone 15 Pro or iPhone 15 Pro Max suggests that this could be a factor. We've also heard many anecdotal reports from new iPhone 15 Pro customers who haven't encountered any excessive heat problems at all.
Alongside iOS 17.0.2 and iPadOS 17.0.2, Apple has also released watchOS 10.0.2 with a note that "this update includes bug fixes and important security updates for your Apple Watch." However, as with the latest iOS/iPadOS updates, there are no published CVE entries for this one either, so it's unclear what "important security updates," if any, are included.
According to MacRumors, this update fixes a problem many Apple Watch users have been experiencing with blank Weather complications since updating to watchOS 10. However, it also appears to be limited to the Apple Watch Series 9 and Apple Watch Ultra 2 for now, so folks having this problem on the Apple Watch Series 8, original Apple Watch Ultra, or older models will have to wait for a wider release of watchOS 10.0.2 or whatever update comes next.