Apple's Control of the Smartphone Market May Be Shrinking
Parks Associates, a firm that gathers marketing data, shows Apple with a commanding lead in smartphone sales with 40% of the market. Even without owning the majority of the market, Apple is in a great position with its iPhone sales. The company shouldn't celebrate just yet though.
Android OEMs are catching up to the iPhone giant, as Samsung holds close to 31% with LG reaching 10%. Samsung has the edge in the world market at 23.7% with Apple only at 13.6%, this based on third quarter 2015 numbers, according to Strategy Analytics. "Apple remains the dominant smartphone manufacturer in the U.S., but Samsung is catching up," said the director of Health & Mobile Product Research, Harry Wang, reported by 9to5Mac last Wednesday.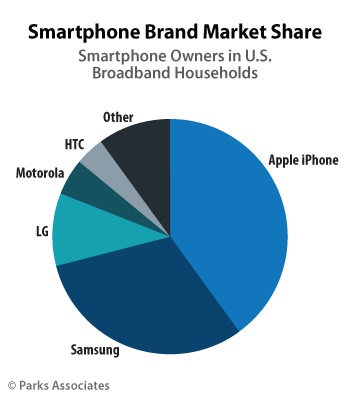 While Samsung is leading the Android battle, with LG following far behind, Motorola and HTC are around 4-5%. The "other" category includes companies like Huawei and OnePlus at about 10%. Looking at the big picture, Android phones dominate the market at 60%. There's no mention of Windows phones, one should note. Even if the iPhone is not the most owned phone, it's popularity is still pretty high. Apple's position in the smartphone market is similar to the computer market. There are more PCs out there, but there are also a plethora of companies making PCs, like with Android Phones. There is only one company that makes iPhones and Macs.
Another interesting factoid, "Operators are pulling out all the tricks to encourage phone upgrades," Wang said. "The once-familiar two-year contract, which tied consumers to a two-year phone upgrade cycle, is gradually fading. U.S. carriers started to do away with two-year contracts in 2012, and by the third quarter of 2015. Only 51% of mobile consumers had a contract, down from almost 70% at the end of 2011." iPhone sales could change now that mobile carriers are encouraging customers to upgrade every year, instead of the old 2-year model.
Apple's stock price has suffered in recent weeks, mostly due to worries about China's economy. News about losing ground in the market is certainly not good. However, Apple's difficult days over the past month or so may just be temporary. It's still one of the most profitable American companies, even if it doesn't have a majority of the market share in computers or smartphones. Apple's success shows the company can handle difficult times.
Learn More: 6 Ways to Free Memory and Speed Up Your iPhone