Newest Apple Patent Suggests We Could Have Flexible iPhones by 2018
Whew! What a haul! Apple was awarded a whopping 54 new patents yesterday by the U.S. Patent and Trademark Office – And get this, one of the patents outlines details about a 'flexible OLED display', which as it's been rumored before, could potentially see its way into a future iPhone.
As originally reported by Patently Apple, the iPhone maker's latest patent — titled only, "flexible electronic devices," pertains to any devices that feature both flexible outer casings, as well as flexible internal components. And Apple's OLED (Organic Light Emitting Diode) display would fall into the aforementioned category of hardware — if and when it eventually comes to market.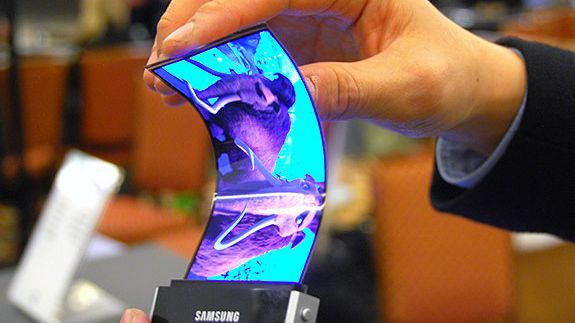 The patent elaborates, ultimately explaining the fundamental use of these "flex-sensing components" — which could be used to register input, such as deformations of the display and, in turn, accept those deformations as a type of user input.
For example, bending the device could change its operating mode, or provide additional gaming controls, or even power a device on and off.
A cool bonus to this technology is that flexible devices generally tend to be more resistant to damage — primarily due to their formidable levels of shock absorption upon impact. Additionally, Apple noted that this technology could be employed in devices such as the company's iPhone, iPad, or Apple Watch.
Perhaps the coolest part of all? We might see this new technology a lot sooner than later. Several reports have already indicated that Apple has contracted Samsung to be its primary OLED display supplier. Which was a good choice on Apple's part, because not only has Samsung invested as much as $7.47 billion in equipment needed to manufacture the new displays in large quantities, but these displays could ultimately see their way into the 2018 'iPhone 7s' at the earliest.
In addition to Samsung, Apple could potentially spread out its ordering of OLED display panels among other suppliers — such as AU Optronics, LG Display, or Japan Display, all of which have previously supplied Apple with LCD panels for the iPhone.
On another, unrelated though nonetheless interesting note, Apple is reportedly operating a secret factory in Taiwan, whereat a team of engineers are currently working to develop a type of "thinner, lighter and brighter display to implement in future devices."
So it's very possible that the company's "secret lab" could be specifically geared towards the development of flexible OLED and Micro-LED display panels. I guess we'll find out soon enough, right?
Learn More: WWDC 2016 Is Fast Approaching and Will Be Packed with Surprises – Here's What We Expect
What do you think about a future iPhone featuring flexible OLED display technology?