Apple's iPhone 15 Case Lineup to be 'FineWoven' in 10 Colors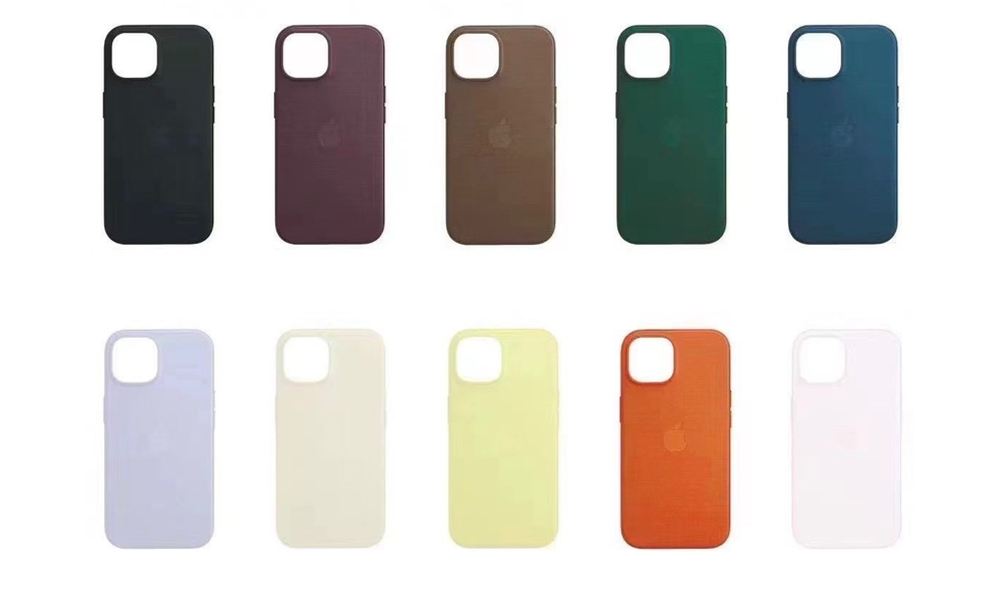 Over the past month, we've heard several rumors that Apple plans to abandon its traditional leather iPhone cases this year. Although we weren't entirely sure what to make of that initially, these culminated in a report last week that Apple has been developing a new lineup of vegan leather cases that would presumably be more eco-friendly and sustainable than traditional cowhide leather.
Shortly after that, leakers began bandying around the term "FineWoven" to describe the new woven-style design, suggesting that it could become Apple's official branding for the new case lineup.
The name was met with some skepticism, but it seemed just kitschy enough to be something Apple might actually go with. Now, a leaker who has a reasonably accurate track record is weighing in to confirm that Apple has at least been bandying the name around.
In a post on the social media network formerly known as Twitter, Kosutami also shared a photo of all of the colors the new "eco-fiber leather case" will be available in — ten in total.
The collection includes Black, Mulberry, Taupe, Evergreen, Wisteria, Antique White, Butter Yellow, Orange, Pink, and Pacific Blue — the last one being a slight nod to the exclusive color of the iPhone 12 Pro and iPhone 12 Pro Max.
Kosutami also describes the case design as featuring "rubber-wrapped bezels" that are a little darker than the case's main color.
The leaker adds that the source of this information is "some factory guy friend," but clarifies that this is because third-party case manufacturers have been buying information from sources within Apple's supply chain to make fake iPhone cases that look like the Apple official ones. Another leaker, @URedditor (aka Unknownz21), chimed in to add that this "sounds like it makes sense" and is "definitely possible."
As for the name, Kosutami says that "it's clearly called FineWoven officially" but follows that up by saying it's "not almostly confirmed" and that the marketing team could still change its mind. Such a move wouldn't be unprecedented, as a product's name is the one thing that can easily be decided at the last minute, and we've recently seen indications that Apple chose to switch its new mixed-reality headset name from "Reality Pro" to "Vision Pro" at the eleventh hour.
A Matching Apple Watch Band Is Coming Too
Last month, Kosutami also shared that Apple will release a new "Magnetic Buckle" watch band to go along with the Apple Watch Series 9. The design was said to be similar to the Modern Buckle but made from "a woven fabric material" rather than premium Granada leather.
The leaker adds that this woven fabric watch band will use the same "eco-fiber" material as Apple's "FineWoven" cases. The band is expected to carry the same $99 price tag as Apple's Braided Solo Loop and could presumably be offered in the same ten colors as the iPhone cases, allowing folks to coordinate their style.
However, unlike the iPhone 15 cases, the Magnetic Buckle Apple Watch band will presumably be compatible with older Apple Watch models, as has been the norm since the first Apple Watch went on sale in 2015. While there are rumors Apple may switch up that band design for a 2024 "Apple Watch X," the Apple Watch Series 9 is expected to be visually indistinguishable from the current Series 8, with the only external change possibly being a new pink color option.
Either way, we'll know soon enough. Apple is expected to unveil this year's new iPhone 15 lineup at an event next Tuesday, September 12, which will likely also be accompanied by the new Apple Watch Series 9 and a refreshed second-generation Apple Watch Ultra.
[The information provided in this article has NOT been confirmed by Apple and may be speculation. Provided details may not be factual. Take all rumors, tech or otherwise, with a grain of salt.]