Apple Watch Ultra With MicroLED Display for Launch by 2025
MicroLED displays "make content appear like it's painted on top of the glass."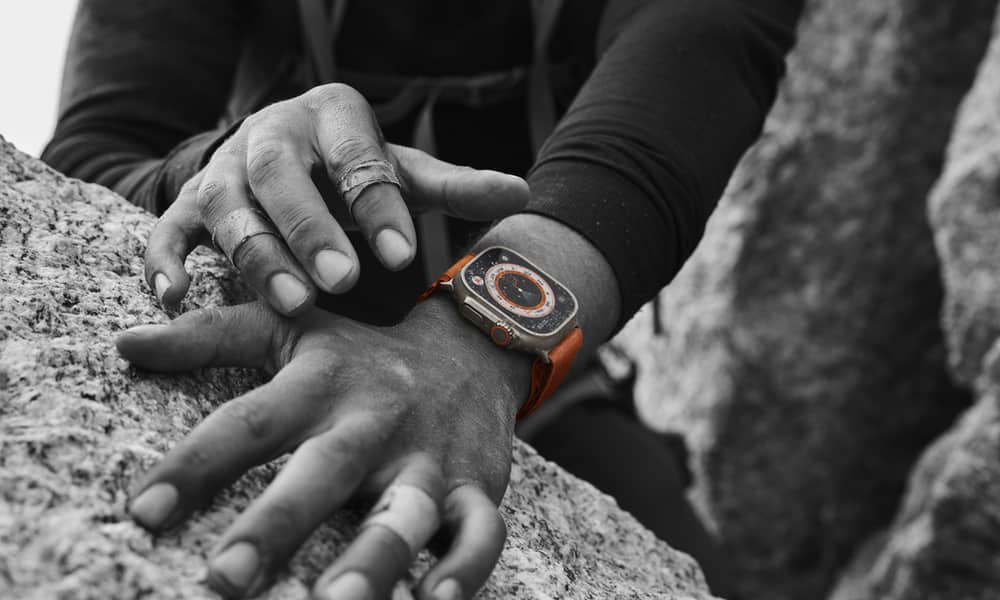 A Monday report from supply chain publication DigiTimes claims Apple will release a new Apple Watch Ultra model boasting a microLED display in late 2024 or early 2025. The Taiwanese publication says once the microLED is in place for the Apple Watch lineup, Apple will expand the technology's use to its iPhone, iPad, and MacBook lineups.
Apple has been working to develop microLED display technology ever since its acquired microLED display maker LuxVue back in 2014.
MicroLED displays are designed to provide a brighter display screen than other technologies. Some reports say that microLED displays "make content appear like it's painted on top of the glass." The technology also potentially offers extended battery life for the devices it is used in.
Even though microLED has been in development for several years, manufacturing the technology remains a challenge, while also being more expensive than other display technologies. These are just some of the reasons why Apple is planning on rolling out the new display technology to its Apple Watch lineup first, before expanding its usage to its larger-screened devices.
Apple followed a similar path when it began using OLED displays, first using the screen tech for its Apple Watch, then expanding its usage to the iPhone. The Cupertino company is expected to begin using OLED displays in its tablet and laptop lineups in the near future.
Although European firm ams OSRAM will likely be the primary supplier for Apple's microLED chip needs, Taiwanese suppliers, such as Epistar, could pitch in, providing additional manufacturing capacity by 2026-2027, says DigiTimes.
There have been several rumors published about the new microLED display-equipped Apple Watch Ultra, with both Bloomberg's Mark Gurman and Display Supply Chain Consultants CEO Ross Young saying the microLED wearable is on its way in the near future. While Gurman estimates the transition could start around the end of 2024 or in early 2025, Young specified a 2025 timeframe.
Young has also said that LG is readying to produce custom microLED displays for Apple's Watch models.
Young said earlier this year that LG is preparing to produce custom microLED displays for future Apple Watch models. He said the facility will reportedly provide microLED backplanes while also assembling displays for Apple. The new facility could open as soon as the second half of 2024.
Haitong International Securities analyst Jeff Pu has also weighed in on the Apple Watch Ultra, saying the new microLED Apple Watch Ultra will likely sport a larger 2.1-inch display, compared to the current Ultra's 1.9-inch display. Pu also mentioned that by using microLED technology, the new Watch's display could be much brighter than the OLED display Apple uses in its current Apple Watch lineup.
Apple is still in the process of its rather lengthy transition from LCD to OLED displays. The Apple Watch maker began using OLED displays on its Apple Watch as of its 2015 launch, beginning to gradually switch its iPhone lineup over to OLED displays in 2017. Apple is widely expected to release its first OLED iPad Pro and MacBook models sometime in 2024.
[The information provided in this article has NOT been confirmed by Apple and may be speculation. Provided details may not be factual. Take all rumors, tech or otherwise, with a grain of salt.]