Apple Plans to Drop Chat-Based Support on Twitter and Beyond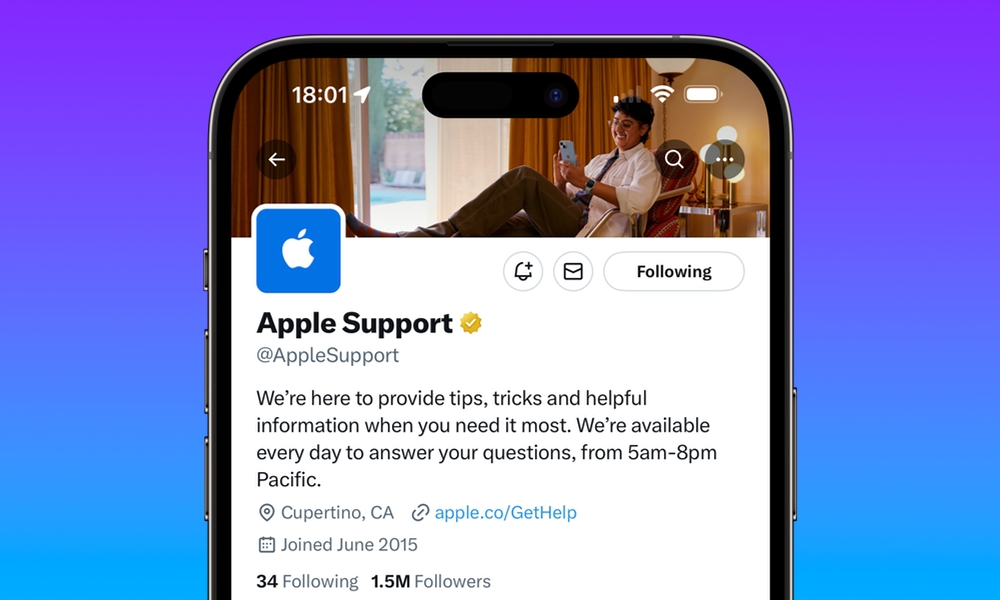 A telephone call or web chat may soon be the only way to get a hold of Apple Support — at least remotely.
While venturing into an Apple Store will always be an option, sources speaking with MacRumors have revealed that Apple plans to drop all of its social media-based support channels later this year, leaving the Apple website and Apple Support app as the only places where customers will be able to chat with a support rep.
Specifically, Apple is said to be eliminating its "social media support advisor roles" — those customer support reps who typically respond to customer questions on Twitter (now known as "X"), YouTube, and the Apple Discussions community. Instead, customers who reach out for support via those channels will receive automated responses explaining how they can contact Apple directly by phone or chat on its website or via iMessage Business Chat.
Apple has offered customer support via its @AppleSupport account on Twitter/X since 2016, not only responding to customers' public tweets but even providing help via direct messages. This has been done via a dedicated team of employees specifically assigned to manage the company's social media support channels.
Apple does likewise on its Apple Support YouTube Channel, not only publishing helpful videos that show users how to accomplish different tasks on their iPhone, iPad, and Mac but also responding directly to customers' questions in the comments section of those videos. Similarly, Apple has a paid "Community Specialist" role in Apple Discussions to offer help to customers in that forum.
However, starting October 1, Apple will be winding down all these channels and offering to transition its social media support employees to phone-based support roles. There are estimated to be over 150 employees — possibly as many as 300, according to a MacRumors forum post — that will be affected by this change, and sources say that only those who have a medical necessity will be offered to switch to another chat-based support role. The others will receive training to handle phone support and are expected to be placed in that new role by November.
Apple's reasons for making this change aren't entirely clear, although it's likely fair to say that the social media channels weren't the most efficient way to get support. For instance, many folks who reached out to Apple Support on Twitter over the years were generally given canned responses with basic troubleshooting steps and then directed to Apple's website or other support channels when things got more complicated. Support in YouTube comments would likely be even more awkward. There's also the fact that Twitter/X is increasing its API costs, and it's becoming a stranger place since it was acquired by Elon Musk last year.
While Apple has other text-based support mechanisms, including web-based chat and iMessage, these systems are also under Apple's direct control. They also may be less popular; Apple reportedly told employees that many customers prefer phone-based support, which seems plausible considering the company's unwillingness to move its social media support advisors over to other chat roles where they would presumably already be qualified to work without the need for retraining.
[The information provided in this article has NOT been confirmed by Apple and may be speculation. Provided details may not be factual. Take all rumors, tech or otherwise, with a grain of salt.]