Here's How You Can Check Out All 327 3D Landmarks Hidden in Apple Maps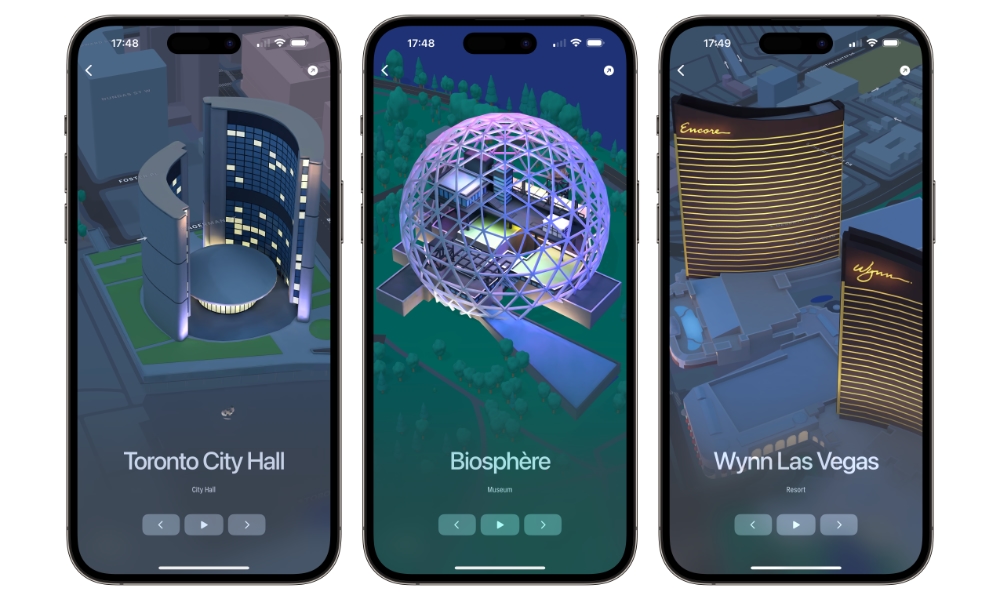 There was a lot of fun stuff packed into iOS 15, but one of the most visually impressive additions by far was the redesign of Apple Maps that elevated it to nearly an art form in its own right.
To be clear, this wasn't just a fresh coat of paint for Apple Maps. The company's designers meticulously added an incredible amount of detail to the view in most major cities, right down to turn lanes, medians, bus and taxi lanes, crosswalks, bike lanes, and more — and it was all done with unbelievable accuracy.
Even better was that all this detail was available via your CarPlay Dashboard, so you'd be able to see upcoming turn lanes and even overpasses, underpasses, and bridges overlapping your route in 3D.
However, Apple didn't stop there. Major landmarks in key cities got custom-designed colourful 3D renders, including the Golden Gate Bridge in San Francisco, the White House, Toronto's iconic City Hall, Westminster Abbey, the Eiffel Tower, and many more.
Of course, adding this kind of detail is a massive undertaking, so it hasn't happened overnight. When iOS 15 launched in September 2021, the new maps were limited to London, Los Angeles, New York City, and the San Francisco Bay Area. By December, that had grown to seven cities, adding San Diego, Washington, D.C., and Philadelphia to the mix. In March 2022, Apple brought the detailed maps to Canada, expanding outside the U.S. for the first time with improved maps and landmarks in Montreal, Toronto, and Vancouver.
Since then, the new Apple Maps have grown internationally to encompass Paris, Melbourne, Sydney, Berlin, Hamburg, and Munich. Apple has also expanded domestically, adding Atlanta, Chicago, Las Vegas, Miami, Oakland, and Seattle, plus the buildings on the Apple Park campus in its hometown of San Jose–Cupertino.
Tracking down Landmarks in Apple Maps
Although Apple highlights the 3D landmarks with map labels to make them easier to spot, these only appear when you zoom in close enough. Hence, it can be a bit of an easter egg hunt if you're looking to see everything Apple has tucked away in Apple Maps.
Fortunately, a Russian-Ukranian duo from Montréal has come up with a better way. André Baev and Simon Gardinier have released Landmarks, an app dedicated to showing off Apple's creative 3D landmark designs all in one place.
What's even slicker about the new app is that it's not just available on the iPhone and iPad but also the Mac and even the Apple TV. That last one is a particular gem; since there's no Maps app for tvOS, it's the only way to see the landmarks on the big screen.
Landmarks appears to be using Apple's MapKit framework, so it's really just pulling the 3D models directly from Apple Maps. This means there's nothing here to run afoul of Apple's rules, and each landmark is presented interactively against its normal Apple Maps landscape. However, the developers have carefully chosen the ideal camera angles to show off each location at its very best.
The app is also a considerably more convenient way to see all the landmarks hidden away in Apple Maps. There's a menu that organizes them by country and city. Once you select a city, you can tap the left and right arrows to cycle through all the available landmarks in that area or tap the playback button for an animated fly-around view.
There are also day and night themes, and you can also get camera pitch control via the built-in gyroscope if you're willing to make a small voluntary in-app purchase to show your support — Landmarks is taking advantage of the new App Store pricing tiers, so this can be done for as little as $0.29.
The app requires iOS/iPadOS/tvOS 16.0 or macOS 13.0 or later, and you'll need an A12- or M1-equipped device to render the landmarks in their full glory. You can download it for your favourite platform from here.