Colorful Chargers and a Magic Stand | Apple's MagSafe Accessories That Never Were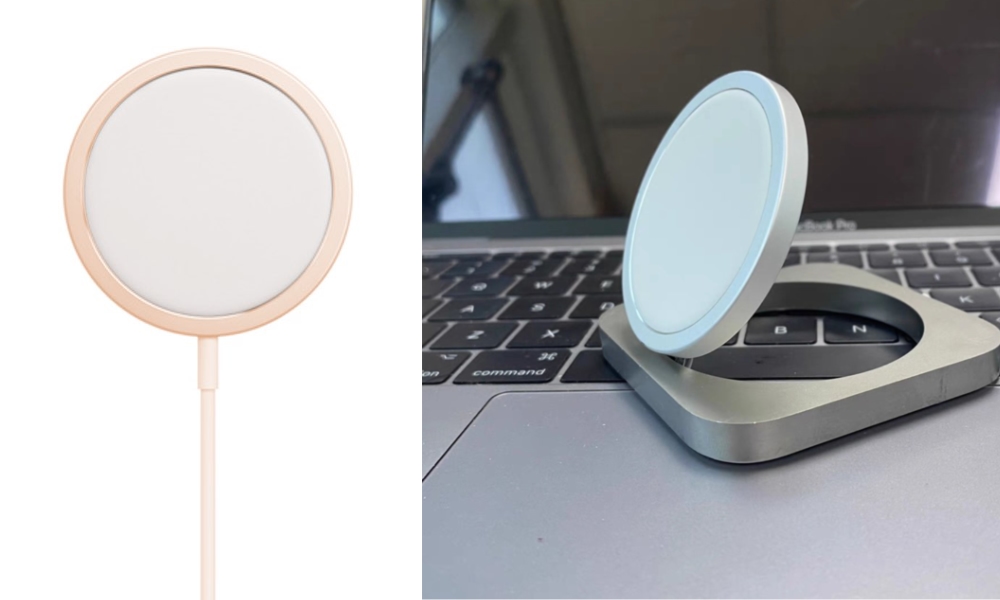 Nearly three years ago, Apple changed the game of how iPhones charged when it introduced a new MagSafe accessory ecosystem to go alongside its iPhone 12 lineup.
However, true to its typical form, the company only released two MagSafe charging accessories, both in "Apple white." The standard one was the MagSafe Charger, with a simple disc-like design that could clip onto the back of an iPhone in any orientation to wirelessly charge it at 15-watt speeds. The second accessory, Apple's MagSafe Duo, came a few weeks later. As the name implies, this one is a travel charger that can handle an iPhone and an Apple Watch.
The MagSafe Duo was on the pricey side for what it offered, especially since it needed a proper high-wattage power adapter to deliver full-rate charging — and it didn't include one in the box. It wasn't long before much better third-party options appeared.
While Apple also released other MagSafe accessories, like a leather wallet and several cases, the MagSafe Charger and MagSafe Duo were the only power-related options. Apple seemed content to cede the rest of the market to third-party MagSafe chargers. Still, sadly that also got a bit confusing as many simply capitalized on the ring of magnets in the new iPhones without adopting true MagSafe technology. This allowed for magnetic attachment with charging speeds no faster than a standard Qi wireless charger.
Apple Prototyped Other MagSafe Chargers
It turns out those two MagSafe chargers weren't the only ideas Apple had. A small but thriving group of folks who collect Apple paraphernalia have uncovered some interesting prototypes of other MagSafe charging options that Apple must have considered and rejected.
A Twitter user who goes by the handle Kosutami recently shared a prototype of the MagSafe charger in what appears to be a Rose Gold or Starlight finish. It's unclear if other colors were available, but the collector of rare Apple products likens it to Apple's MacBook MagSafe 3 charging cables, which are color-matched to the MacBook Air in Space Gray, Silver, Midnight, and Starlight.
The implication is that Apple once considered releasing a lineup of MagSafe Chargers that would be similarly matched to each of the iPhone finishes. It's unknown whether this was intended for the original MagSafe release during the iPhone 12 era or as an updated version that may have been released alongside the iPhone 13. If the color shared by Kosutami is indeed Starlight, that would suggest a later version, as Apple didn't release those colors until its 2021 iPhone 13 lineup. However, it's hard to be sure from the pictures.
Before we get too excited, though, Kosutami emphasizes that the MagSafe charger used to have a colored version. In other words, this is an older prototype that Apple tried and abandoned. Whatever the reason, it was likely more about logistics or marketing than technical issues. Perhaps Apple didn't feel like dealing with such a varied inventory, especially if these were intended to match the colors of iPhone models that change yearly.
The collector also included a photo of a prototype "Magic Charger" that they first discovered last year (they were going by the Twitter handle TheBlueMister at the time), suggesting that this was also intended for release in multiple colors.
It seems "Magic Charger" would have likely been the official name for this device had it come to market, as it identifies itself by that name when it's plugged into a Mac. The design appears to incorporate a pop-up MagSafe disc, similar to the Apple Watch charging disc on the MagSafe Duo.
It's not clear how practical the stand mode would have been for charging an iPhone — it likely would have been confined to landscape orientation — but if the base were heavy enough, this would have made a much more suitable desktop solution than the standard MagSafe Charger, which needs to be taped or weighed down if you don't want it to stay attached to your iPhone when you pick it up.
Since these prototypes are all in Apple's past, there's no reason to believe it's preparing to release a new MagSafe Charger in different colors, but we also can't rule it out. Recent reports suggest the iPhone 15 lineup will introduce support for the new Qi2 standard. While Qi2 is based on MagSafe, it's still a new charging spec, and even though the iPhone 15 will undoubtedly be backward-compatible with MagSafe, there's a good chance Apple will release new Qi2 chargers this year to conform to this new industry standard that it helped to create.