Apple's iPhone Weather App Is Being Flaky Today | Here's What's Going On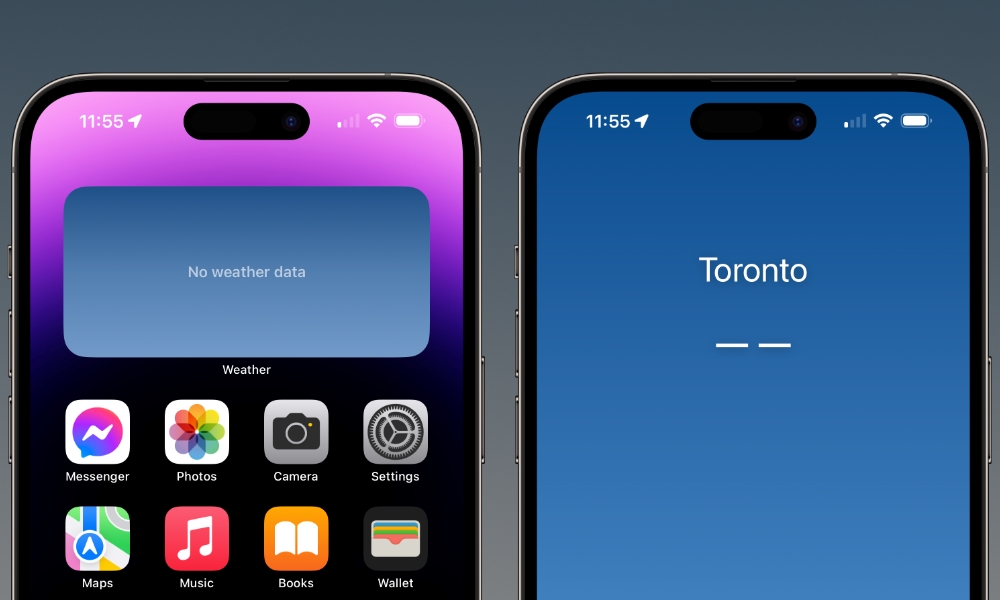 The internet is rife today with reports that Apple's Weather app for the iPhone isn't quite working as designed. While some encountered sporadic issues over the weekend, it became more widespread this morning as folks woke up to Home Screen widgets reporting "No weather data."
It's unclear exactly what's happening here, but one prevailing theory is that this could be an issue in iOS 16.4, which Apple pushed out early last week. However, the fact that it took a week for the problem to surface suggests there's more to it than simply an iOS update.
Apple's System Status Page confirms that there's been an "ongoing" issue since last night at 11:00 p.m. ET that affects some users, resulting in the weather service being "slow or unavailable." However, earlier this morning, Apple pointed to a more specific area, noting that "next-hour precipitation may be unavailable for Alaska due to a data provider outage."
In an ironic twist, the Dark Sky app, which serves as the foundation for many of Apple Weather's coolest features, returned briefly to the App Store last week. Apple acquired Dark Sky in 2020, shuttering the standalone app and rolling its capabilities into Apple Weather. Although the return of Dark Sky was clearly an error on Apple's part, many fans of the original app got their hopes up only to have them dashed when it disappeared only a few hours later.
From my experience, Apple's Weather app doesn't appear to be down entirely, but it isn't updating as quickly as usual — and perhaps not at all in the background. Like others, I awoke this morning to a "No weather data" message in my Home Screen widget, and when I tapped on it to open the Weather app, it took about 30 seconds for the current weather information to appear.
Once the data had been updated within the Weather app, the Home Screen widget showed the correct conditions. However, it appears Apple has designed its Weather app to cache the latest weather data for some time before it discards it as too stale; opening Weather about 15-20 minutes after the last update showed a "Loading…" banner at the top that I'd never seen before, showing when the weather info was last updated.
The banner disappeared after about 30 seconds, presumably after the app had downloaded the latest weather data. However, the widget doesn't seem to be getting updates; it reverts to the "No weather data" message after an hour, requiring the Weather app to be opened to fetch new data.
Leaving the Weather app open results in the "Loading" banner appearing every 10 minutes. That's likely the regular auto-refresh interval for the app, although this banner doesn't show up when everything is working correctly. The refresh may usually occur quickly enough that a message isn't needed; however, the behavior of the Home Screen widget suggests weather updates might typically be pushed out to the iPhone rather than waiting for the Weather app to fetch them.
Is a Fix Coming in iOS 16.4.1?
While the crux of this problem is likely related to Apple's back-end weather services, it's also possible something changed in iOS 16.4 that's making things worse.
According to 9to5Mac, the Apple Watch app seems to work fine for many folks. If true, this would seemingly point to a problem specific to the iPhone software.
However, that hasn't been my experience. In fact, the Weather app on my Apple Watch Series 8 is taking significantly longer to update than its iPhone counterpart. I had initially thought it wasn't updating at all, but it did eventually show the current weather conditions after I had left it open on my wrist for about five minutes. As with the iPhone Home Screen widget, the Apple Watch Face Complications are similarly not being updated until the watchOS Weather app is opened and has been given time to refresh.
Nevertheless, a reliable source told MacRumors that Apple is working on a "stopgap" iOS 16.4.1 update that could be released as soon as this week. Sub-point releases like this are typically only pushed out to fix specific bugs or security issues, but there's been speculation that the Weather app will be among these. Either way, Apple's software engineers are undoubtedly hard at work resolving this problem, but we'll have to wait and see if an iOS update is required.