Apple's Friday Night Baseball Returns April 7 — With a Catch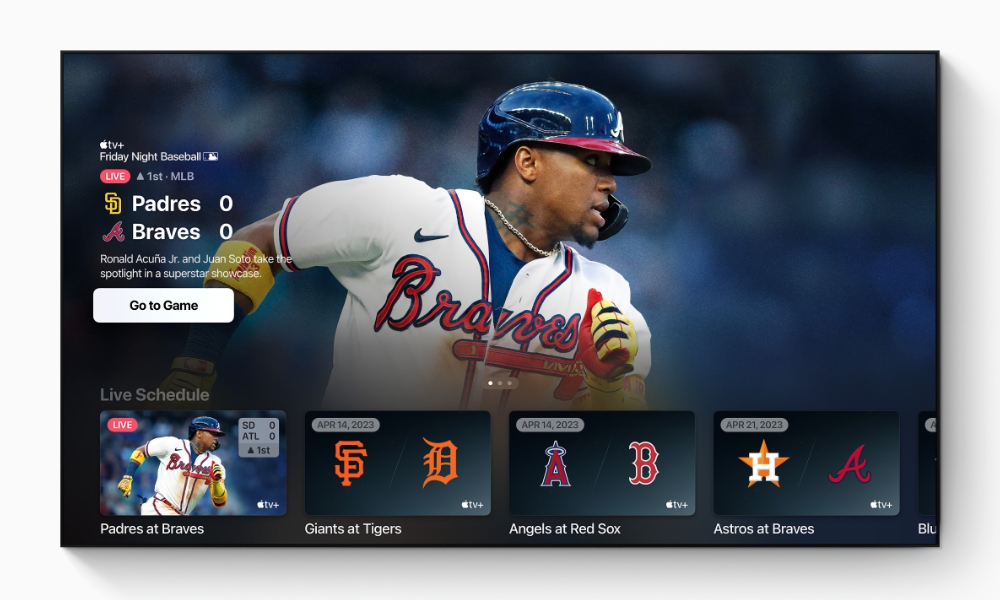 After years of struggling to get into live sports streaming, Apple finally took its first big step last year with Friday Night Baseball, a landmark MLB deal to bring a doubleheader to Apple TV+ every Friday, with pre- and postgame shows and a few other perks for baseball fans.
This included MLB Big Inning, a live show that aired weeknights during the regular season to offer look-ins and highlights, plus a 24/7 livestream where fans in the U.S. and Canada could get an all-you-can-watch buffet of everything the MLB has to offer, including game replays, news, highlights, classic games, and much more.
Best of all, Friday Night Baseball was completely free of the local blackout broadcast restrictions that have commonly plagued major league sports — and it was freely available everywhere that Apple's TV app could be found, from the iPhone and Apple TV to smart TVs, game consoles, and cable boxes.
Sadly, all good things must come to an end, and free Friday Night Baseball games are no exception. While Apple had opened the games to all last year, the company had made it clear that was a limited time arrangement from the day it first launched. In fact, many folks expected it would only last for the first few games, and were pleasantly surprised that it remained free for the entire season.
So, it shouldn't come as a big surprise that this time around, Apple's Friday Night Baseball will carry a price tag, although the good news is that it's not a hefty one.
Unlike Apple's more recent Major League Soccer (MLS) deal, Friday Night Baseball will be as much a part of a standard Apple TV+ subscription as the company's award-winning movies and TV shows.
That means baseball fans will be able to tune in for only $6.99/month. Granted, that's a bit pricier than it was last year — Apple TV+ subscriptions went up by $1/month in October — but it's still not a bad deal considering everything else you're getting in the package, and you'll do even better with an Apple One bundle. New subscribers can also still get three months free with the purchase of any eligible Apple device.
Apple charges $14.99/month or $99/season for its MLS Season Pass, although that's a substantially more comprehensive package. As the name implies, Friday Night Baseball is only two selected games per week with a bit of supplemental coverage. MLS Season Pass offers subscribers full access to all MLS and Leagues Cup matches, plus hundreds of MLS NEXT Pro and MLS Next games. It's easy to see why Apple isn't about to bundle that in to Apple TV+, although the company does offer subscribers access to MLS 360, which offers up pregame coverage and live look-ins for casual fans who want to keep tabs on what's going on in their favourite clubs.
The 2023 Friday Night Baseball Lineup
Apple announced today that Friday Night Baseball will resume on Apple TV+ on April 7 — the same Friday it kicked off last season — with the first doubleheader featuring the Texas Rangers at the Chicago Cubs, and the San Diego Padres at the Atlanta Braves.
These and subsequent games will be available every Friday throughout the regular season to all Apple TV+ subscribers in 60 countries and regions, once again with no local broadcast restrictions.
For fans in the U.S. and Canada, the MLB Big Inning whip-around show will also be returning, beginning on MLB Opening Day on March 30. This will offer live look-ins and in-game highlights every weeknight, plus a full slate of MLB-related content including Countdown to First Pitch, MLB Daily Recap, and MLB This Week.
Apple adds that Friday Night Baseball will be available in commercial establishments like sports bars through DIRECTV for business in the U.S. and several other providers in Canada. This year, the audio of home and away teams' local radio broadcasts will also be available in the U.S. for almost every team; broadcasts for the Texas Rangers will be only available for that team's home games, and in Canada, they'll only be available for Toronto Blue Jays games.
As usual, Apple is also offering a holistic MLB experience across all of its services. With iOS 16, fans can follow their favourite teams through the My Sports section in Apple News, with personalized highlights and c rated group of "the buzziest stories from around the league" each Friday. Apple will also be offering a collection of exclusive official playlists in Apple Music featuring the walk-up songs from Friday Night Baseball teams and other classic songs celebrating baseball.
With the announcement, Apple has also posted the Friday night schedule for the first half of the season, running through June 30, 2023.