Apple Unveils Final Cut Pro and Logic Pro for iPad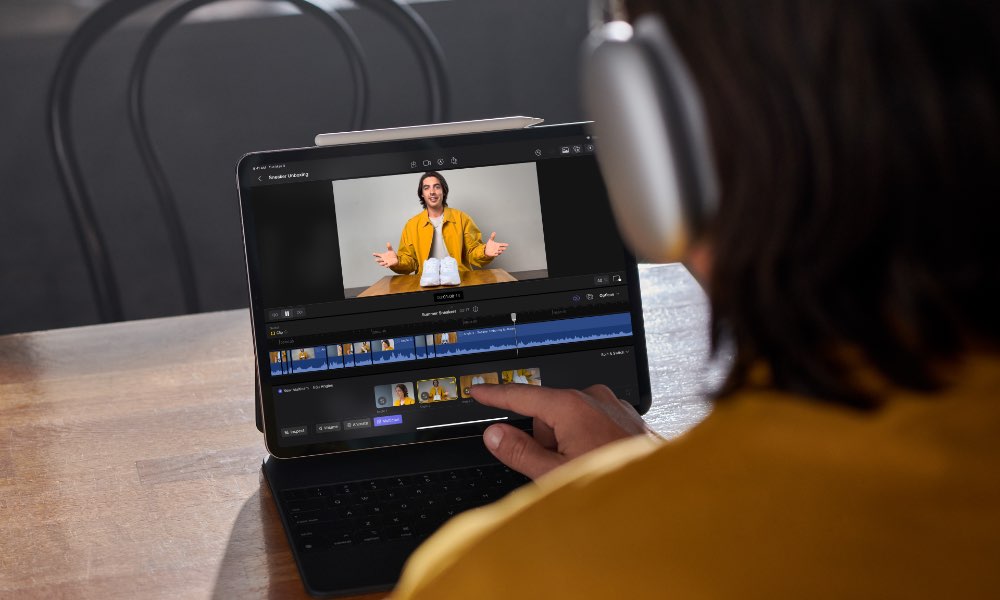 After years in the making, Apple's flagship "pro" apps, Final Cut Pro and Logic Pro, have finally come to the iPad — a move that further solidifies Apple's tablets as tools for serious professionals.
Today's announcement actually came as a bit of a surprise, considering that Apple's Worldwide Developers Conference (WWDC) is less than a month away. This seems like the sort of big unveil that would be more suited to a WWDC Keynote, but perhaps that's a good sign; Apple likely already has such a packed schedule of exciting stuff planned for WWDC that it wants to clear the stage by getting these "smaller" announcements out of the way.
Of course, Apple also surely wants its customers to be able to get their hands on its latest flagship apps as quickly as possible. Final Cut Pro for iPad and Logic Pro for iPad will be available on May 23 to help you push your iPad to new heights.
Perhaps the most exciting thing about Apple's new duo of Pro apps for iPad is how the company is pricing them. While Final Cut Pro for Mac sells as a hefty one-time $300 purchase, Apple is going with a subscription-based model for the iPad: $4.99/month or $49 per year, with the usual one-month free trial. Ditto for Logic Pro, which sells for $200 for the Mac version but will offer the same subscription pricing for its iPad counterpart.
To be fair, Apple's subscription pricing isn't particularly onerous when you consider what the Mac versions sell for. However, it also doesn't look like Apple plans to offer a break for folks who already own Final Cut Pro or Logic Pro for Mac. It's the same subscription deal either way, although, of course, projects in both will be compatible with their Mac counterparts, with full roundtrip capabilities in Logic Pro and the ability to export Final Cut Pro projects created on iPad over to the Mac version.
Naturally, Final Cut Pro for iPad will let you import projects from iMovie for iOS, and Logic Pro for iPad will do the same for GarageBand projects. While both apps are free, the subscription pricing for Apple's Pro apps makes them much more accessible.
For instance, in the past, many folks who bumped up against the capabilities of iMovie were more likely to switch to something else than drop $300 to purchase Final Cut Pro; it's a much easier sell to sign up for a single month at $4.99, and the best part is there's a very shallow learning curve to move to Final Cut Pro; iMovie is essentially just "Final Cut Lite," with the same user interface and basic tools as the more powerful Pro app.
Unsurprisingly, Final Cut Pro for iPad has another catch: You'll only be able to run it on an iPad equipped with an M-series chip. That's Apple's 2021 or newer iPad Pro or 2022 or newer iPad Air. The requirements for Logic Pro are a bit more flexible as audio editing doesn't require nearly as much processing power; you'll be able to run Logic Pro on an iPad with an A12 Bionic chip, which will take you back as far as the third-generation iPad Pro models released in 2018, third-generation iPad Air and fifth-generation iPad mini from early 2019, and even Apple's entry-level iPad from 2020.
Optimized for the iPad Experience
One of the likely reasons it's taken Apple so long to bring Final Cut Pro and Logic Pro to the iPad is that it had to carefully redesign the user experience for a tablet.
Unlike Adobe, which released a hampered version of Photoshop in 2019, Apple doesn't like to iterate in public. It would have wanted to ensure the full-featured versions of its Pro apps were ready to go right out of the gate. If that means taking a bit longer to perfect them, then so be it.
From Apple's announcement, it seems the results of those efforts will speak for themselves. Final Cut Pro for iPad isn't just a port of the Mac version; it delivers a wide array of unique features you'd only be able to pull off with an interface based on a touchscreen and Apple Pencil.
For example, a virtual jog wheel makes the editing process smoother, replicating the kind of physical hardware devices used in many pro video studios. Apple is also introducing a new "Live Drawing" feature that lets you use your Apple Pencil to sketch directly on top of video content, and if you're using an M2-equipped iPad Pro, that also includes hovering over with your pencil to skim and preview footage without even touching the screen.
Naturally, Final Cut Pro will also support keyboard commands when paired up with an external keyboard, and if you're using a 12.9-inch iPad Pro, you get the power of the Liquid Retina XDR display for applying color grades in Reference Mode. There are also controls for advanced video editing, support for recording in ProRes on an M2 iPad Pro, and Multicam video editing.
Apple has also packed in some unique machine-learning features that let you remove background scenes, automatically crop to common aspect ratios, and use Voice Isolation to filter out background noise.
Logic Pro has similar touch-screen-focused enhancements, including beat-making and production tools for working with samples in a whole new way, plus a Drum Machine Designer to create custom drum kits using the touchscreen to control the pads. There's also a full pro mixer that shows off the iPad's multi-touch capabilities, letting you dynamically mix a dozen or more tracks on a single screen.
Final Cut Pro and Logic Pro are scheduled to go live on the iPad App Store on Tuesday, May 23. Both offer a one-month free trial, so you'll be able to check them out, after which you'll have to sign up for either $4.99/month or $49/year. However, you can cancel anytime, making it easy to pay for them only when you need them.