Apple Music Classical Arrives on the iPad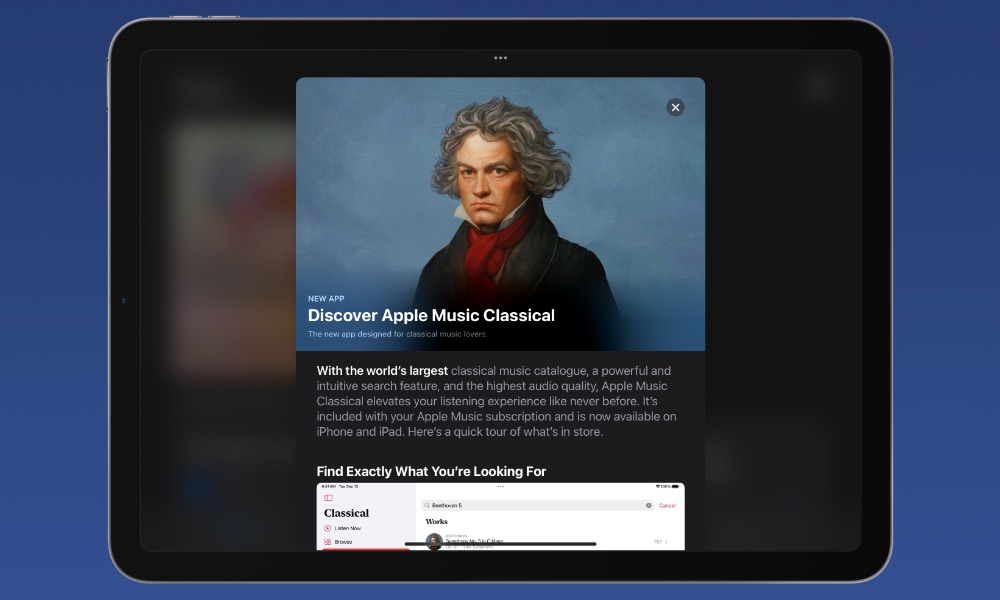 Earlier this year, Apple released Apple Music Classical, a dedicated app to curate the Apple Music catalog in a way unique to classical music lovers. Sadly, as great as it was, it launched with an unusual omission: no iPad support.
Adding insult to injury, Apple brought Apple Music Classical to Android two months later with no iPad or Mac app in sight. However, better late than never, the company has finally rectified that with a proper iPad-optimized version.
While Mac support is still missing in action, at least classic music fans who want to explore everything Apple's classical library has to offer will no longer need to squint at a small screen or put up with an iPhone app running on their iPad.
Today, Apple released version 1.1 of Apple Music Classical, with the usual "stability and performance improvements" and "Apple Music Classical designed specifically for iPad." This was heralded by a new banner on the App Store's Today page highlighting it as "a new app designed for classical music lovers."
Unfortunately, iPad support is the only enhancement the app has received in version 1.1. It's a nice change, to be sure, but despite using the same Apple Music library, it's still missing some key features that are found in the primary Music app.
Perhaps the most significant of these is the ability to download tracks for offline listening. You'll need an internet connection to listen to tracks through the Apple Music Classical app, even if you've already downloaded them through the Music app.
That was bad enough on the iPhone, but it could be more burdensome on a Wi-Fi iPad, which may not always have an internet connection. Thankfully, there's still a workaround, although it's an awkward way to do something that the app should be able to handle directly.
The trick is that since Apple Music Classical uses the same Apple Music library as the Music app, you can create a playlist in Apple's classical app, and it will show up in the Music app. You can then download the tracks there and listen to them offline — as long as you stay in the Music app, that is.
If you're offline in Apple Music Classical, you won't even see your playlists. Instead, a Load Playlists option appears; tapping this reminds you that you're online and suggests you connect to the Internet to load your playlists.
There's also still no way to access Apple Music Classical directly through CarPlay; you'll have to create playlists in the classical app and then pull them up through the CarPlay Music app. The same goes for the Mac and Apple TV, where the Apple Music Classical remains unavailable.
Despite these limitations, Apple Music Classical is still an excellent app for anybody who really wants to explore the genre, whether you're a long-time aficionado or just getting into classical music. Trying to organize classical music in the standard Music app, or even in iTunes before that, was always a chore since things like works, movements, and recordings don't fit naturally into the Album/Artist structure of other genres.
By contrast, Apple Music Classical not only organizes these works appropriately, but it also provides biographies on composers, conductors, and performers, background on popular ensembles, and editorial selections and insights. Plus, you can Browse by classical-specific categories like composer, period, conductor, orchestra, soloist, or even specific instruments, from piano and violin to harpsichord and accordion. Being able to do this on the larger iPad canvas promises to make the experience of exploring the world of classical music even more enjoyable.