'A Professional Camera in the Palm of My Hand' | Pro Photographer Shot the Super Bowl on an iPhone 14 Pro Max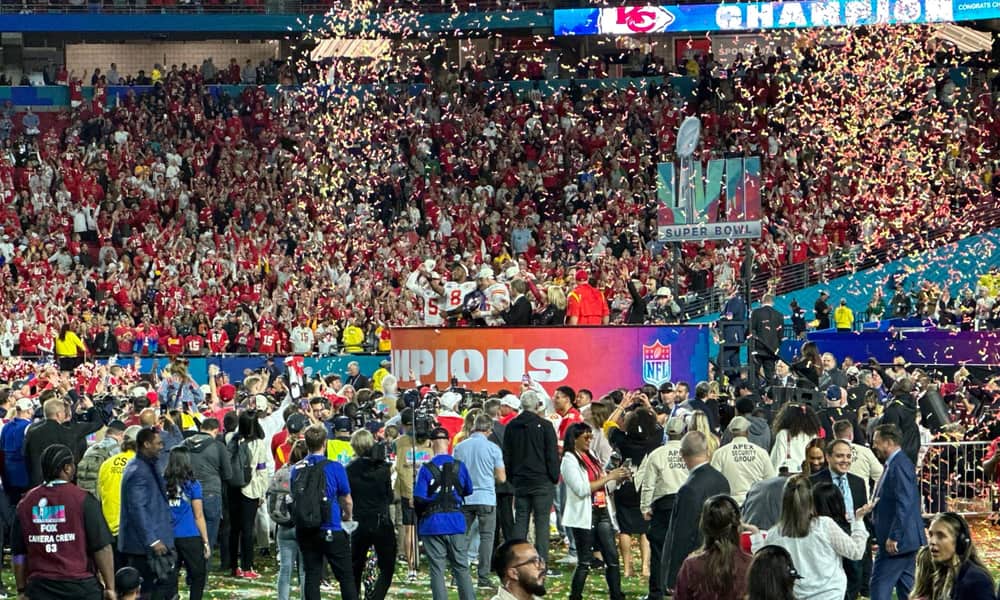 The ubiquity of camera-equipped smartphones has given rise to an adage that "the best camera is the one you have with you." However, when it was first coined, that statement implied a certain level of compromise that doesn't ring nearly as true with flagship smartphone models like the iPhone 14 Pro — as many professional photographers can attest to.
Ten years ago, nobody would have argued that an iPhone camera was even a close match for a DSLR in objective quality. The iPhone's biggest advantage in those days was that it was considerably more pocketable than something like a Canon 5D Mark III. Nevertheless, in those days, few professional photographers would have considered using an iPhone for any real work. It wasn't until 2015 with Apple's first "Shot on iPhone" campaign for the iPhone 6, that people began to take the iPhone more seriously.
Now, nearly eight years later, the iPhone 14 Pro is proving it can sit alongside the best professional camera gear out there, and while it may never fully replace a DSLR, it's a sidekick that can hold its own against larger cameras, and even do a better job in many cases.
'A Professional Camera in the Palm of My Hand'
In an interview with Jacob Krol of Sports Illustrated's SI Showcase, professional photographer Kevin Mazur shares how he undertook one of the ultimate "Shot on iPhone" campaigns, using his iPhone 14 Pro Max to capture key moments at Super Bowl LVII earlier this month.
Standing on the sidelines at State Farm Stadium, Mazur rounded out his usual pro camera rig with an iPhone 14 Pro Max, which the seasoned photographer described as "having a professional camera in the palm of my hand."
Mazur shared a gallery of 15 of these images with SI Showcase, all of which are presented exactly as the iPhone camera captured them — unedited and not retouched in any way.
While all of the iPhone Pro models released over the past few years take great photos, the iPhone 14 Pro Max (and it's smaller sibling) got a nice boost last year with the addition of a 48-megapixel (MP) sensor on the main lens. While the resulting pictures are still only 12MP by default, the additional pixels allow the iPhone to capture more light and more details that can be fed into the A16 Bionic's Neural Engine to produce much higher-quality photos through computational photography.
The iPhone 14 Pro Ups the Game
When Apple unveiled the iPhone 14 Pro lineup last fall, the company shared that the A16 Bionic, which combines a CPU, GPU, Neural Engine, and image signal processor (ISP), can perform up to 4 trillion operations in the fractions of a second that it takes to press the shutter button.
However, as Mazur notes in the interview, the iPhone camera actually goes to work even before you take the shot, capturing multiple images and sensor data, all of which gets fed into the machine learning engine to deliver the best possible result.
The result for most iPhone users is great shots with almost no fuss, making for an ultimate "point and shoot" experience. However, while Mazur acknowledges you can get some amazing shots without much effort, it's worth taking some time to tweak the settings if you want the very best possible results, even stepping up to ProRAW if you plan to do any serious editing later on.
You can pick it up and start shooting right away, but I think it's important to learn all the various settings and play around with those. Ensuring that you are using the right settings is the difference between a good photo and a great photo.Kevin Mazur
So, perhaps it's not a big surprise that Mazur opted for the 1TB iPhone 14 Pro Max — the largest storage capacity currently available. ProRAW images saved in a 12MP resolution take up 25MB each, while opting for full 48MP ProRAW increases that to 75MB per photo. Recording video can eat up space even more quickly: standard 4K/60fps video requires 440MB per minute while shooting in the maximum 4K/30fps ProRes setting ups that to a whopping 6GB/minute.
While you can offload much of that to iCloud Photo Library if you have a large enough storage plan, it still takes time to sync things up even over a fast 5G or Wi-Fi connection, and that's not something that any pro photographer will want to worry about in the middle of a busy shoot.
Along the same lines, Mazur called out the iPhone user interface as very fast and intuitive — something that's quite important when you're trying to capture the perfect moments at a major sporting event.
Using the various zoom lenses is crucial, and tapping the numbers right above the shutter button makes it really easy to switch between them. This makes one-handed shooting easier.Kevin Mazur
In particular, the ability to quickly switch between the various zoom levels was extremely useful, as was the new true 2X zoom, which adds a sweet spot between the standard 1X wide lens and the optical 3X telephoto lens. This is something else Apple was able to cook up thanks to the new 48MP sensor on the iPhone 14 Pro models, which allows a 2X image capture by cropping the main sensor and using the 12 megapixels at the centre. This offers the return of a preferred focal length that was conspicuously missing in the iPhone 12 Pro Max and both iPhone 13 Pro models, which had moved to a 2.5X and 3X optical zoom, respectively.
While Mazur's iPhone 14 Pro Max wasn't a complete replacement for his other camera gear, it's all about using the right tool for the job, and the iPhone turned out to be a much better tool for at least some of the shots that Mazur wanted to capture.