What Are Spam Calendars and How to Handle Them?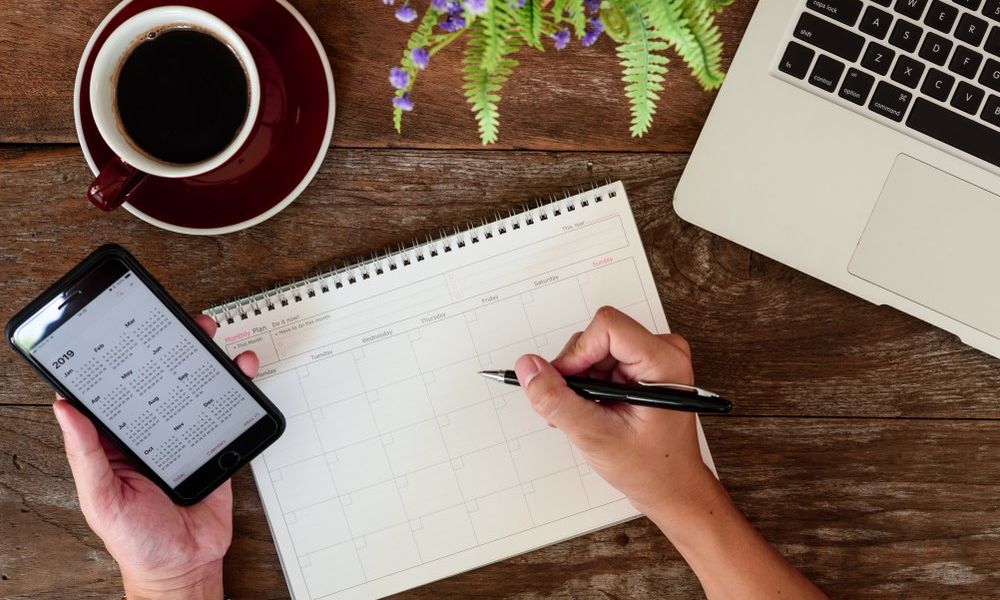 Have you been getting random notifications about events you are certain you didn't create?
Don't worry; you're not the only one. You probably subscribed to a spam calendar by mistake. While spam calendars are pretty easy to get rid of, they can also create bigger problems for you if you aren't careful.
Fortunately, removing annoying spam calendars is as easy as just a few taps. Here's everything you need to know.
What Are Spam Calendars?
Spam calendars are unwanted calendars that you accidentally subscribed to. These calendars' only job is to create and fill your real Calendar app with a bunch of events and invitations.
While spam calendars are mostly annoying, that's not their only goal. Believe it or not, cybercriminals and hackers are really interested in getting your Apple ID and other types of personal information, so they may try to use spam calendars to trick you into going to shady websites or getting a hold of your information. It's similar to how phishing, smishing, and other social engineering scams work.
At best, spam calendars will only annoy you. But worst case scenario, they might actually be harmful to you and your personal privacy. Needless to say, you should avoid spam calendars and delete them immediately.
How Did You Subscribe to a Spam Calendar?
Spam calendars won't randomly appear on your iPhone. Unfortunately, it's most likely our fault that we have a spam calendar on our Calendar app.
These calendars always come from random links you may find in messages or your email. Remember that one of the best ways to avoid getting hacked or scammed is to avoid and ignore shady links altogether.
Another way to subscribe to spam calendars unwillingly is by visiting shady or scammy websites with a bunch of pop-up ads. If you tap on one of them, they may redirect you to a different website that will make you subscribe to a calendar.
If you don't close the page immediately or tap somewhere on your iPhone's screen, you might accidentally accept to subscribe to a spam calendar.
Once you're subscribed—sometimes without even knowing about it—you'll suddenly start getting notifications about upcoming weird events.
How to Handle Spam Calendars
Okay, so you, unfortunately, subscribed to spam calendar on your iPhone; now what? Well, the good news is that you can easily remove them from your iPhone with just a few taps.
We will cover a couple of ways you can unsubscribe from calendars, so be sure to follow whatever steps you prefer.
Unsubscribe From a Calendar by Fiding a Spam Event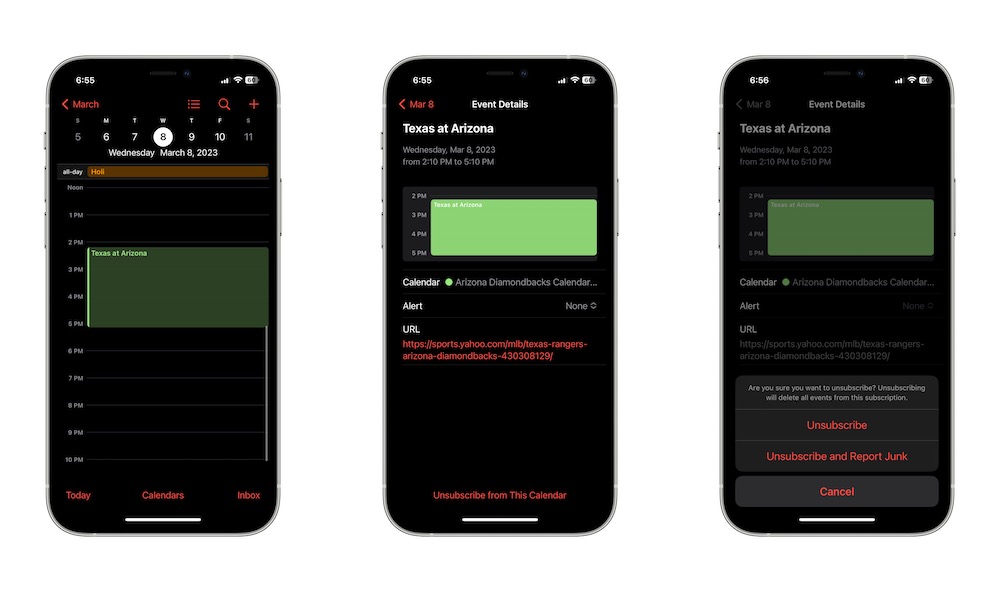 Open your Calendar app.
Search for the calendar event that you know you didn't create, or that seems shady.
Tap Unsubscribe from This Calendar at the bottom of your screen.
Tap Unsubscribe or Unsubscribe and Report Junk, so Apple can handle this calendar in the future.
How to Find and Unsubscribe From Spam Calendars
If the steps above didn't work for you, you can go directly to all your calendars and handle the issue like this: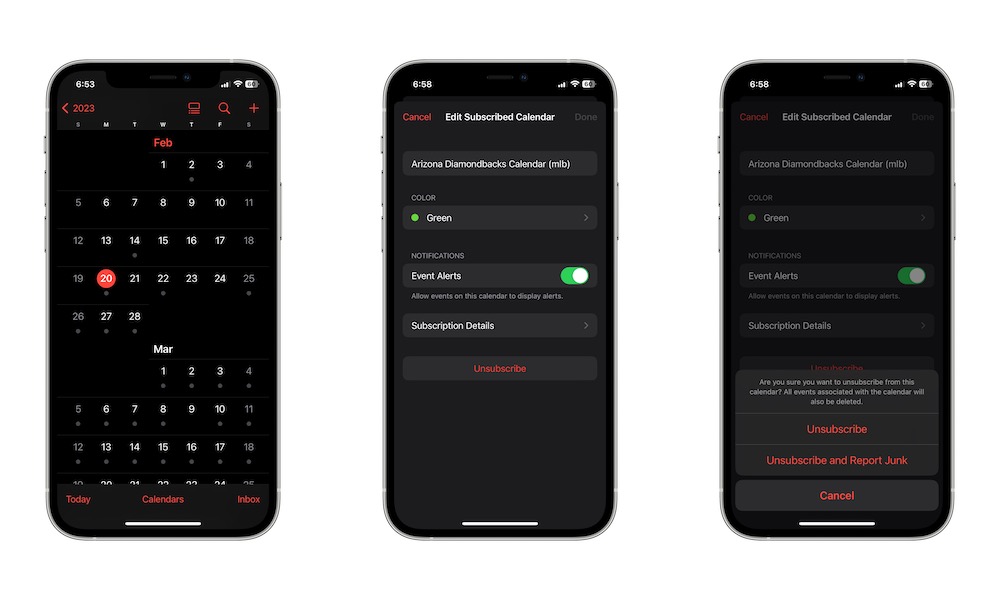 Open the Calendar app.
Tap Calendars at the bottom of your screen.
Search for the calendar you want to get rid of and tap the More Info button (it's the i icon on the right side of the calendar).
Tap Unsubscribe at the bottom of your screen.
Select Unsbuscrbie or Unsubscribe and Report Junk to confirm your decision.
If you have an iPhone with an operating system that's older than iOS 14.6, you should try this second method or go directly to Settings > Accounts (or Passowrds & Accounts> Accounts) > Subscribed Calendars and select the calendar you want to delete. Then tap Delete Account.
Note: If you're the observant type, you might have noticed we're unsubscribing from Yahoo's Arizona Diamondbacks calendar.
Fortunately, at the time of writing, we didn't have any spam calendars on our iPhones (we always try to be careful!). Still, we're using this third-party calendar to show you how to unsubscribe from any calendar. Please note, we're not implying Yahoo uses or sends spam calendars.
Get Rid of Spam Calendars
Spam calendars are annoying at best and dangerous at worst, so it's safe to say you want to get rid of them as quickly as possible. While Apple is always creating new features and safety mechanisms to keep your iPhone and data protected, you also need to do your part and avoid shady links, websites, and even calendars.