Patented 'Smart Bands' for Apple Watch Allow Exciting New Possibilities
Sources have long wondered what purpose the diagnostics port on the Apple Watch would serve. When the wearable was released, the port was undocumented and covered up behind a secure casing.
This secret port on the device has been speculated about for quite some time, with rumors saying that the 6-pin port could be used to help charge the wearable device. And with Apple's new patent, this might become a reality.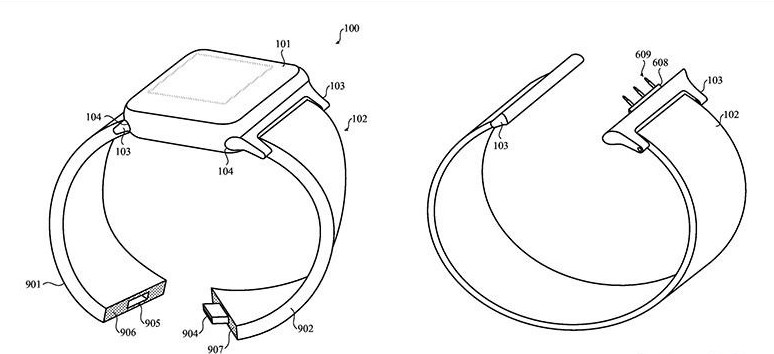 Yesterday, Apple was granted a new patent called "modular functional band links for wearable devices" that details a new Smart Band for the Apple Watch. Based on the drawing, the new band appears to use the diagnostics port to bring the device extra connectivity to accessories "including batteries, displays, processors, electricity generators, GPS sensors, cameras, thermometers, blood pressure sensors, sweat sensors and speakers" according to MacRumors.
Furthermore, bringing a modular band to the Apple Watch could also help in slimming down the future versions of the device. Some users have complained about the thickness of the Apple Watch and how heavy it feels on their wrist. A Smart Band could contain parts of the watch, like sensors or even the battery, and therefore minimize the girth of the watch.
By adding this extra feature to the Apple Watch, Apple is able to add more customization to the wearable device. This is certainly a step in the right direction: early complaints about the Apple Watch voiced that it lacked customization. This new patent could certainly add different levels of customization to the device. Until then, we can enjoy Apple's recently unveiled webpage where you can fully customize your own Apple Watch.
It has yet to be revealed whether this new Smart Band will be compatible with current Apple Watch models, or if we will be seeing this Smart Band alongside the release of the Apple Watch 2.
Learn More: Apple Watch 2 Rumor Guide – What We Expect from Apple's Next Wearable
Do Apple Smart Bands sound like something you'd like to add to your Apple Watch or are they just a gimmick? Let us know in the comments below.
[The information provided in this article has NOT been confirmed by Apple and may be speculation. Provided details may not be factual. Take all rumors, tech or otherwise, with a grain of salt.]