How Fast Will the iPhone 15 Pro's USB-C Port Be?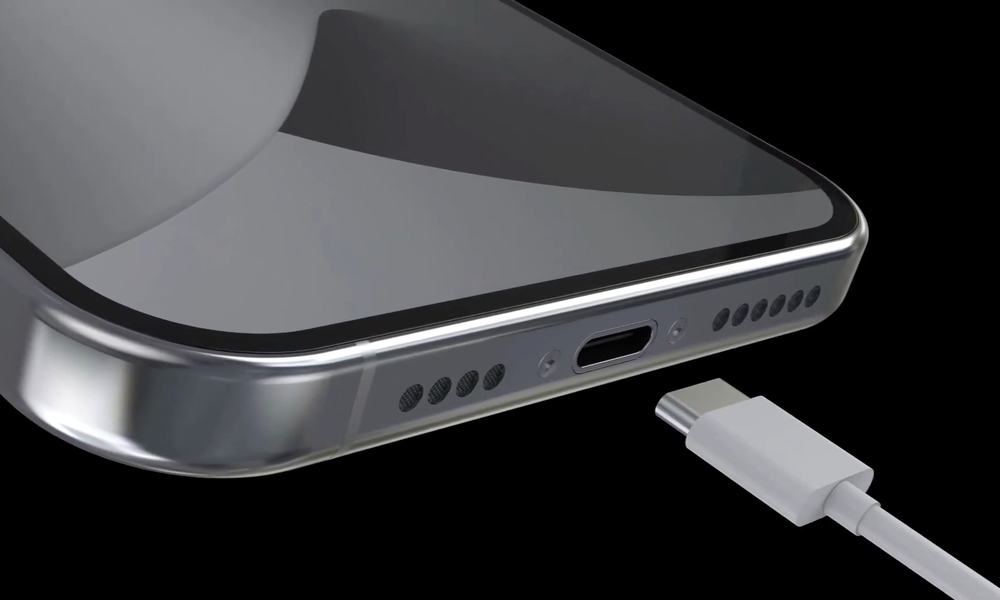 It's all but certain that Apple's entire iPhone 15 lineup will make the long-awaited switch to USB-C this year. However, a series of recent rumors has raised hopes that Apple may be planning to go beyond the bare minimum USB-C standard for its flagship iPhone Pro models, delivering faster charging and data transfer speeds.
In November, when venerable Apple analyst Ming-Chi Kuo reported that the 2023 iPhone lineup would make the switch from Lightning to USB-C, he added that we could expect "wired high-speed transfer" on the iPhone 15 Pro and iPhone 15 Pro Max — likely "at least" USB 3.2 or Thunderbolt 3 speeds. This would put the maximum throughput somewhere around 10Gbps, a marked improvement over the 480mbps USB 2.0 standard used with the iPhone Lightning port since it debuted over ten years ago.
Sadly, even back then, Kuo predicted that the iPhone 15 and iPhone 15 Plus would retain those same 480mbps USB 2.0 transfer speeds in the transition to USB-C, which lines up with a report we heard this week that Apple will only include USB 2.0 cables in the box.
Of course, the fact that Apple will only include a USB 2.0 cable doesn't rule out the possibility that the standard iPhone 15 models may be capable of data transfer speeds. After all, Apple packed in slower 5W charging bricks for years after the iPhone gained 18W+ charging speeds.
Still, there hasn't been nearly as much buzz about faster USB transfers on the iPhone 15 and iPhone 15 Plus. The closest we've heard is an analysis of leaked photos earlier this month that suggested three iPhone 15 models could get even faster Thunderbolt/USB4 ports, capable of transfer speeds of up to 40Gbps.
The leaked photos that purported to represent USB-C components for the iPhone 15 lineup included three unique parts, two of which were supposedly for the iPhone 15 and iPhone 15 Plus. However, it's worth noting that there's no firm evidence that these photos are legitimate.
Nevertheless, a tweet by leaker Kosutami, who previously shared a report on color-matched USB-C cables for this year's iPhones, has revealed what they claim is a USB4 data transfer cable that Apple will sell separately for the iPhone 15 Pro.
The existence of such a cable, if true, would appear to confirm that at least the iPhone 15 Pro and iPhone 15 Pro Max will gain faster USB4 data transfer speeds. Kosutami also adds that the cable is capable of supporting up to 150W charging speeds, which would make it faster than Apple's 100W Thunderbolt 4 Pro cable, which sells for $129 and comes in at 1.8 meters in length. This iPhone Pro-specific cable is expected to come in at 0.8 meters, which may also help make it more affordable.
Before you get your hopes up, it's extremely unlikely that the iPhone 15 Pro and iPhone 15 Pro Max will support 150W charging speeds. While that would certainly put it up there with the fastest-charging Android smartphones on the planet, most of those are still considered outliers, and many aren't even available in the US.
Another report last week suggests some iPhone 15 models could reach 35W speeds, which seems much more reasonable and would put it more on par with its rivals. The iPhone Pro's biggest competitor, Samsung's Galaxy S23 Ultra, charges at speeds of up to 45W, while Google's Pixel 7 Pro, at 23W, is slower than the 27W maximum of the iPhone 14 Pro Max.
It's worth keeping in mind that Apple's entire Mac lineup now supports Thunderbolt/USB4, with the higher-end models sporting full Thunderbolt 4 ports. So, just because Apple is making a USB4 cable, this doesn't mean it's making it for the iPhone; it's entirely possible the sources of these leaks are misinterpreting what they're seeing.
There's no doubt that faster transfer speeds are sorely needed, especially for Apple's iPhone Pro models, which can store massive video files when shooting in the ProRes format, but full 40Gbps speeds might be hoping for a bit too much. To put this in perspective, a five-minute 4K/60fps ProRes video would take around 15 minutes to transfer over USB 2.0. At 20 times faster, USB 3.2 will already reduce that to under a minute.
It ultimately comes down to how "Pro" Apple wants to make this year's iPhone 15 Pro models. The M2-powered iPad Pro lineup includes a USB4/Thunderbolt port, so it's not outside the realm of possibility that Apple could give the iPhone 15 Pro the same treatment for folks who want to use it for serious video work, but that's a relatively small fraction of the iPhone Pro's target market, so Apple has to balance adding premium features like this against driving up the costs for the majority of iPhone Pro users who will likely never plug their iPhone Pro into a Thunderbolt/USB4 port even to charge it, much less need to transfer massive ProRes video files to a Mac.
[The information provided in this article has NOT been confirmed by Apple and may be speculation. Provided details may not be factual. Take all rumors, tech or otherwise, with a grain of salt.]