Google's Pixel Tablet Shows Us What an Apple Home Hub Should Look Like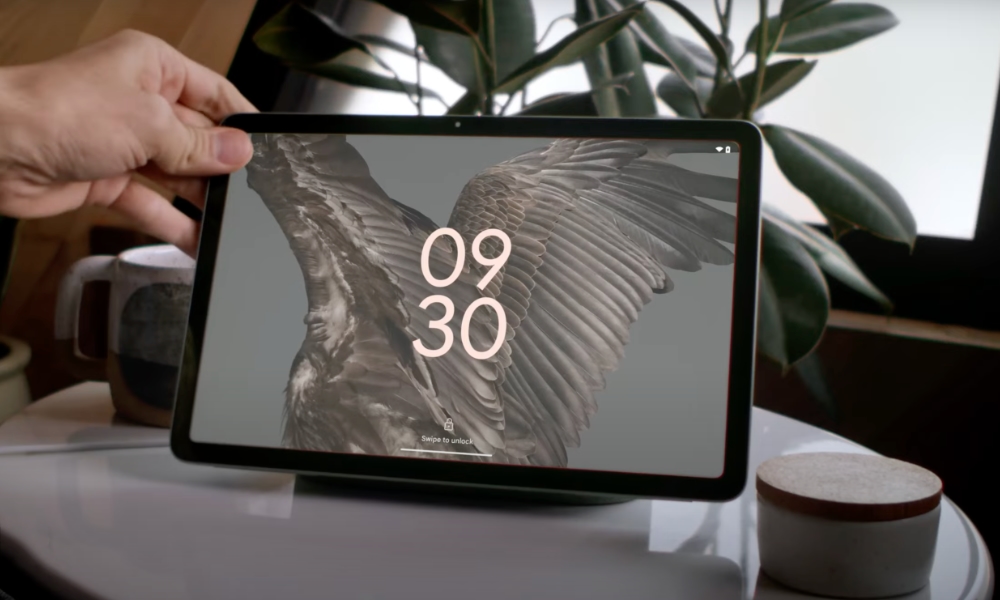 Last year, Google announced that it was getting back into the business of making its own tablets, and during its I/O event today, it took the wraps off the Pixel Tablet — the company's first new Android-powered tablet since the 2015 Pixel C.
While the new Pixel Tablet is a powerful device, it doesn't look like it will offer any meaningful competition for Apple's iPad lineup, especially at the higher end. Google's entry is an 11-inch $499 tablet powered by Android 13 that's still geared more toward content consumption, which puts it roughly on par with Apple's $449 tenth-generation iPad, but even with Google's Tensor G2 chip inside, it doesn't even hold a candle to the iPad Air, much less the iPad Pro.
However, Google has done one cool thing with its Pixel Tablet that Apple should have arguably done years ago: It's empowered it to be used as a Home Hub.
It's not revelatory news that Apple hasn't quite figured out its living room strategy. The HomePod and Apple TV both act as "home hubs" in the sense that they provide the necessary back-ends for home automation, but neither offer the kind of user interface that you'll find on a Nest Hub or Amazon Echo Show.
There's little doubt that Apple is way behind the curve when it comes to this aspect of home automation. The Home app on the iPhone and iPad is considerably more full-featured and powerful than its rivals, but the best you can do for a HomeKit control hub right now is to slap your iPad onto a stand and leave that app running. It works, but it's also clunky and inelegant — decidedly not the kind of approach that Apple is known for.
Rumors have been circulating for at least two years that Apple is working on "something" in this area, but nobody can quite agree whether that will be a giant iPad for the home or a HomePod with a seven-inch display. We're not even sure that Apple has decided which way to go on this one yet.
The Pixel Tablet's 'Hub Mode'
Today's debut of the Pixel Tablet demonstrates how Apple could have created a workable solution by taking its already powerful and feature-rich iPad to the next level.
With its acquisition of Nest, it's no secret that Google is trying to be a big player in the home automation space. Its software technology has some catching up to do, but it already offers a lineup of first-party hardware accessories. Most of all, it's an area where Google seems much more focused than Apple, which is kind of ironic when you consider how much the company typically flounders about with its other products.
The Pixel Tablet extends Google's home automation ambitions from Nest devices right into the heart of its Pixel ecosystem, and it's clear Google wants to make the Pixel Tablet the center of your home.
The tablet includes a Charging and Speaker Dock, which is pretty much what it sounds like — a magnetic dock for the Pixel Tablet that also lets you play room-filling sound. That's kind of the opposite of the HomePod-with-a-screen we've been hearing about, but it's a more versatile way to go, as you can take the tablet with you anywhere and even buy additional docks for other rooms.
However, the magic of Google's new dock goes beyond charging and audio. When you place the Pixel Tablet onto the dock, it switches into "Hub Mode," where it becomes a smart display when "locked and docked." At that point, it's a combination of a digital photo frame and a home control panel for all your thermostats, lights, locks, and even seeing what's going on with your cameras. Naturally, there's support for Google Assistant here, too.
The emphasis Google is putting on this feature makes the Pixel Tablet seem like something of a one-trick pony — a home hub with a detachable screen — but it's still a full-featured tablet in its own right, even if it is likely to spend most of its time living on the dock in your kitchen or living room.
Still, that's better than what your iPad likely does when you're not using it. However, perhaps Apple's biggest blind spot is its inability to embrace the iPad as a family device. Folks have been clamoring for a shared family mode on the iPad for years, yet those requests seem to have fallen on deaf ears; despite Apple adding multi-user support for iPads in education, those sold to everyday consumers are still designed to be used by one individual as a personal device.
A cynical take on this approach is that Apple wants to sell more iPads by encouraging you to buy one for each of your family members, but it's more likely that it just has this sense of rugged individualism built into its DNA. The iPad grew out of the iPhone, which evolved mostly from the iPod. Those are clearly very personal devices. It wasn't until 2019 that Apple finally forked iOS for the iPad into its own iPadOS, but in many ways, the iPad still reflects its iPhone heritage.
There's no indication that Google plans to use the Pixel Tablet to replace the Nest Hub; instead, it's a nice alternative for those who would rather spend more to invest in a more powerful and flexible device that can perform the duties of a tablet when needed. Similarly, just because Apple is likely still working on a standalone hub doesn't mean it wouldn't be nice to see the iPad gain some similar capabilities.