Why Apple Is No Longer Bidding for NFL Thursday Night Football Streaming Rights
Early last month, it was reported that reported that Apple, along with Google, Amazon, and Verizon, were contending for streaming rights for NFL's Thursday Night Football games. The television rights for those games ended up going to CBS and NBC, but the digital rights are still up for grabs – and according to a recent report by Re/code, Apple is no longer in the bidding.
According to the report, the NFL's annual owners meeting will convene in Florida later this month, and the league is looking to have all of the rights deals negotiated by the time the meeting starts. Although Apple was initially interested in securing the streaming rights to the NFL's Thursday night games, it appears as if Apple feels that the package is just not worth the price.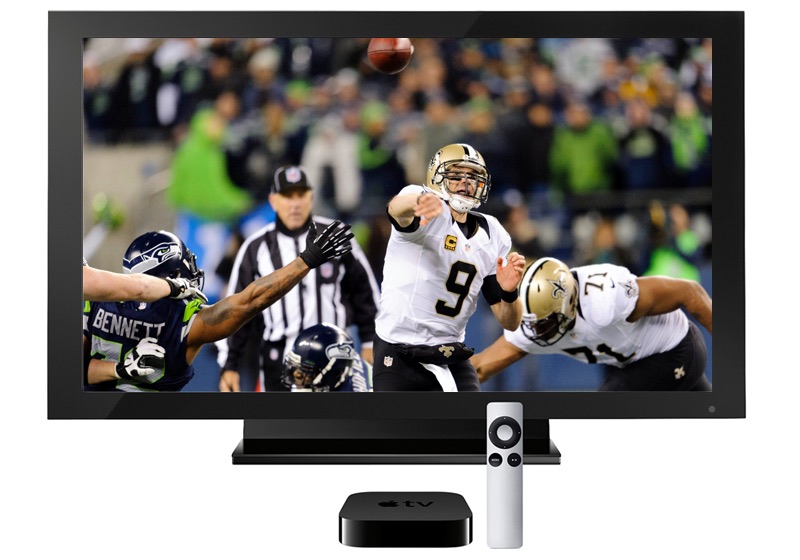 Re/code notes that Amazon and Verizon may still be a part of the bidding war, as well as Facebook, who in the past has shown little interest in paying for content. Also in the mix is Yahoo, who last year paid an estimated $20 million in rights fees and advertising to exclusively stream a regular season game between the Jacksonville Jaguars and Buffalo Bills live from London.
The game attracted 15.2 million viewers, and the NFL was, according to their Senior VP of Media Strategy, Business Development and Sales, "thrilled with the results." At the moment, there appears to be no front-runner in the bidding race, nor has a price for the rights been made public. The television rights for the Thursday night games, however, reportedly cost NBC and CBS a cool $225 million each.
Securing the rights to regular season NFL games could have been a huge move for Apple's new fourth-generation Apple TV, introduced last September. The new device, which Apple CEO Tim Cook claimed is "the foundation of the future of TV", has proven popular – however, many users have yet to "cut the cord" completely from cable television services partially because of the lack of live content, such as sporting events on streaming services.
As negotiations for Apple's oft-rumored subscription television service keep falling through, delaying its launch again and again, securing a deal streaming live network games may have attracted more users, and could have possibly given the company more negotiation power to push through the subscription service deal.
Learn More: Apple TV's tvOS 9.2 Beta 3 Has Been Released with Multiple New Features