Tim Cook Calls Tax Allegations "Political Crap" During 60 Minutes Interview
With almost $234 billion in revenue in the 2015 fiscal year, Apple is the most profitable company in the world. As always, those on top are subject to a lot of criticism.
A fair amount of criticism has recently been pointed at Apple in regards to their so-called "tax avoidance" strategies. In an upcoming interview with Charlie Rose on 60 Minutes, Tim Cook addresses these claims head on – he dismisses the claims as "crap."
In 2012, an investigation by the Senate Permanent Subcommittee found that Apple has used "a complex web of offshore entities – including three foreign subsidiaries the company claims are not tax resident in any nation – to avoid paying billions of dollars in U.S. income taxes." In that year alone, Apple used this strategy to avoid paying some $9 billion in taxes in the US.
When Charlie Rose brought up the charge from critics that Apple has concocted a "sophisticated scheme" to avoid paying US taxes, Cook didn't mince words. "That is total political crap. There is no truth behind it. Apple pays every tax dollar we owe." Cook (truthfully) adds "We pay more taxes in this country than anyone."
When prodded on why Apple claims most of its overseas profits in Ireland, where Apple pays an average tax rate of just 2.5%, Cook bluntly explains why claiming overseas profits in the US makes little sense for the company. "It would cost me 40 percent to bring it home. And I don't think that's a reasonable thing to do," says Cook.
"This is a tax code, Charlie, that was made for the industrial age, not the digital age. It's backwards. It's awful for America. It should have been fixed many years ago. It's past time to get it done."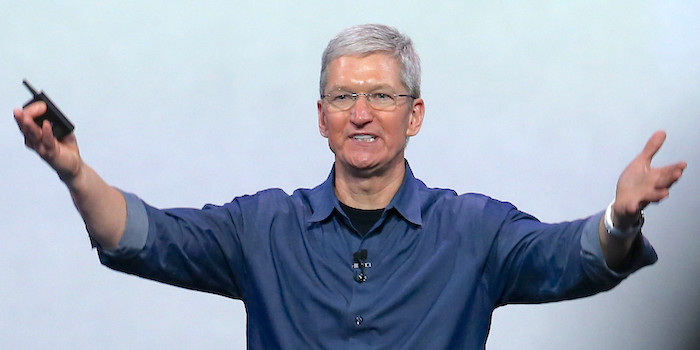 While the tax talk is likely the most dramatic portion of the interview, Cook also reinforces Apple's stance on privacy – "I don't believe that the trade off here is privacy versus national security… We're America. We should have both," Cook tells Rose.
Rose also reveals a behind the scenes look into Apple design chief Jonathan Ive's studio. The full episode aired Sunday, December 20th on CBS.
Learn More: Tim Cook Explains Why Apple Won't Release an iPad-MacBook Hybrid Anytime Soon