The iPhone 14 Pro Is Getting This iPhone 15 Camera Feature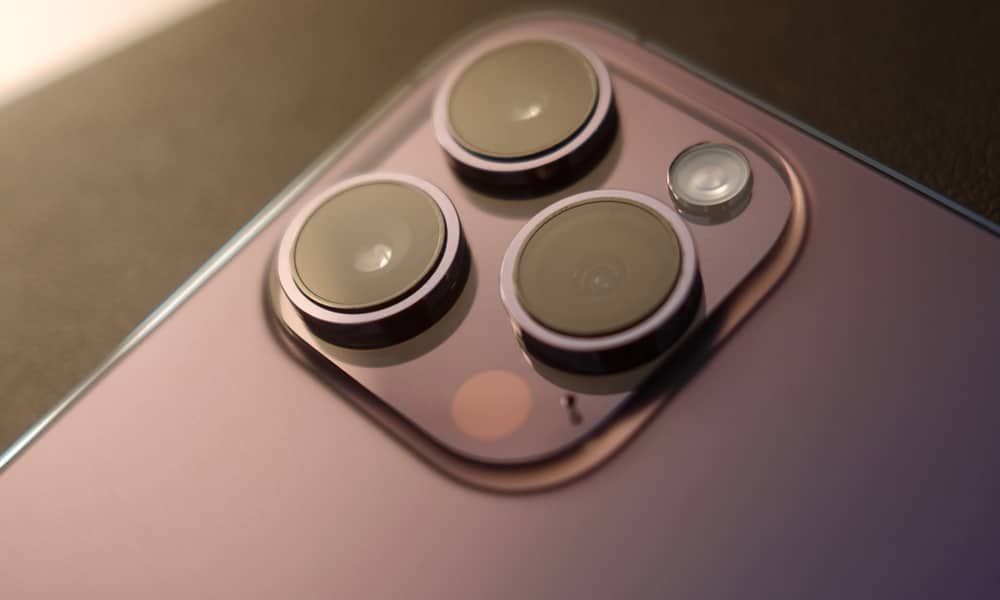 Earlier this week, Apple introduced its iPhone 15 lineup with some big camera changes. The iPhone 15 Pro Max got the much anticipated periscope-like lens with a 5X zoom, and the iPhone 15 and iPhone 15 Plus gained a game-changing 48-megapixel main camera, similar to the one introduced on last year's iPhone 14 Pro models.
With the addition of the new sensor, Apple also made some significant changes on the software side. For one, the iPhone 15 lineup will now capture images in 24-megapixel (MP) "super high resolution" by default, and you'll also be able to take that all the way to capturing 48 MP photos in standard formats to take full advantage of the sensor.
Although it's possible to snap 48 MP shots on the iPhone 14 Pro, you can only do this by using Apple's ProRAW format, which is designed for professional post-processing and creates gargantuan files — a single 48 MP ProRAW image takes up around 75 MB, so it's not something you'd want to use for everyday photography.
ProRAW has always been exclusive to the iPhone Pro models, which hasn't changed with the iPhone 15. This means that if Apple wanted to let iPhone 15 and iPhone 15 owners use everything the new 48 MP sensor offers, it had to devise a way to capture 48 MP images in more typical formats like JPEG and HEIF, and that's precisely what it did. As an added bonus, a 48 MP JPEG photo comes in at only 10 MB, and a 48 MP HEIF photo at 5 MB, making them much more practical for casual photography.
All four iPhone 15 models will be able to use either of these formats to capture 24 MP or 48 MP photos, while the iPhone 15 Pro and Pro Max also support the same ProRAW 48 MP capabilities as before.
The iPhone 14 Isn't Being Entirely Left Out
The good news is that this change isn't exclusive to the iPhone 15. Since the iPhone 14 Pro has nearly the same 48 MP sensor in its main lens and the exact same A16 Bionic chip as the iPhone 15 and iPhone 15 Plus, it should be just as capable of capturing 48 MP JPEG and HEIF photos as the iPhone 15.
The iOS 17 Release Candidate (RC) sent out to developers shortly after Apple's event unlocks these new formats for the iPhone 14 Pro and iPhone 14 Pro Max, providing users with a choice of 48 MP shooting formats.
The higher resolution is still considered a "Pro" photo capture mode, but now you'll be able to choose which format you want to use when shooting in this mode. Here's how to find it once you have iOS 17 installed on your iPhone 14 Pro or iPhone 14 Pro Max:
Open the Settings app.
Scroll down and select Camera.
Choose whether you want to use HEIF by selecting High Efficiency or JPEG by selecting Most Compatible at the top of the screen.
Select Pro Default.
Select HEIF Max or JPEG Max. Which one appears will depend on what you selected in step 3.

To clarify things, Apple is also now using "Max" to refer to all 48 MP formats, including the existing 48 MP ProRAW setting. The option to switch to the 48 MP MAX format will appear in the top-right corner of the Camera app, the same as before, but it now shows HEIF MAX, JPEG MAX, or RAW MAX, depending on what format you've selected in settings. Tapping and holding will allow you to choose between your default compressed (HEIC or JPEG) format, 12 MP RAW, or RAW MAX. You won't be able to switch between HEIC or JPEG without returning to the Settings app.
Even with the new formats, you won't be able to shoot 48 MP photos unless you're using the main camera in 1X mode since that's the only place the 48 MP exists. Further, Night Mode photos, Live Photos, flash, and macro photos are always saved at 12 MP due to the more complex computational photography algorithms and requirements to combine them with information from the other 12 MP sensors.
Further, while the iPhone 14 Pro models can now shoot in more typical 48 MP formats, they won't get Apple's new "super high resolution" 24 MP format. It appears that one is exclusive to the iPhone 15, perhaps due to other hardware improvements, or maybe simply because Apple wants to keep it as a selling point for its newest models.