Speck Has Your iPhone 15 Covered With Its Cases and Accessories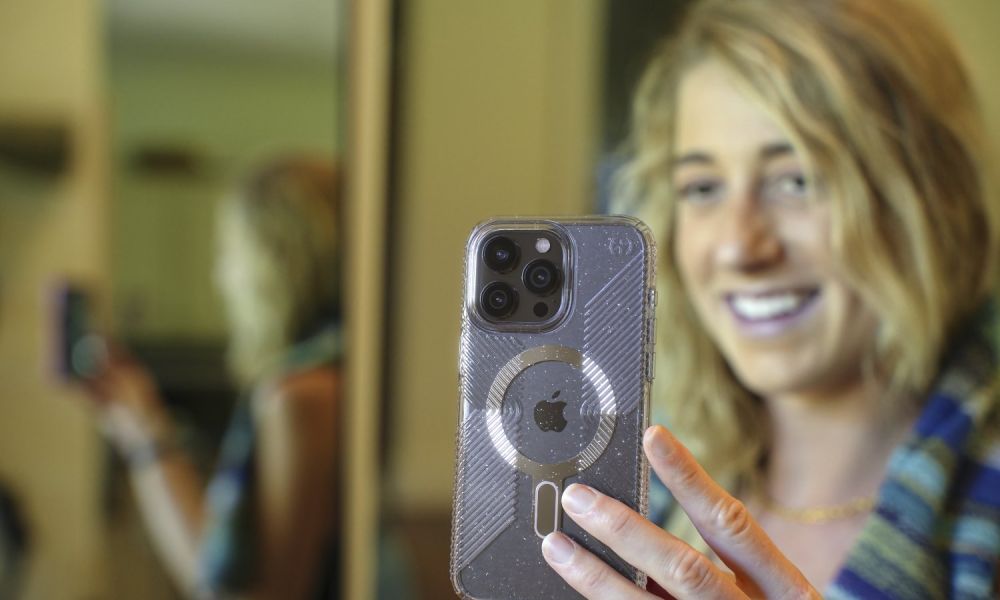 Apple unveiled its new iPhone 15 lineup earlier this week, and if you want to protect your new iPhone from scratches dents, and other perils, you're going to want to use a case. But a case is a case, right? Well, that may have been true in previous model years, but popular case and accessory maker Speck has taken cases to a new level with its ClickLock™ Magsafe-compatible line of cases and accessories.
Speck has been in the case and accessories business since 2001, and I've been using Speck cases for several years to protect my iPhones.
Now, the venerable case and accessory maker has released a huge number of new cases. specifically 169 new cases in 17 different designs and 20 colors. Plus, it has released three new MagSafe-compatible accessories for the iPhone 15.
57 of Speck's new cases use the company's patent-pending ClickLock™ interlock system, which prevents your iPhone from accidentally slipping off from the company's new Car Vent Mount, Wallet, and StandyGrip™ – all of which were announced a few weeks ago.
All 169 Speck cases are now available and can be found at the Speck website, other online merchants, and at major retail locations, and they are available for the iPhone 15, iPhone 15 Plus, iPhone 15 Pro, and iPhone 15 Pro Max, all of which debuted earlier this week.
What is ClickLock™?
Before we take a closer look at Speck's iPhone 15 case and accessory lineup, I'd like to explain what "ClickLock™" is and how it protects your iPhone 15 while you're charging your device or have it mounted in your vehicle.
I'm not going to badmouth Apple's MagSafe charging and mounting system. MagSafe allows a fast connection to wireless chargers while also providing a relatively secure method of mounting the device in your car, on a charging stand, or on a mount to use your iPhone for continuity camera support with your MacBook.
However, I've had multiple experiences where my iPhone gets knocked off its vent mount when I hit an especially deep highway pothole. I am also rather clumsy (okay, I'm very clumsy), and I've been known to knock my iPhone off its mount in the car or when using it with my MacBook. This is where Speck's ClickLock™ system comes to the rescue.
"Last year we started looking at ways to fundamentally improve the user experience of using an iPhone," said Bryan Hynecek, Chief Design Officer of Speck Products, "After extensively using MagSafe magnetic mounts and accessories we knew there had to be a way to make the bond more robust."
Speck's designers created a method to prevent MagSafe accessories from slipping by including an interlocking 'bolt' in its ClickLock™ iPhone accessories, which works with a mated slot in its ClickLock for MagSafe iPhone cases. The bolt system uses a magnetically attracted bolt that automatically extends any time a ClickLock™ MagSafe iPhone case is brought close to it, causing the mechanical interlock to prevent the iPhone from slipping. The bolt engages the receptacle, making an audible and oddly satisfying 'click' sound. "ClickLock." get it.
Speck's ClickLock™ accessories lineup includes three accessories that help you keep your iPhone safe from accidental slipping. The lineup includes a Car Vent Mount, a Wallet, and the "StandyGrip," which is a multi-purpose accessory that acts as a finger grip, a stand that allows portrait or landscape viewing of your iPhone 15, and as a continuity camera mount for use with your MacBook.
The ClickLock™ system is not intended as a replacement for Apple's MagSafe system but is instead intended to enhance Apple's mounting system, providing additional protection against having your iPhone slip off of its mount.
In addition to being designed to work with ClickLock™ accessories, Speck's ClickLock™ case lineup is also compatible with standard MagSafe mounts and chargers. As for the ClickLock™ accessories, they can be used with your new iPhone 15 both with and without a standard MagSafe case. However, these combinations do not provide the added ClickLock™ protection.
Speck iPhone 15 Cases
Now, let's take a look at Speck's new cases for the iPhone 15, iPhone 15 Plus, iPhone 15 Pro, and iPhone 15 Pro Max lineup.
Speck's new iPhone 15 cases are available in three variations, including "Standard" (non-MagSafe), "Built for MagSafe" (sans ClickLock™), and "ClickLock™ for MagSafe" which includes the handy No-Slip Interlock feature.
These new models amount to 17 different designs and include:
PRESIDIO2 PRO ($39.95 – 49.95 MSRP): This case boasts the company's Armor Cloud extreme protection while also offering a soft-touch finish for improved look, feel, and scratch resistance.
PRESIDIO2 GRIP ($39.95 – $49.95 MSRP): The Presidio 2 Grip is 20% slimmer and is optimized for use with Speck's MagSafe and ClickLock™ accessories.
PRESIDIO PERFECT-CLEAR ($39.95 – $49.95 MSRP): This clear case uses Speck's "Perfect-Clear" coating, providing resistance against discoloration, yellowing, and scratching.
PRESIDIO PERFECT-CLEAR GRIP ($44.95 – $49.95 MSRP): This case boasts no-slip inverted grips, which provide increased durability, as well as a more secure feel.
PRESIDIO LUX ($44.95 – $49.95 MSRP): This case will definitely catch my wife's eye, as it brings all-new shimmering glitter, for a dazzling bit of panache for your iPhone 15.
GEMSHELL GLITTER ($24.95 MSRP): This case is a transparent, pocket-friendly case, featuring fade-resistant glittering crystals.
GEMSHELL GRIP ($24.95 – $34.95 MSRP): This case boasts grips, providing a more secure feel when holding it in your hand.
If you're looking for excellent protection, check out the Presidio2 cases, which are tested to protect against a 13-foot drop, have a raised-bezel screen and camera lens guards, soft-touch anti-scratch coatings, and Microban antimicrobial product protection. Presidio2 cases are made from 50% recycled plastics and carry a limited lifetime warranty.
Speck ClickLock™ Accessories
Speck's ClickLock companion accessories combine a magnetic and a mechanical component to create a secure bond between an iPhone 15 wearing a ClickLock™ case and the ClickLock™ accessory. The accessories can also be used with an iPhone 12 or later, with or without a MagSafe case, albeit without the more secure ClickLock protection.
Specks ClickLock™ accessories include:
CAR VENT MOUNT for MagSafe with ClickLock™ ($39.95 MSRP): A low-profile auto dashboard vent clamp mount, this provides a secure mount for iPhone 15 devices. Featuring a 360-degree adjustable locking ball joint, built-in charge cable routing, and a ClickLock™ no-slip interlock, this ClickLock mount protects against seeing your iPhone falling every time your vehicle hits a pothole.
WALLET for MagSafe with ClickLock™ ($29.95 MSRP): This Wallet securely attaches to a ClickLock™ iPhone case and holds up to three credit, debit, or identification cards. Available in 4 colors (Nimbus Pink/Pale Violet, Back, Coastal Blue/Space Blue, and Pale Oak/Dark Umber), the wallet stays securely attached to a ClickLock iPhone case, even when you're working it in and out of a pocket in your skinniest pair of jeans.
STANDYGRIP™ For MagSafe with ClickLock™ ($29.95 MSRP): Standygrip provides a handy finger grip while holding your iPhone 15, a vertical or horizontal viewing stand, and a continuity camera mount for your MacBook.
Speck has a history of offering excellent cases and accessories for the iPhone, and the iPhone 15 lineup looks to be no exception. For more information about ClickLock™ cases and accessories, visit the Speck website.