'No Man's Sky' Lands on Mac | Will It Also Come to Apple's 'Reality Pro' Headset?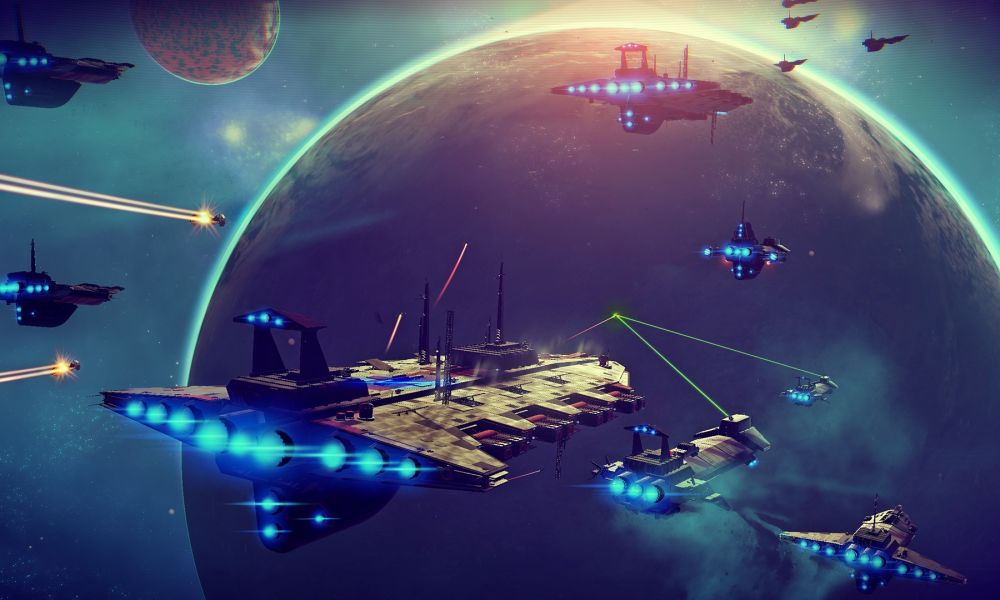 Perhaps the biggest announcement to come from a third-party developer at last year's Worldwide Developers Conference (WWDC) was an upcoming Mac and iPad version of the hit game No Man's Sky, expected to arrive by the end of 2022. However, enthusiasm for the game's release dwindled as 2022 came and went with nary a word.
Better late than never — and just in time for WWDC 2023 — developer Hello Games has officially announced the launch of the Mac version of No Man's Sky today, and as expected, it's a meticulously-crafted port of the game. Hello Games worked closely with Apple to take full advantage of the latest Metal 3 graphics API to deliver a quality gaming experience that should look and performs amazingly well.

As Hello notes, using Metal 3 allows it to "achieve console quality graphics whilst maintaining battery life on laptops and lower end devices." While it will surely run beautifully on Apple Silicon Macs, the game is a universal app that also supports any Intel-based Mac with at least a Core i5 processor — a comfortably low bar that should embrace a pretty wide audience of Mac gamers.
Expect fast loading times using the Mac internal SSD. Consistent performance across the full range of Macs is possible as we are one of the first titles to support MetalFX Upscaling (Temporal and Spatial). Metal 3 support allows No Man's Sky to achieve console quality graphics whilst maintaining battery life on laptops and lower end devices.
No Man's Sky is already available to download on Steam for Mac now, and there's no extra charge if you've already purchased the PC version. The company says it will also be coming to the Mac App Store "shortly," and in either case, it will support cross-save with the PC version and multiplayer cross-play with its PC and console counterparts.
The First 'Reality Pro' Game?
As significant of a release as this is on its own, what's even more interesting is that No Man's Sky is already a best-in-class VR game, playable on nearly everything from the HTC Vive and Oculus Rift to the recently-launched Sony PSVR 2.
In fact, No Man's Sky was one of the titles Sony used to show off its newest VR headset earlier this year, alongside others like Gran Turismo 7, Resident Evil Village, and Horizon Call of the Mountain.
This has led to speculation that Hello Games' hit title could also serve as one of Apple's keystones for Monday's unveiling of its so-called "Reality Pro" AR/VR Headset. The developer added some fuel to that fire when it tweeted earlier today that it has "another surprise in the VERY near future."
It also mentioned "a little something just about to drop," which could be a reference to the iPadOS version of No Man's Sky, which seems logical since it promised a version for both platforms at last year's WWDC.
While Apple's headset likely won't ship until later this year, it's common for Apple to get at least one or two major developers on stage when it announces something this big. Hello Games already has a solid working relationship with Apple, having released The Last Campfire on Apple Arcade in 2020, so it's likely to be one of the developers invited to the table to show off the gaming capabilities of Apple's new headset.
To be clear, the "Reality Pro" won't necessarily be just a gaming headset, but insider reports suggest Apple isn't ruling anything out. The first-gen headset is expected to be a "kitchen sink" product, with Apple throwing everything at the wall to see what sticks — much like it did with the original Apple Watch.
This means the headset will be open to a broad range of possibilities, one of which will undoubtedly be gaming. It will also handle nearly all of Apple's iPad apps, including Books, FaceTime, Freeform, Safari, TV, and more, presented in a mixed-reality mode.