iPhone 14 Crash Detection Saves Young Musician's Life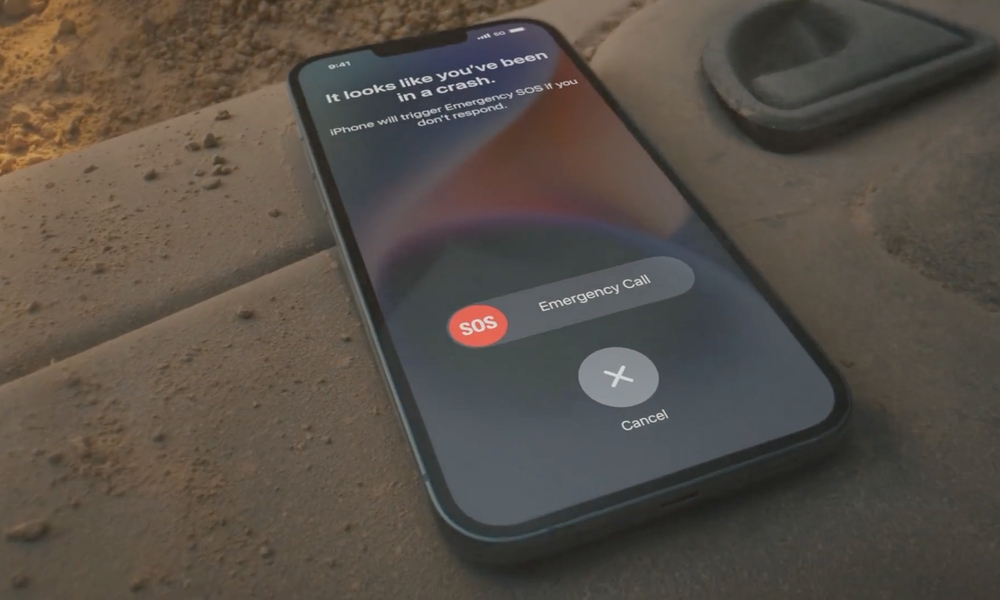 Although Apple's new Crash Detection feature on the iPhone 14 has been getting something of a bad rap for being too sensitive and sounding false alarms, it's still a significant lifesaving feature, as a young Canadian woman found out last weekend after ending up in a serious car accident in a remote location.
As South Grey News and CHCH report, an up-and-coming 21-year-old musician from Burlington, Ontario, was rescued from a severe car crash in a timely manner only because her iPhone 14 was able to automatically place a call to emergency services to let them know she was in trouble.
The woman, Hannah Ralph, had been driving on the remote side road 130 in the Grey Highlands, between Flesherton and Markdale, about a two-hour drive northwest of Toronto. She was on her way to visit her boyfriend's grandmother and extended family in the area, which is primarily made up of forests and farms. While it's unclear how the accident occurred, Hannah likely would not have been discovered nearly as quickly if her iPhone 14 hadn't automatically sounded the alarm.
According to her childhood best friend, Grace Workman-Porecki, who was also one of Hannah's iPhone emergency contacts, the "response time was incredible." After receiving an emergency SOS alert from Hannah's iPhone at approximately 6:55 p.m. on Saturday, Workman-Porecki contacted first responders and was told that paramedics were already on the site assessing Hannah's condition and had summoned an air ambulance and firefighters to cut her free from the vehicle.
I'm telling everyone who drives in rural areas to get this [Crash Detection] technology. Who knows how long it could take to get help?Dr. Angela Jones
Sadly, while things could have gone much worse, it doesn't have an entirely happy ending just yet, as South Grey News reports that Hannah sustained serious injuries, including "broken femurs and pelvis, cranial and cervical spine fractures, as well as multiple lacerations and substantial blood loss requiring transfusions." She was initially taken to Grey Bruce County's Markdale Hospital and later airlifted to Toronto's Sunnybrook Health Sciences Centre, where she remains in critical condition. However, according to Hannah's aunt, Dr. Angela Jones, the doctors overseeing her care are reportedly "confident and optimistic" about her recovery.
Nevertheless, while Ontario's provincial health insurance system will cover her primary medical care, the family still faces costly rehabilitation services and accessibility devices that will be necessary to help Hannah get back on her feet and continue her music career. To that end, Workman-Porecki has set up a GoFundMe campaign asking for contributions to help support Hannah's recovery.
How to Make Sure Crash Detection is Enabled
Apple introduced Crash Detection last year as a new feature across the entire fall 2022 iPhone and Apple Watch lineup, including the iPhone 14, iPhone 14 Plus, iPhone 14 Pro, iPhone 14 Pro Max, Apple Watch Series 8, second-generation Apple Watch SE, and Apple Watch Ultra.
Similar to the Fall Detection feature that's been available on Apple's wearable since the Apple Watch Series 4, Crash Detection automatically detects severe car crashes such as front-impact, side-impact, and rear-end collisions and rollovers, sounding an alarm and displaying and reading an alert to get your attention.
The iPhone will "aggressively vibrate" and "sound loud whoops" to get your attention, and if you fail to respond to the alert within 20 seconds, your iPhone or Apple Watch will automatically trigger the Emergency SOS feature, calling 911 and sending a text message to your emergency contacts with your location and a message that you've been in a severe car crash.
If the 911 call is placed automatically, emergency responders will hear a looped audio message telling them that your iPhone has detected a severe car crash and that you're unresponsive. It also reads out your estimated latitude and longitude with a search radius and then lowers the volume of the audio message so you can speak with emergency responders in the event that you're conscious but are unable to reach your iPhone or Apple Watch.
The good news is that Crash Detection is enabled automatically on all iPhone and Apple Watch models that support it, so you're protected unless you've manually switched the feature off. However, you can check this at any time by taking a quick trip into Settings > Emergency SOS on either your iPhone or Apple Watch and confirming that the Call After Severe Crash toggle is enabled. Note that turning this feature on or off on one of your paired devices will also change the setting accordingly on your other paired devices.