Apple TV's Native VPN Support with tvOS 17 and What it Means
It's a game-changers for streamers
Today, the demands of a regular internet consumer continue to rise. Let's face it, we can afford to search for speed, security, anonymity and the freedom to access any content around the world at the same time. A recent breakthrough in this realm is Apple's native support for VPN on Apple TV.
Apple has now made it easier than ever for its Apple TV users to enjoy unrestricted access to global streaming content. Here's a quick overview of this noteworthy development.
What Does Native Support Mean?
Until now, setting up a VPN on Apple TV required complicated workarounds. Users either had to configure their routers, use DNS settings, or employ other methods that were not particularly user-friendly. With native support, PureVPN has eliminated these complexities. Apple TV users can now download and install the PureVPN app directly onto their device, making the process as straightforward as installing any other Apple TV app.
Why PureVPN?
While there are several VPN providers out there, PureVPN is the only reputable service that's already created a native Apple TV app. Simply, they are one of the first to this huge market.
How to Get and Use PureVPN on Apple TV?
First, make sure to update your Apple TV to the latest tvOS 17.
Install the App: Head over to the Apple TV App Store and search for PureVPN. Download and install the app.
Log in or Sign Up: If you're an existing PureVPN user, simply log in. New users should sign up here where to get a 2 year plan for $2.29/mo.
Choose a Location: The app allows you to choose from a generous variety of locations. Select the region based on the content you'd like to access.
Start Streaming: Once connected, return to your Apple TV's home screen and launch your preferred streaming service.
See What Others Are Saying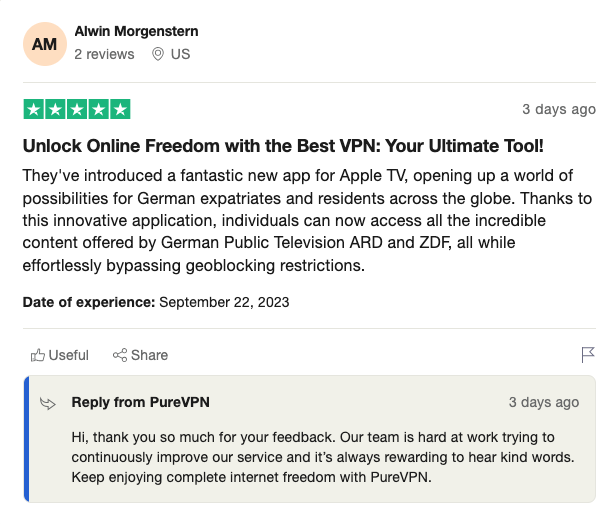 For Apple TV users, PureVPN isn't just an option; it's the only recommended choice as it stands today. You can dive into the vast ocean of global content with ease, speed, and security—experience streaming like never before.
And don't forget, they have a 31 day money-back guarantee for your ease of mind.
We may earn a commission from affiliate links. Continue Below.