Apple Removes 10 Apps from App Store Flagged as a Risk to Minors
A recent New York Times report discusses the ongoing challenges Apple faces as it polices its App Store to keep child-endangering apps out of circulation. In the article, the Times discusses a new website called App Danger Project that helps parents determine whether or not apps that are installed on their children's devices are potentially dangerous by using a machine-learning algorithm that analyzes reviews left by other users.
At the moment, the App Danger Project lists 182 apps that can be found in Apple's App Store and Google's Play Store that have been flagged as including "at least some reviews indicating dangerousness."
Parents can filter the results by platform ("Apple" or "Google."). By filtering the results to include only "Apple" results in a list of 146 apps.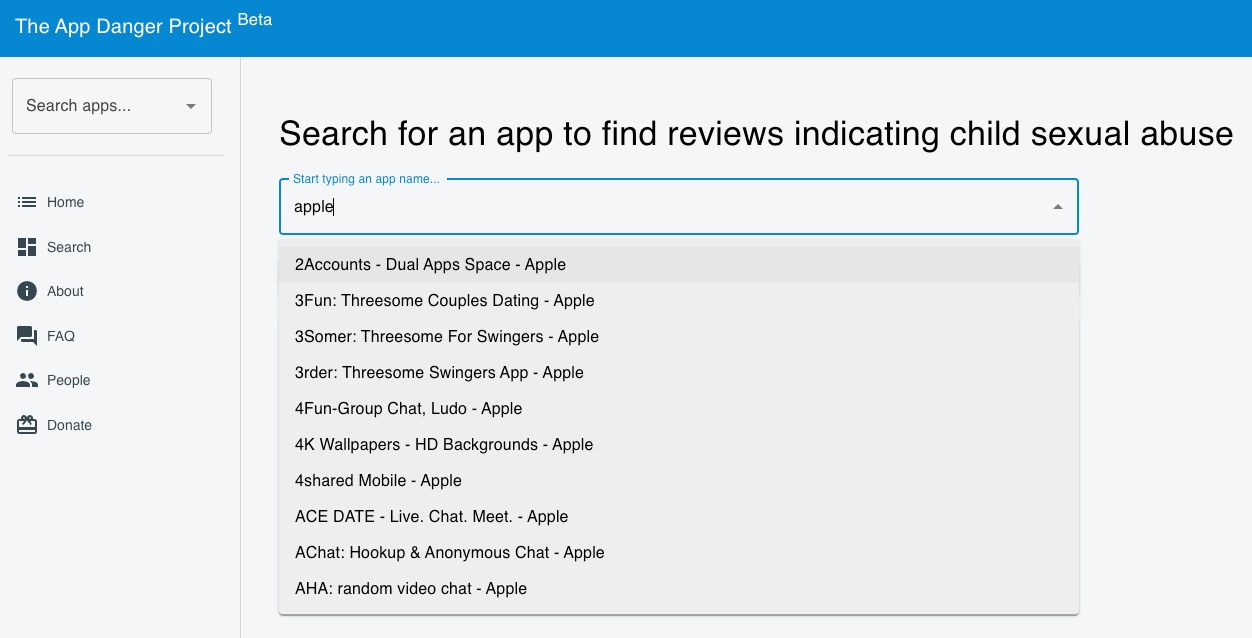 The website's search tool allows parents to find apps in both app stores and view selected reviews that include indications of possible child endangerment. The search results include reviews that mention the most evil of the evil, including references to sexual child abuse and other indicators that the app is or could be used to harm underage users.
For example, a search for "Snapchat" shows 23 reviews with the warning that, "We found a significant number of reviews that indicate that this app is unsafe for children."
A similar search for Instagram returns zero reviews indicating child endangerment. When I searched for TikTok, it showed as not yet being included in the App Danger Project database.
According to the Times, Apple investigated 10 apps from the App Store and removed them after finding that they violated its distribution rules. Apple declined to provide a list of the specific apps it removed or comment on the reasons for their removal.
Our App Review team works 24/7 to carefully review every new app and app update to ensure it meets Apple's standards.Apple spokesperson
The creators of the App Danger Project say they believe reports of abuse should be prominently displayed to users and parents on both the Google and Apple app stores. They would also like to see Apple and Google offer the ability for users and parents to sort by "Reports of Abuse."
They also hope to see the two tech giants take reports of possible sexual child abuse more seriously by investigating possible dangerous users on the apps and posting the results of such investigations to be publicly in their respective app stores.
They also believe both Google and Apple should shut down the downloading of apps when there are reports of possible child endangerment until the app developers can prove that they have taken action to resolve the issues.
If you have observed such abuse in an app, it can be reported as a CyberTip to the National Center for Missing and Exploited Children (NCMEC). You can also donate to the project and other efforts by the non-profit UMass Rescue Lab to destroy online child sexual abuse by visiting their donation page.
For more information and background information on the App Danger Project, the full New York Times article is worth a read.