Apple Offers a Sneak Peek at Its Black Friday Shopping Event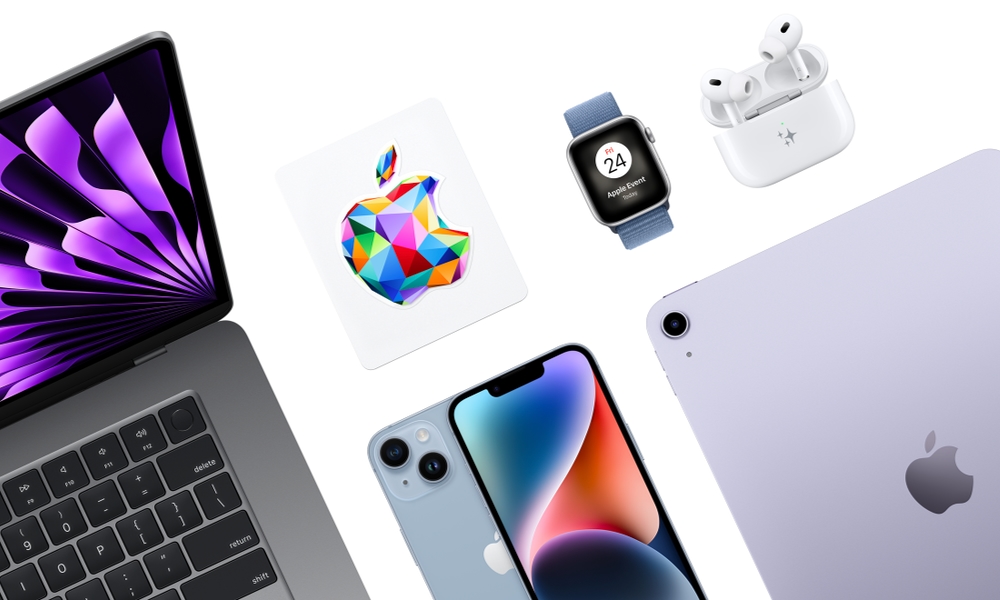 Apple has just announced the details of its Black Friday Shopping Event, and as usual, it's all about Apple Gift Cards rather than upfront savings.
Apple rarely discounts is products at all, and Black Friday is no exception. Even its annual Back to School promotions have only ever offered bonus items, such as free AirPods; however, these have also switched over to Apple Gift Cards in recent years.
While Apple's Black Friday deals are far from the best you'll find, they're not a bad way to accessorize your Mac or iPad if you were planning to buy one anyway. Still, it's fair to say you can get better deals elsewhere on most of the products that Apple has on offer.
Apple is also being a bit more generous with the products that are included this year, although not necessarily by much. You still won't get any perks for buying an iPhone 15 or iPhone 15 Pro, but at least the Apple Watch Series 9 is on the list this time around.
Apple's Black Friday Deals
The Apple Watch Series 9 is the most recent Apple release that's eligible, for which you'll get a $50 Apple Gift Card. Sadly, that doesn't apply to the Apple Watch Ultra, and there are no incentives for the iPhone 15, iPhone 15 Plus, iPhone 15 Pro, or iPhone 15 Pro Max, nor for Apple's newest M3 Macs.
Here's the breakdown of everything that's eligible:
Up to a $200 Gift Card
MacBook Air
Mac mini

Up to a $100 Gift Card
iPad Pro
iPad Air
iPad mini
iPad (10th generation)

Up to a $75 Gift Card
iPhone 14
iPhone 13
iPhone SE
AirPods Max
AirPods Pro (2nd generation)
AirPods (3rd generation)
AirPods (2nd generation)

Up to a $50 Gift Card
Apple Watch Series 9
Apple Watch SE
Apple TV 4K
HomePod
Magic Keyboard
Magic Keyboard Folio
Apple Pencil (2nd generation)
Smart Keyboard Folio
Beats Studio Pro
Beats Solo3 Wireless
Powerbeats Pro
Beats Fit Pro
Beats Studio Buds Plus
Beats Studio Buds
Beats Flex

Apple hasn't provided any additional details on what "up to" means, so some products may not qualify for the full value. For example, it's a safe bet that the $129 second-generation AirPods (which can already be found on Amazon for $99) won't net you the same value of a gift card as the $549 AirPods Max (which are currently $70 off on Amazon and could drop further by the time Apple's Black Friday event begins).
Apple also notes that the gift cards are sent out via email to be used "on a later purchase," so you won't be able to buy accessories with the gift card at the same time — and you definitely can't apply the gift card to offset the cost of the original purchase.
The upside is that Apple's unified "Everything Apple" gift card now lets you buy more than physical Apple products. They also work like the "App Store" or "iTunes" gift cards of old, letting you use them for digital purchases and subscriptions.
This means that you can use the gift card that you receive from a new Mac or iPad purchase against a subscription to Apple One, Apple Music, or any other of Apple's services. It can also be used to purchase apps on the App Store or even in-game currency.
Still, you can find many better deals that save you money upfront which can just as easily be spent on the App Store, on iTunes Movies and TV shows, or on Apple subscriptions.
Unlike other online retailers, Apple's Black Friday Shopping Event doesn't kick off until Black Friday, November 24, and runs until November 27.