Apple Car Key Expanding to Mercedes-Benz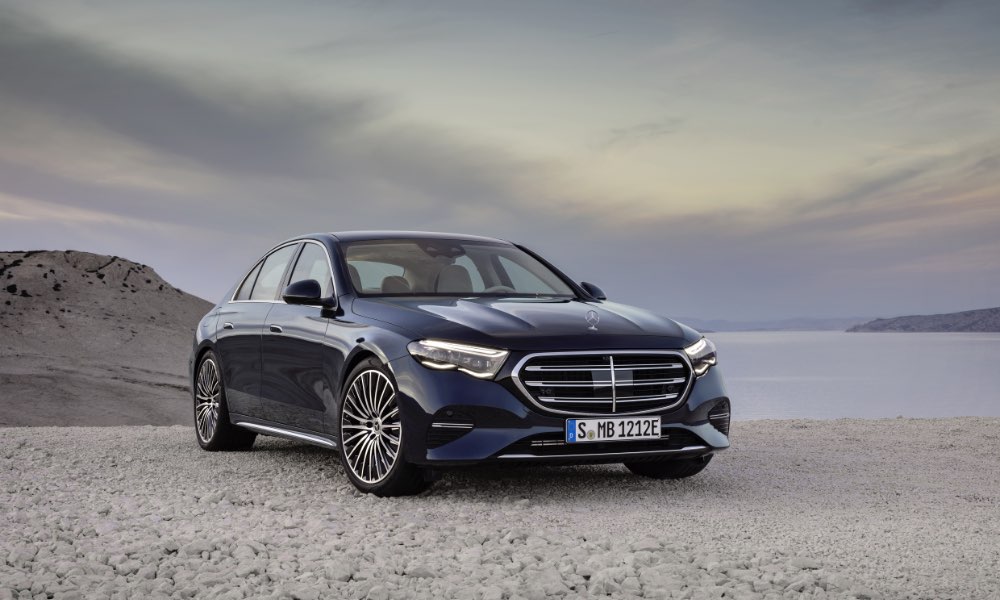 It's been nearly three years since Apple first rolled out Car Key in iOS 13.6, and to say that carmakers have been slow to adopt the new technology would be an understatement. Car Key launched with only a single partner — BMW — and Hyundai is the only other mainstream automaker that's joined the party since, with the 2023 Genesis GV60 and a small number of other Hyundai and Kia models.
Fortunately, it looks like another popular vehicle maker is ready to turn the key on the new technology. In announcing its new E-Class last month, it hinted that support for the iPhone and Apple Watch would be coming to the latest models, and today it updated that specific page to state that "Digital Vehicle Key is now available for iPhone and Apple Watch."
The announcement suggests Car Key will be limited only to the new E-Class vehicles for now, which isn't surprising. BMW remains the only automaker that's embraced Car Key across its entire model lineup from 2021 and beyond. Hyundai still limits it to only its most premium models from 2023 onward: the Genesis GV60 and G90, Hyundai Palisade and IONIQ 6, and Kia Telluride, Niro, and Seltos. Even Chinese carmaker BYD — the only other one that's adopted Car Key so far — is only offering it on a single vehicle, the HAN.
Apple doesn't maintain a separate list of vehicles that support Car Key yet. Instead, it marks Car Key compatible vehicles with a small key icon on themuch longer list of those that support CarPlay. The new Mercedes-Benz E-Class has yet to be added to this list.
Code sleuths have also discovered a new brand entry for "MBAG" in Apple's Car Key frameworks, which would represent "Mercedes-Benz AG." This suggests that Apple now has all the necessary pieces in place, so it's just a matter of waiting for the vehicles to show up.
Notably, Nicolás Álvarez, who discovered the MBAG reference, also found hints last month that Lotus may also be working on adding support for Apple Car Key. However, the carmaker has yet to announce anything official on that front.
Moving to Ultra Wideband
One of the reasons the uptake of Apple's Car Key has been a bit slow is that the initial version of it was an idea that was cool but not especially practical.
While BMW was happy to get on board to be on the pioneering edge of the new technology, the version of Car Key launched in iOS 13.6 relied on Near Field Communications (NFC) — the same technology that powers Apple Pay. This made it less convenient to use Car Key than the key fob that came with your car.
As you can probably imagine from the Apple Pay comparison, unlocking a car using NFC Car Key requires holding your phone within a couple of inches of the door so it can read the digital key. Similarly, starting your vehicle required that you place your iPhone in a special area of the console. By comparison, most modern cars that feature keyless entry and push-button start allow you to accomplish these things without taking the key fob out of your pocket.
That's not to say that Car Key didn't have its advantages. It's more secure than key fobs, which can be more easily relayed or cloned by car thieves, and it offers the ability to securely share keys with friends and family members without handing over your key fob.
However, it wasn't until BMW adopted Ultra Wideband support and Apple followed suit in iOS 15 that Car Key reached maturity. Popularized by Apple's AirTags, Ultra Wideband allows for secure, short-range communications that don't require you to remove your iPhone from your pocket or purse to unlock or start your car — and it's considerably more secure than the technology in the RF key fobs used by most automakers.
Ultra Wideband hardware support first came to the iPhone in 2019, with a new U1 chip in the iPhone 11. That chip didn't do much at the time, but it's also an excellent example of how far ahead Apple thinks. The 2020 Apple Watch Series 6 also gained a U1 chip that was entirely useless at the time but has now become a core requirement of Apple's Digital Key technology.
While the latest Digital Key 3.0 standard still supports NFC for backward compatibility, it seems BMW may be the only manufacturer that cares about this. While Hyundai's own "Hyundai Digital Key" used NFC with a custom Android app, the company's vehicles that support Apple's Car Key use UWB exclusively.
It seems Mercedes-Benz is also following suit, noting in its announcement that "Digital Vehicle Key is compatible with iPhone 11 and later (except iPhone SE) as well as Apple Watch 6 and later (except Apple Watch SE)." Those are the only devices that include Apple's U1 chip, and the carmaker clarifies by adding, "The prerequisite is UWB capability." However, it also notes that it's working to expand compatibility with other devices.