How to Use Your iPhone as a Tool for Learning Languages
You probably already know how versatile your iPhone can be. It's such a great tool for so many things. You can use your iPhone for work, to stay in touch with friends and family, and believe it or not, you can also use it to learn a new language.
That's right; thanks to the online world, it's never been easier to start working on that new language you've always wanted to learn. You could be speaking and understanding a new language in only a few months with nothing more than your iPhone, some dedication, and the right apps.
Here's how you can start learning a new language with your iPhone right away, plus a few suggestions to help you crush your goals.
Can You Really Learn a New Language With Your iPhone?
Is your iPhone really the only device you need to get started learning a new langauge? The short answer is: absolutely. Your iPhone gives you access to a wealth of online information, including hundreds of resources of learning new languages. You can get started by searching videos or articles in the language you want to learn.
Or you can use apps to help you translate between different languages in a flash. This is the perfect way to start getting used to the language you want to learn, but you'll need a bit more if you want to actually learn a second language.
You also need commitment, a plan, and access to the right platform.
Tips to Learn a New Language
Starting to learn a new language isn't as difficult as it sounds. The hard part is only when you don't have a clear plan in mind. This will make the difference between actually learning the language and merely understanding a few words and phrases.
Don't worry; it may sound scary at first, but here are a few tips to help you crush your goals:
Set Specific, Realistic Goals. Sure, you can say you'll be a native speaker in just a few months, but that's not realistic. You need to create a big goal and then a list of smaller, more achievable goals that'll help you learn a new language.
Keep Track of Your Progress. Keeping track of everything you need to do and everything you've accomplished is the perfect way to stay on track and keep you motivated in your journey.
Speak in That Language as Often as Possible. It's hard to speak in a different language when you don't have someone or something to talk to. Still practicing pronunciation and intonation will help you become more fluent in any language.
Meet Native Speakers. A great way to learn a new language is to talk to people who are already great in that language. Talking to native speakers will help you understand a language with different accents and even learn a few idioms you won't find in textbooks.
Practice Every Day. In order to learn a new language, you need to practice it every day. Even if just with small lessons or watching a few videos in that language, it's important to keep practicing as much as possible.
Watch Content in That Language. Whether you want to listen to music, podcasts, or videos, listening to content in the language you want to learn will help you understand the language in no time. Plus, you'll also learn how to pronounce certain words and even the type of culture that exists behind the language.
Find the Right Platform for You. The best part about using your iPhone to learn a second language is that you can search for the right platform that fits all your needs and helps you with the tips we just mentioned.
There are a lot of apps out there, but here are two of the best ones that'll help you get going in no time.
What Are the Best Apps to Learn a New Language on iPhone?
When it comes to learning a new language on your iPhone, you've probably heard of apps like Duolingo. While that app is great to get you started, you'll need a more complete app that can take you all the way through the process of actually learning a new language. Here are two that are worth a closer look.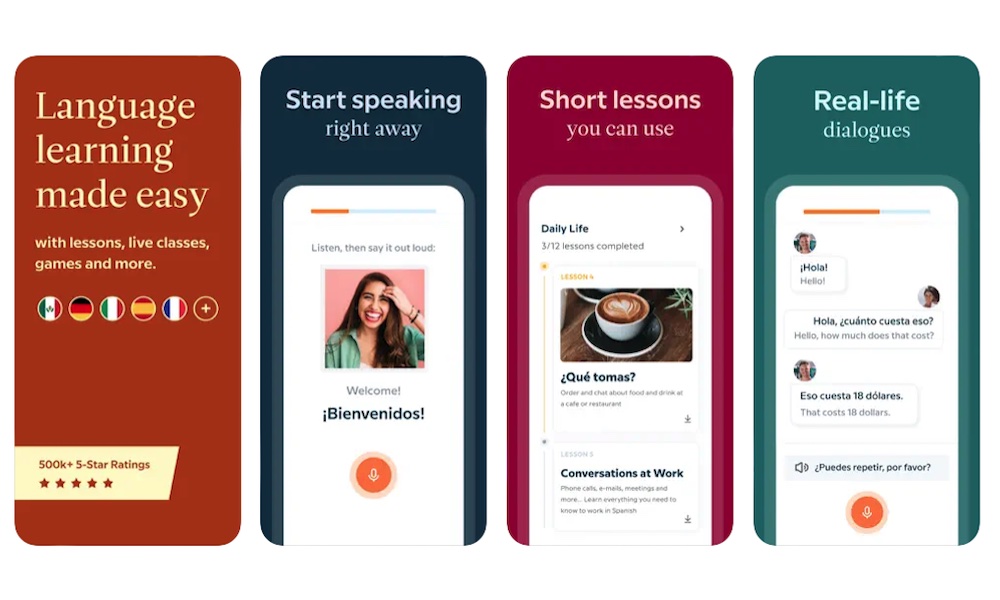 You've probably heard of Babbel before, and for good reason. This is one of the most complete iPhone apps to help you start learning a new language in a matter of months.
Babbel has 14 languages you can learn, including Spanish, French, Italian, and German, with over 5,000 courses and 10,000+ hours of classes you can access with only your iPhone.
What makes Babbel an excelent option is the fact that it's got over 100 expert linguists working on the app. Because of this, Babbel has seen its participants' pronunciation improve in just three months.
Additionally, the app has all the tools you need to keep track of your progress and improve your grammar and pronunciation.It offers small, quick lessons you can access at any time to help you practice your new language every day throughout the day.
Plus, if you're worried you won't be able to use it while you're traveling, Babbel also offers an offline mode to take your classes without consuming your data.
Besides having a really cool name, Rosetta Stone is one of the best platforms to learn a new language. With over 27 years of experience, it's trusted by many big companies around the world, including NASA, Calvin Klein, and TripAdvisor.
What makes this app so good? Well, for starters, it has over 25 languages available, including Mandarin, Italian, German, and French. Plus, one cool thing about Rosetta Stone is that it also teaches both Latin American Spanish, and Spanish from Spain, which makes it really stand out.
Additionally, it comes with bite-sized classes you can take in just 10 minutes. There's a lot to choose from, but don't worry; all these classes are tailored to fit your current level of understanding of that language. You won't feel overwhelmed with words you've never seen in your life.
Rosetta Stone comes with a feature called TruAccent. This is the best speech recognition software in the world, and it'll help you improve your pronunciation by comparing it with actual native speakers. You can also track your progress to keep you motivated in your journey.
Start Learning a New Language Today
Today, it's easier than ever to learn a new language on the go. All you need is your iPhone and the right tools for the job.
Just remember that while using the apps we mentioned above will definitely help you in learning a new language, if you want to become a fluent speaker, you'll need to be committed to putting in the effort and using these apps every day.
We may earn a commission from affiliate links. Continue Below.