How to Find Your Apple TV Remote in iOS 17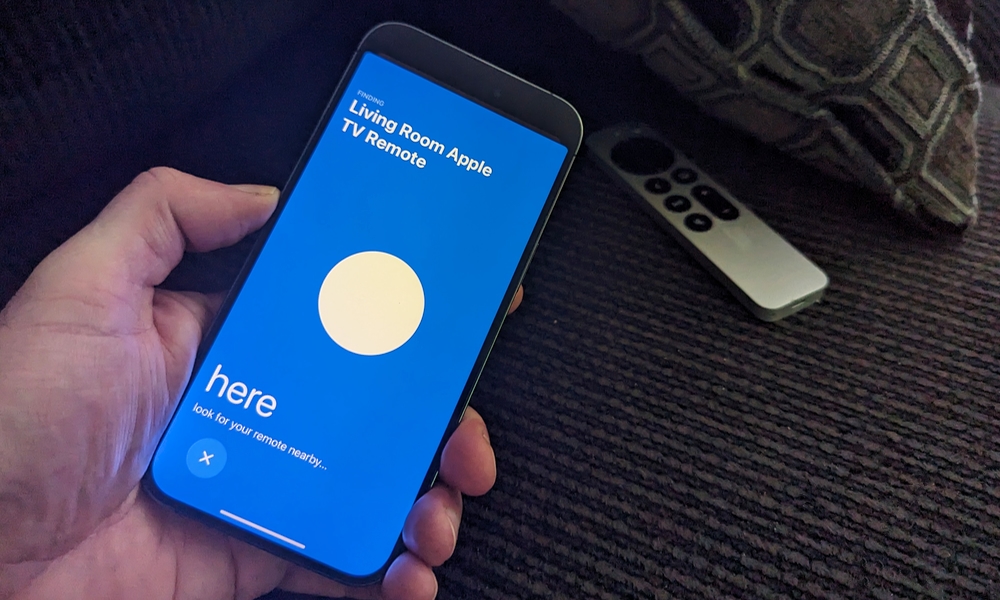 A little over two years ago, Apple demonstrated one of its rare moments of product discord when it simultaneously unveiled its AirTags and Apple TV 4K. The set-top box gained a significantly redesigned Siri Remote that, for all of its improvements, lacked the synergy that Apple's ecosystem is typically known for.
Specifically, that same spring, Apple introduced not only its own item trackers but had unveiled an entire Find My Network only weeks earlier, designed to allow third-party accessory makers to build AirTag-like tracking capabilities into their own devices. Belkin, VanMoof, and Chipolo were on board from the beginning, yet Apple's own Siri Remote lacked any Find My-related features.
While it's true that you're not likely to leave your Siri Remote behind somewhere since it likely never leaves your home, Apple's Precision Finding feature can track an AirTag to a specific location in your house, which seemed ideal for figuring out which couch cushion your Siri Remote has fallen into.
Even more perplexing was that when announcing the AirTag at its spring 2021 event, Apple showed the exact scenario for finding a lost remote when it showed someone looking for a set of keys hidden in their couch. When the person in Apple's concept video descended into the nether regions of his couch, a colony of old remotes could clearly be seen dwelling among the rest of the lost devices.
When asked if Apple had considered adding AirTag-like features to the Siri Remote, an Apple marketing executive responded with the relatively thin excuse that Apple didn't think it was necessary because Apple had made the remote thick enough that it "won't fall in your couch cushions as much."
Of course, that sounded like a marketing spin from the beginning, but whether the lack of Find My support was an oversight on Apple's part or whether the company saw the error of its ways and changed its mind, the good news is that it's finally added the ability to track down a lost Siri Remote in iOS 17 and tvOS 17.
The feature is a function of your iPhone more than your Apple TV, although the Siri Remote also requires a firmware update to enable it, which comes as part of the tvOS 17 update. This means that you'll need to be running iOS 17 on your iPhone and tvOS 17 on your Apple TV to use the new Find Remote feature (although, in an odd twist that we're pretty sure is a mistake, Apple's support document suggests it can be used on an iPhone X or iPhone 8, neither of which are capable of running iOS 17).
How to Find Your Siri Remote
It's a bit counterintuitive, but the Find Remote feature isn't part of Apple's Find My app. That's probably why Apple doesn't call it "Find My Remote."
This means you won't find your Siri Remote listed anywhere in your Find My app. It's not with your AirPods under Devices, nor with your AirTag and other Find My Network items on the Items tab.
Instead, you can look for your physical Siri Remote using the virtual iPhone Remote app in the iPhone's Control Center. Here's how to kick it off:
Open Control Center on your iPhone by swiping down from the top-right corner (or swiping up from the bottom if you're using an iPhone SE).
Select the Remote icon (the one that looks like your Siri Remote). If you can't find this in your Control Center, go to Settings > Control Center and make sure it's in the "Included Controls."
Select the device list at the top.
Devices with a compatible Siri Remote will show a Find button beside them. Select this and walk around your home, following the prompts on your iPhone to guide you to your Siri Remote.

The method used for this appears to be similar to the enhanced Find My AirPods feature that Apple added in iOS 15. Like the Siri Remote, most of Apple's AirPods don't feature an ultra wideband chip, so Apple relies on Bluetooth proximity detection. That's why you don't get an exact directional arrow like you do with an AirTag, but rather just an indication of how near or far they are from your current location.
Still, that should be good enough for locating your AirPods around your home. The proximity range is sensitive enough that you'll need to be within about a foot of your Siri Remote before your iPhone detects it as "here," which should be close enough to figure out where it's actually hiding.