Apple's Satellite Services Expand to Offer Roadside Assistance | How It Works & What It Costs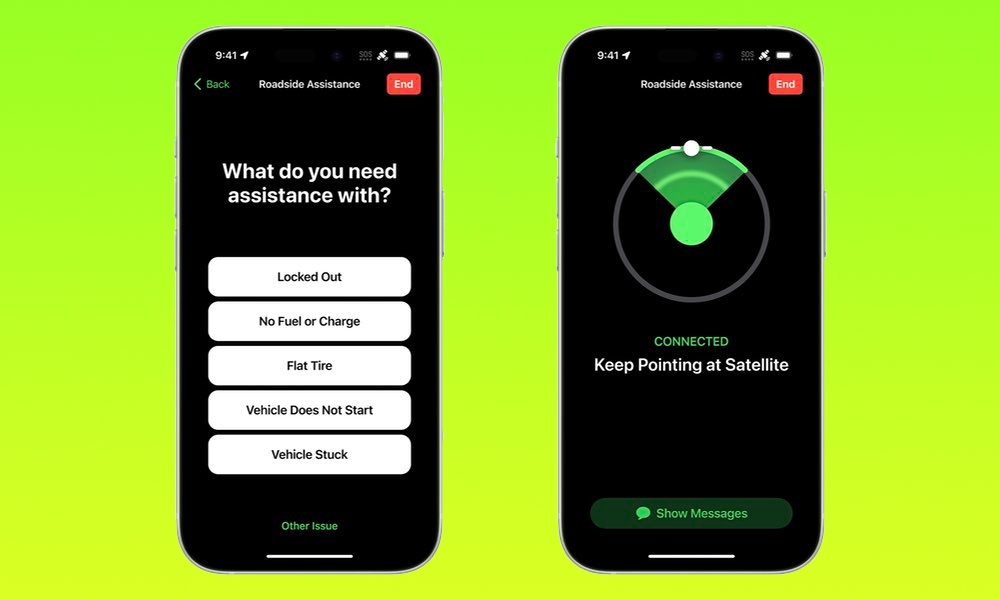 There weren't too many surprises during yesterday's Wonderlust event, thanks to the active rumor mill — which actually got a lot of things right this year about the iPhone 15 and iPhone 15 Pro lineups. Nevertheless, Apple still had a few tricks up its sleeve that nobody saw coming.
One of these was the expansion of its satellite services to go beyond only providing help in the most serious, life-threatening emergencies. Launched with last year's iPhone 14 lineup, Emergency SOS via Satellite is a groundbreaking new feature that has already helped a great many folks reach out to emergency services when they're off the grid with no cellular or Wi-Fi coverage — from calling in water bombers to douse a Canadian wildfire, rescuing a family from the Maui wildfires, or saving college students from a frigid canyon.
Emergency SOS via Satellite was launched in the US and Canada last year, but it's since expanded to 12 other countries on three continents, including Australia, Austria, Belgium, France, Germany, Ireland, Italy, Luxembourg, the Netherlands, New Zealand, Portugal, and the U.K. Yesterday Apple announced that it's coming to Spain and Switzerland later this month, where it will undoubtedly be helpful to snowboarders and skiers adventuring in the alps.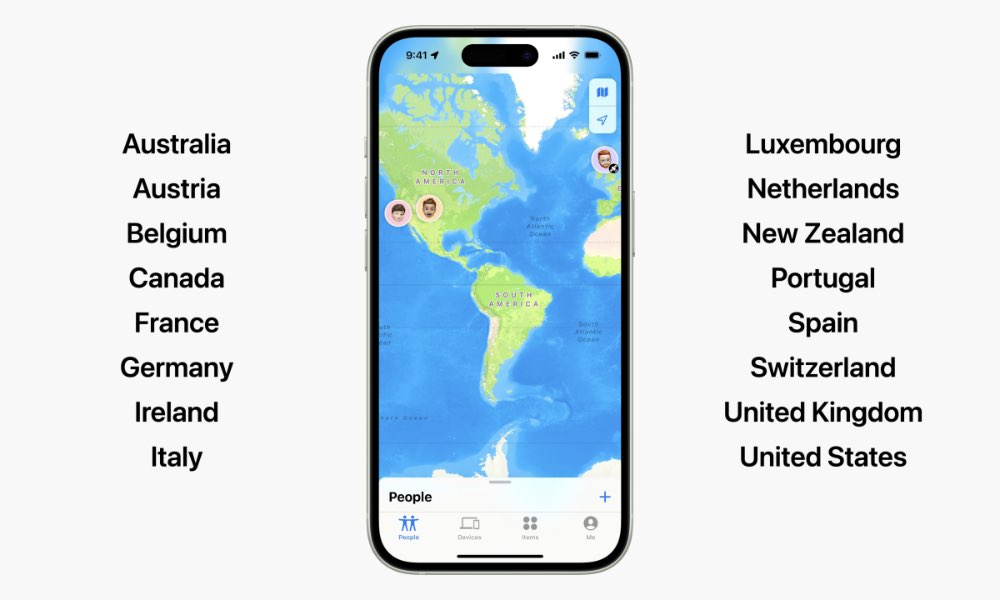 "[Emergency SOS via Satellite] is having an extraordinary impact, including helping first responders rescue people after accidents and natural disasters. And users have let their loved ones know they're safe by updating with Find My via Satellite, in places from the Shetland Islands in Scotland to Mount Wellington in Tasmania. Deniz Teoman, Apple VP of Hardware Systems Engineering
Of course, you'd expect a satellite-based feature to have global coverage, but the limitation here isn't the technology. The satellites are there, but Apple still needs to get the emergency services infrastructure in place so that first responders can properly handle calls that come in via satellite.
This leads to the next phase of Apple's emergency satellite features that the company introduced yesterday.
Roadside Assistance via Satellite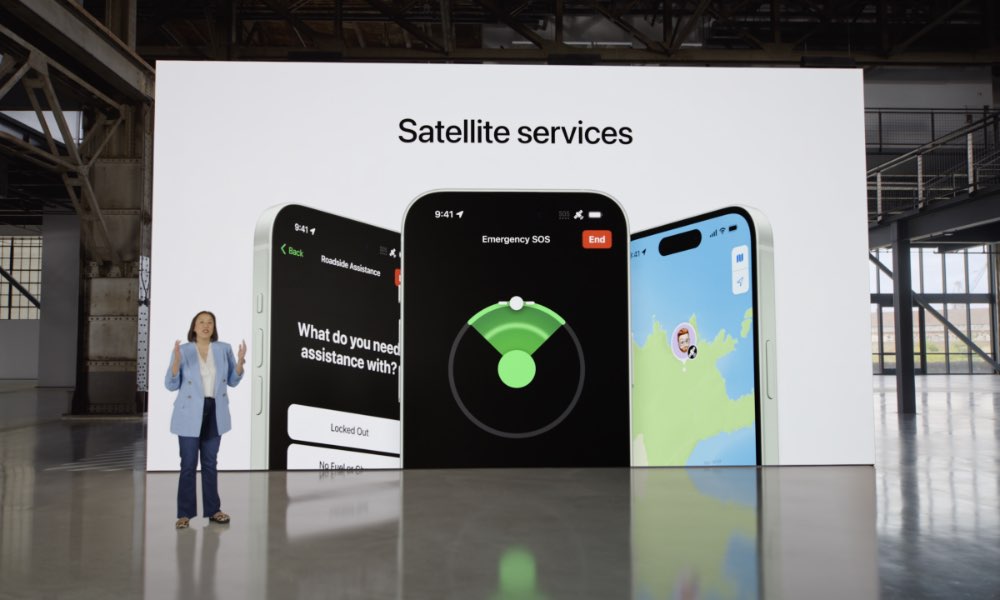 Since the satellites are now in orbit, and Apple's recent iPhone models can all connect to them, the company is adding a new emergency feature for those times when you may find yourself stranded off the grid but aren't in a situation that's serious enough to warrant a 911 call.
As Apple VP Deniz Teoman pointed out, Emergency SOS via Satellite was built for serious emergencies that require a first responder. However, what about those times you just ran out of gas on a dark desert highway without cellular coverage and nothing but your iPhone and the cool wind in your hair?
Thankfully, Apple now has an answer to that. Launching in the US alongside the iPhone 15 and iOS 17, Roadside Assistance via Satellite will connect you to AAA so you can get help with vehicle problems anywhere in the US.
This means you'll no longer need to MacGyver your iPhone with a drone to call for help — although you will still need an iPhone model that supports satellite connectivity.
Fortunately, Apple isn't limiting this only to the latest iPhone 15 models. Even though it was announced as part of Apple's iPhone 15 presentation, Roadside Assistance via Satellite will also be coming to the entire iPhone 14 lineup as part of iOS 17. That's not surprising since Teoman said it's built on the same technology as Emergency SOS via Satellite. While Apple has been known to artificially limit some features in the past, it would be unthinkable to do so for something that could help its customers get out of a bind.
How Does Roadside Assistance via Satellite Work?
The process of contacting roadside assistance using a satellite connection is similar to making an emergency SOS call. As with Emergency SOS via Satellite and Find My via Satellite, this will only work when you have no cellular or Wi-Fi coverage, which makes sense as you can use those means of communication far more efficiently.
After all, Apple has not turned the iPhone 15 into a satellite phone. You won't be able to place normal calls or send regular text messages via satellite; the antennas packed into the iPhone 14 and iPhone 15 allow you to send canned emergency text messages through a dedicated communications network to satellites that are hundreds of miles over your head in low-earth orbit, moving at 16,000 miles per hour. When you think about that, it's kind of amazing that this works as well as it does.
Instead, initiating a roadside assistance call will begin by opening the Messages app and starting a new conversation with "Roadside." If you're off the grid with no other coverage, an option to request Roadside Assistance via satellite will appear.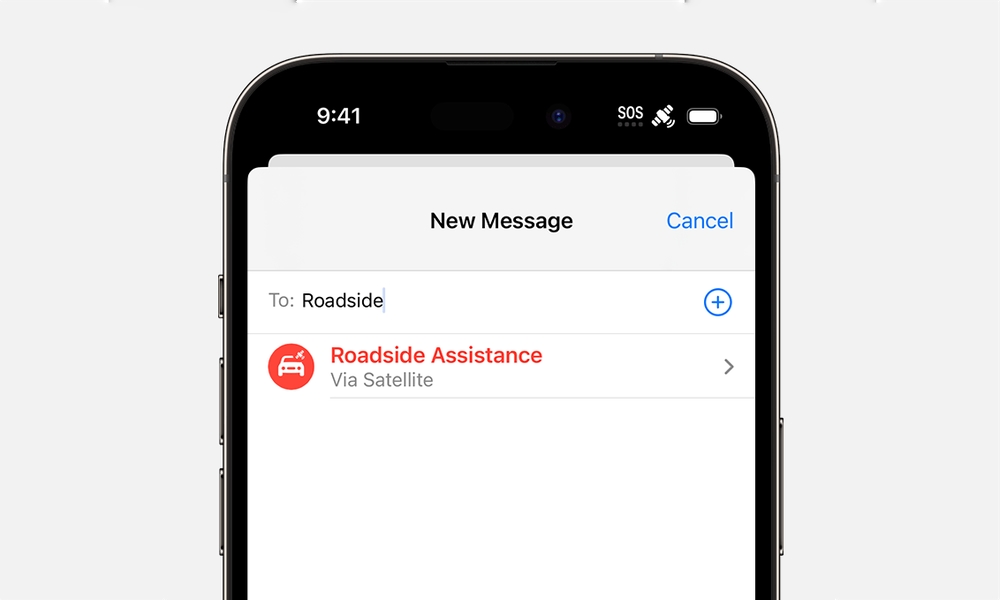 Simply tap this and then follow the on-screen instructions, which will help guide your iPhone to connect with a satellite and request help. As with Emergency SOS via Satellite, you'll be prompted to answer a few questions, but in this case, they'll be specific to a roadside assistance scenario rather than a more serious emergency.
Also, with an iPhone 14 and iOS 16, if you try to call 911 and can't get a connection, you'll be offered the option of texting emergency services via satellite. Apple notes that in iOS 17, you'll be given the choice to contact a roadside assistance provider instead.
You Can Try a Demo on your iPhone 14
If you have an iPhone 14 and you've never tried Apple's Emergency SOS via Satellite (we're hoping you've never needed to), you can see what that part of the process is like as Apple offers a built-in demo that you can find in the Settings app under Emergency SOS. Scroll to the bottom where you see the Emergency SOS via Satellite section and tap Try Demo.
This will walk you through making an actual connection to one of Apple's satellites, so you'll need to go outside and get a clear line of sight to the sky to begin. You'll then be taken through a simulated emergency call to show you what would normally happen, but you won't actually be connected to any emergency services.
Where is Roadside Assistance via Satellite Available?
At launch, Roadside Assistance via satellite will be available only in the United States, including Puerto Rico, but excluding the US Virgin Islands.
As with Emergency SOS via Satellite, international travelers who visit the US can also use the feature as it's not locked to your iPhone's regional settings or Apple ID. However, it's also important to note that not all international iPhone 14 and iPhone 15 models support satellite connectivity, so if you purchased your iPhone in Armenia, Belarus, mainland China, Hong Kong, Macao, Kazakhstan, Kyrgyzstan, or Russia, you'd be out of luck.
What Does Roadside Assistance via Satellite Cost?
Apple has partnered with AAA to launch Roadside Assistance via Satellite in the US, and the good news is that if you're a AAA member, it's already covered in your normal roadside assistance package. There are no extra charges just because you're reaching them via satellite instead of by a regular telephone call.
Don't worry if you're a non-member, though. AAA will happily provide you with roadside assistance via satellite on a "pay-per-use" basis. So, if you have an iPhone 14 or iPhone 15 and find yourself stranded, you can still reach out for help.
However, Apple is still being a bit vague on the cost of the satellite connectivity features. When it launched Emergency SOS via Satellite with the iPhone 14 last year, it said it would be included for free for two years with the activation of an iPhone 14 or iPhone 14 Pro, but it didn't say what would happen after those two years were up.
It's repeating the same mantra with the iPhone 15 and iPhone 15 Pro. You'll get two years of satellite features for free with purchase, and anybody who bought an iPhone 14 last year still has at least a year left on their plan. However, we still don't know if Apple plans to eventually charge extra for satellite connectivity beyond those first two years or how much it will cost if so.
Of course, Apple still has a year to figure this out. It could offer an extension next fall, charge for the service separately, or bundle it into AppleCare+ or iCloud+. However, assuming Apple keeps providing two years of service with every new iPhone, those who regularly upgrade to a new model won't have to worry about it.