Simplify Your Travel With This 3-in-1 Charging Cable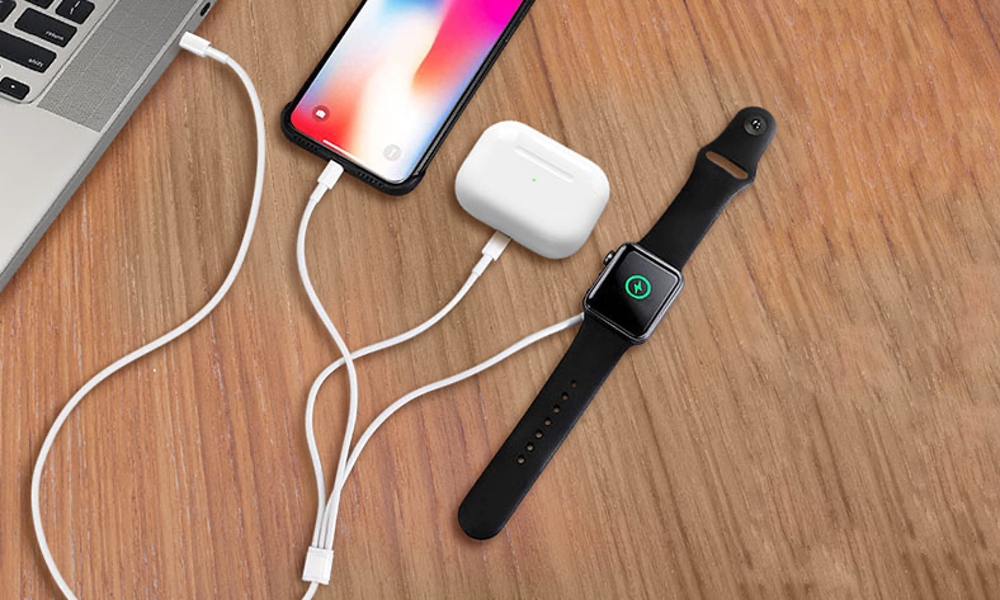 Let's face it: most of us travel with more than just our iPhones these days. Even if you leave your iPad and MacBook behind, you're probably still toting a set of AirPods and maybe even an Apple Watch on the road with you, which means you also need to ensure you have a convenient way of keeping these devices powered up.
After all, the iPhone and Apple Watch may have great battery life to get you through a single day, but you won't make it very far into a second unless they hit the charger when your head hits the pillow. For most folks, that means packing at least two Lightning cables, the Apple Watch magnetic charger, and one or more USB or USB-C power bricks to plug them all in.
The good news is that there's a much easier way for those who prefer to travel light. This 3-in-1 Apple Watch, AirPods & iPhone Charging Cable will cut down on the wires you need to untangle and the number of places you need to plug things in.
The single, standard USB-A connector (there's a USB-C version available, too) can plug into any USB charger or even the USB ports you'll find scattered about on your travels, from cars and airplanes to airport lounges and hotels. Branching off into two Lightning connectors and an Apple Watch magnetic charger, you can connect your Apple Watch, iPhone, and a set of AirPods, or even another Lightning device like an older iPad, and charge them all simultaneously from a single cable.
The best part about this 3-in-1 cable is that it doesn't do data transfer — only charging. While that may not seem like an advantage at first, it's actually a good thing for a travel charger as it means you won't need to worry about the threat of "juice jacking," where innocuous-looking public charging stations could potentially install malware or other nasty things onto your iPhone.
That's not possible with this cable since it only transfers power to your device — and nothing else. This means you can charge your iPhone from any available USB port without fear that you might pick up something more than just a full battery.
This cable can also handle the fastest wired charging speeds your iPhone is capable of, although it doesn't support fast charging for an Apple Watch Series 7 or later. However, that's not too crucial if you're only planning to plug in at night, as your devices will have more than enough time to charge while you're sleeping — and the slower charging will go easier on your batteries, too.
Still, if you plan to use this in situations where time is of the essence, we recommend getting the USB-C version and picking up at least a 20W USB-C power adapter or even a more powerful one if you plan to charge a second iPhone or an iPad using the other Lightning connector.
We may earn a commission from affiliate links. Continue Below.