Try These 7 Best Productivity Apps for iPhone and iPad
Given all the distractions around us, being productive isn't exactly an easy task. Every screen, place, and product competes for your attention. Whether you need to complete a huge project or do something as simple as taking out the trash, some of us will procrastinate to the last second.
Because of intentionally delaying something or forgetfulness, chances are you could use help to handle your to-do lists. The good news is that your iPhone can assist you with becoming a more productive person, one app at a time. Tools and processes are what make us more efficient on a day-to-day basis. With that said, having the right tools for focusing your attention can be the difference maker in accomplishing tasks you had set for yourself.
You won't become productive just because you have an iPhone or use these apps. Rather, you'll still need to put a lot of effort in order to create better habits. But these apps could make your productivity journey so fun and easy, you'll wonder why it took you so long to take out the the proverbial trash.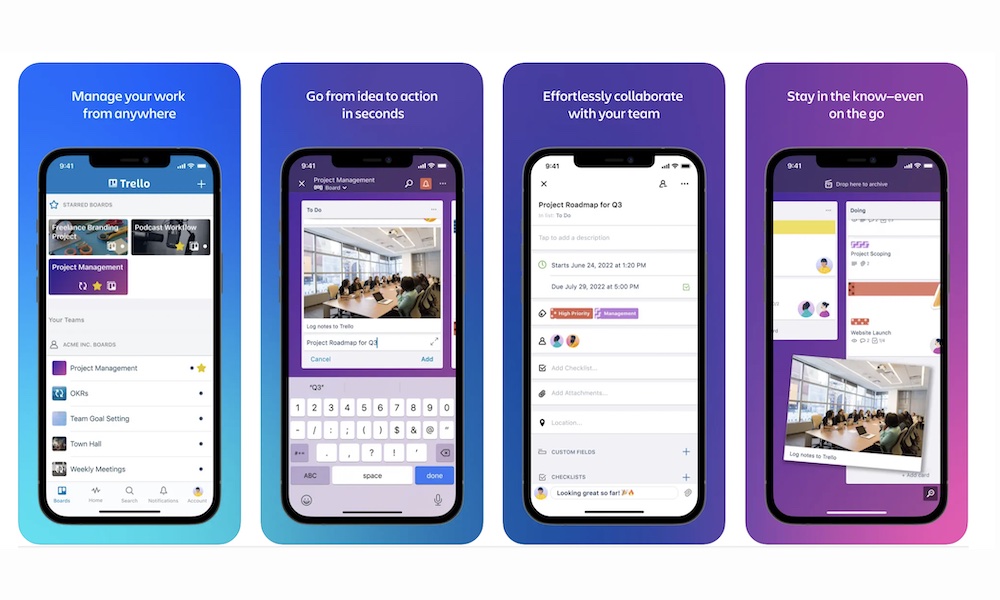 Trello is one of the most noteworthy apps for becoming more productive. It lets you create different boards, lists, and tasks that you'll be able to keep control of all your life on your iPhone.
The best part about Trello is that you can also use it as a team management app. You can invite your coworkers to any board, so you know how the project is coming along, or let your friends join to get started on that surprise birthday party you want to throw.
Trello offers a subscription plan, but for most of us, the free plan will have more than enough features to crush our goals. Try it by yourself or with your spouse to keep things organized.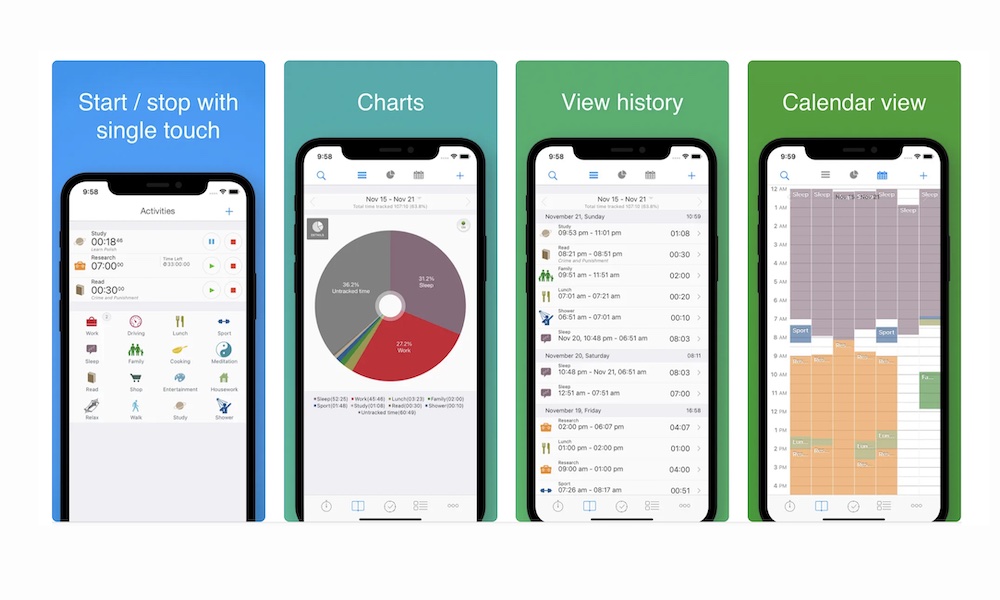 Have you ever wondered where your time goes every day? It seems that, no matter how many to-do lists you have, you never have enough time to tackle your big tasks.
That's where aTimeLogger comes in. This simple, easy-to-use app will let you track all your activities and understand how you're using your time.
All you need to do is create the activities you want or do on any given day and start tracking them every day, and aTimeLogger will take care of giving you an actual report of your time and the activities you do each day. You can see statistics and charts of the activities that take most of your time.
You can also create personal goals in case you feel you've been playing too many video games or just want to get more work done in a day.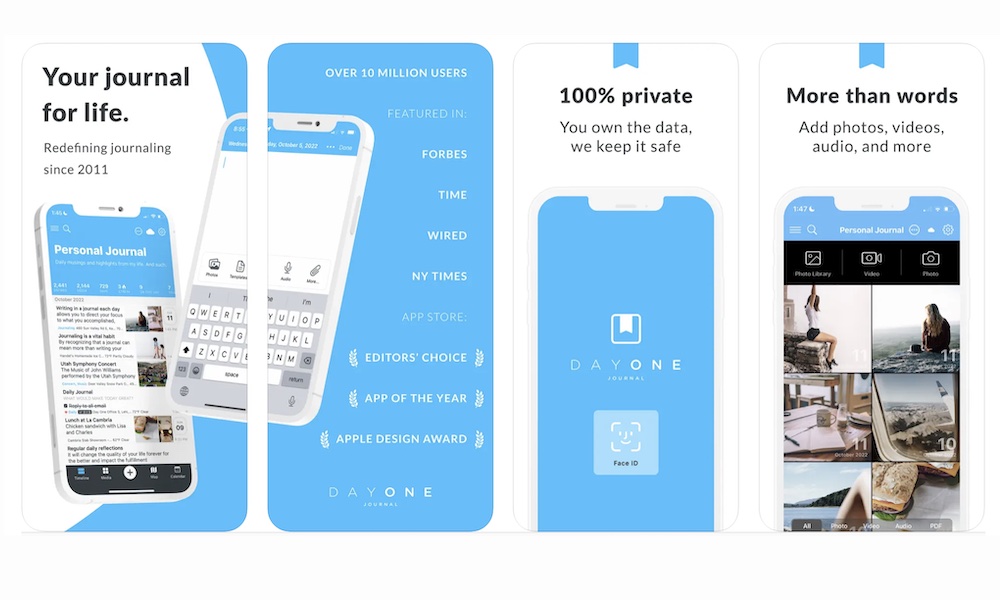 Keeping a diary can be a great way to stay on track with your goals and actually accomplish them.
Some people prefer to write in a physical journal, but if you're into helpful tech, then you'll love Day One Journal.
This simple journal can help you record all your life, whether you want to write about something that happened to you or you want to save your most precious memories of your last trip.
You can write entries, add photos or videos, or focus on different prompts if you aren't sure what you want to write about. Whether you're already a writer or just getting started, Diary has something for everyone.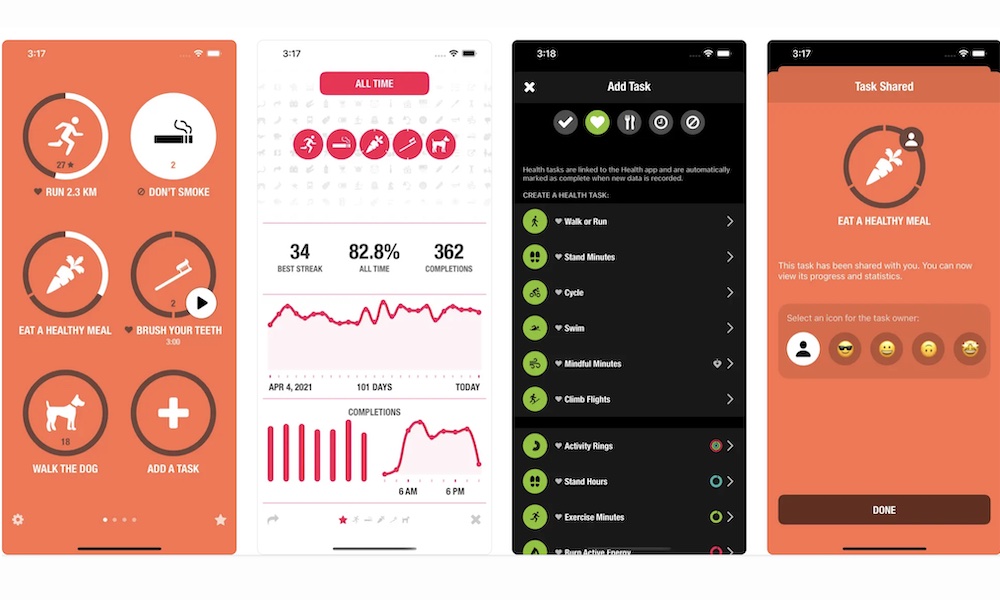 Streaks is the perfect app if you want to build or get rid of a habit. All you need to do is create a new habit you want to make or break and then start logging it every day.
For instance, if you want to start working out more, you can create that habit on Streaks and track how many times you work out daily. As you can expect, the goal is to create streaks and make them as long as possible.
And if you feel like quitting one day, you can take a look at your statistics inside the app to keep you motivated.
Overall, this app's premise is pretty simple – It can help you build better habits and become a better version of yourself.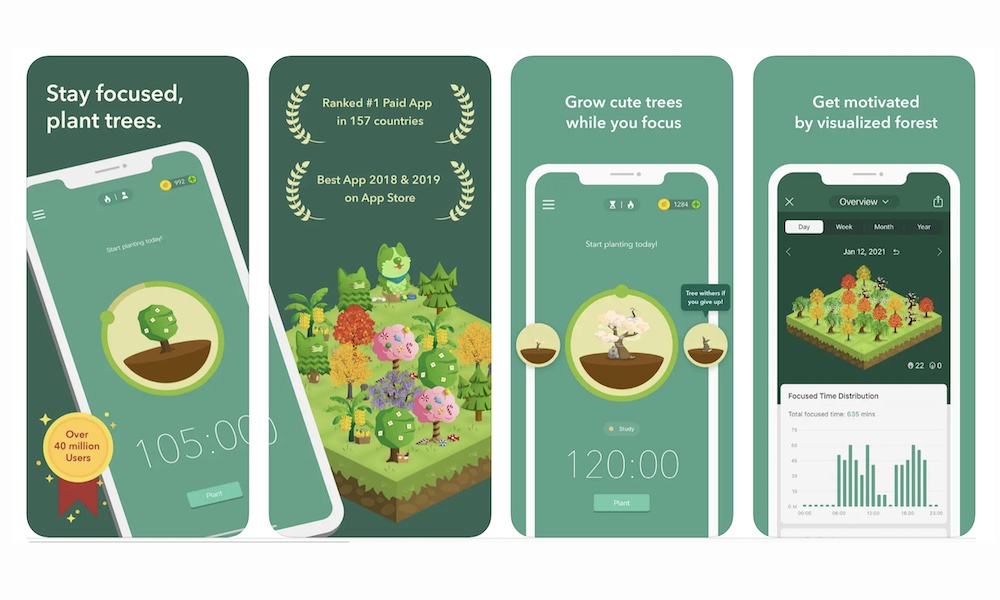 Forest is a unique app that helps you stay focused in a different way. When you use Forest, you can block your iPhone so you can't get distracted when you're supposed to be working.
Of course, you can always create a list of apps or actions you want to allow in case of an emergency.
On the surface, this might seem like any other productivity app, but Forest stands out because you'll create digital and real lives with your iPhone. When you start a task, you're basically "planting a seed" on your iPhone.
If you keep working on the task constantly, your seed will grow into a tree. On the other hand, if you stop working on your task, your tree will die.
But the best part is that the team behind Forest works with Trees for the Future, an organization that plants trees in the real world. And by purchasing and using the app, you'll help plant more trees too!
The app has helped plant over 1.5 million trees already, and you can help pump those numbers.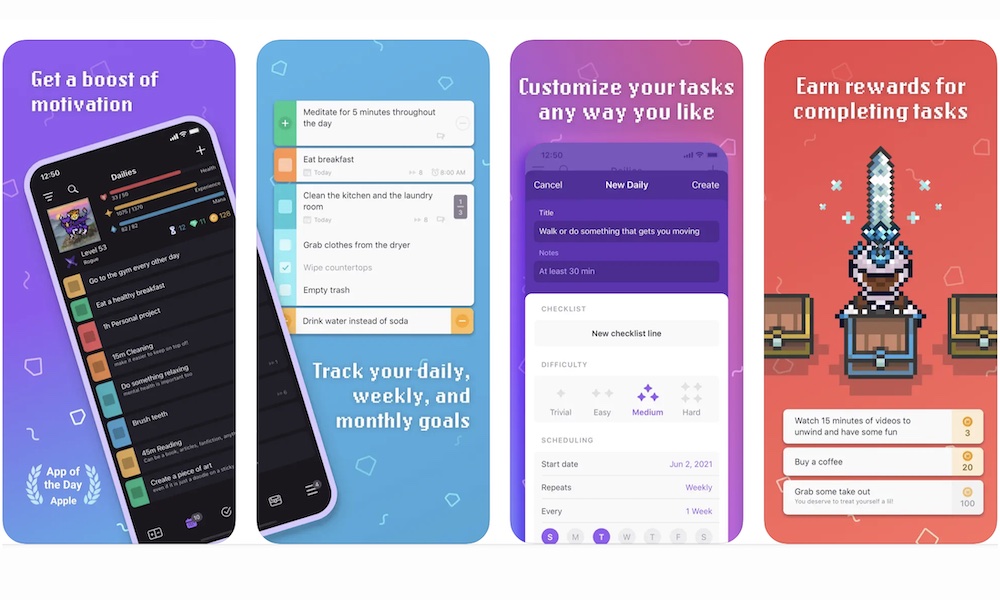 Habitica isn't like any other productivity tool, but it surely is a really fun app to use.
Just like with other apps, you can create the tasks or habits you want. But, instead of just working on them in real life, you can create your own Habitica avatar and play a real-life role-playing game on Habitica.
You'll create your own in-game character with your own abilities, equipment, and even pets. You can then join adventures with other people to fight evil. How do you fight? All you need to do is keep crushing your goals.
Habitica is definitely a unique concept, but if creating good habits sounds boring to you, this real-life RPG might help you change your mind.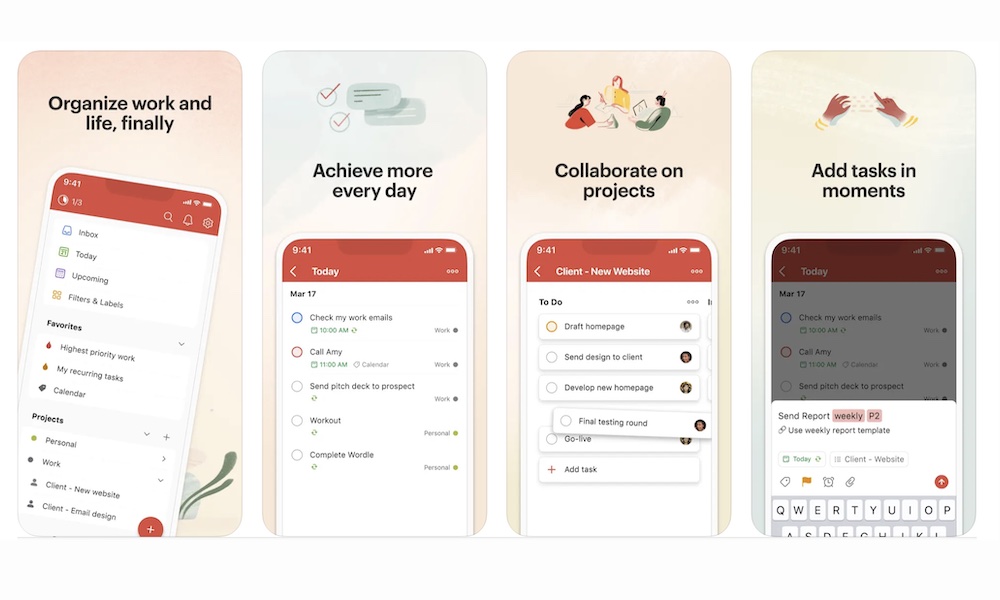 Todois is considered to be the quintessential to-do app. Whether you want to keep track of your daily activities or form better habits, Todoist has everything you need and then some.
At its core, Todoist works like any other to-do app. You create your tasks for the next day so you don't forget about them. However, Todoist is a bit smarter than that.
For instance, you can just use the app and write something like "Workout out every day at 7:00 a.m.," and Todoist will create the daily task without you going through all the trouble.
Not only that, but you can also link Todoist with other apps like your Gmail account, so you never miss a meeting again.
That's just the tip of the iceberg; Todoist is the swiss army knife of to-do lists, and if you're having trouble with what you need to get done, this app will definitely help you.
Stay on Track and Crush Your Goals
So, how are your new year's resolutions going? Don't worry; we're all struggling with them.
Keeping a habit or goal in mind can be pretty hard with everything else going on in our lives. Fortunately, you can use your iPhone as a productivity tool to get stuff done.
Whether you want to be as organized as Marie Kondo or you're looking to free up time, try these apps for getting things done better and faster.