Meta Announces Quest 3 Headset Release Just Ahead of Expected Apple AR/VR Headset Unveiling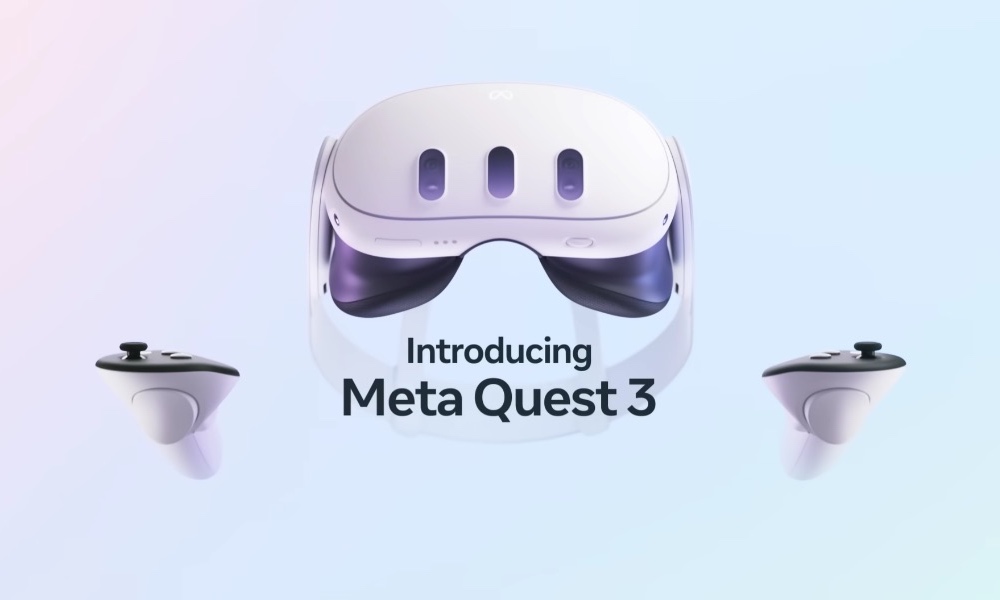 Meta has announced the Quest 3, its next-generation AR/VR headset. The announcement by Facebook's parent company comes just a few days ahead of the expected unveiling of Apple's AR/VR headset at the company's Worldwide Developers Conference (WWDC 2023) this coming Monday, June 5. Meta's Quest 3 will hit shelves later this year.
Meta says the new Quest 3 headset is 40% slimmer than the Quest 2 and will boast a more comfortable design. The new headset will feature a higher-resolution display with as much as twice the graphics performance of its predecessor, which first debuted in 2020.
The new Quest headset is also the first to be powered by a next-generation Snapdragon chipset, co-developed by Qualcomm Technologies.
The Quest 3 uses the TruTouch haptics feature that debuted alongside the Touch Pro and will help users "feel the action like never before." The Quest 3 is compatible with the Meta Quest Touch Pro Controllers. The headset will support hand tracking right out of the box, allowing the use of the headset without controllers. It's also expected to be backward-compatible with the Quest 2's lineup of 500+ VR games, apps, and experiences, along with several new VR and MR titles that will be ready when the new headset launches.
The Quest 3 is priced quite a bit cheaper than Apple's much-rumored AR/VR headset, which is expected to begin at around $3,000. By comparison, the Quest 3 headset will start at $500 for the 128GB storage model.
Meta will share more information about the Quest 3 headset during its Meta Connect event, to be held on September 27.
Quest 2 is also getting a price drop. As of June 4, the current model will fall once again to $300 for the 128GB model and $350 for the 256GB version.
Meta also has a software update in the works for the Quest 2 and Quest Pro GPU and CPU. The update should provide up to a 26% CPU performance increase, as well as an up to 19% GPU speed increase for the Quest 2 and 11% GPU boost for the Quest Pro. The update will also enable Dynamic Resolution Scaling for both models, which will allow games and apps to take advantage of increased pixel density while eliminating dropped frames.
The new Quest 3 headset sports an all-in-one design. This is in contrast to Apple's much-anticipated headset, which Bloomberg scribe Mark Gurman says will be powered by an external battery pack connected permanently with a cable. The powerline will sport a proprietary connector to attach to the headset magnetically, but Gurman notes it will be firmly connected so it doesn't disconnect while in motion. The round-tipped cable connector will lock into the port by rotating it.
Gurman last week shared a hands-on impression of the Quest 3, noting that he "came away impressed with the mixed-reality focus of the Quest 3, the much-improved video pass-through capabilities, the faster performance, and the large content library."