Apple Q3 2023: $81.8 Billion in Revenue, Net Profit of $19.9 billion
Apple announced its fiscal third quarter 2023 earnings on Thursday, covering the period from April 1 to June 30, 2023. During the quarter, Apple brought in revenue of $81.8 billion for a net profit of $19.9 billion, or $1.26 per diluted share. Those numbers are compared to $83.0 billion in revenue and $19.4 billion net quarterly profit, or $1.20 per diluted share, during the same quarter last year.
Apple's gross margin for the fiscal third quarter was 44.5%, compared to 43.3% in the year-ago quarter.
Apple's board of directors declared a cash dividend of $0.24 per share of Apple common stock, which is payable on August 17, 2023, to shareholders of record as of the close of business on August 14, 2023.
In the earnings press release, Apple CEO Tim Cook said Apple once again set an all-time Services revenue record during the quarter, driven by more than one billion paid subscriptions. Cook said the company also saw continued strength in emerging markets thanks to robust sales of the iPhone.
Apple CFO Luca Maestri added that during the June quarter, the Cupertino company "generated very strong operating cash flow of $26 billion, returned over $24 billion to our shareholders, and continued to invest in our long-term growth plans."
During Apple's third-quarter earnings call, Cook and Maestri shared various pieces of information about the company's sales, services, future plans, and more.
Vision Pro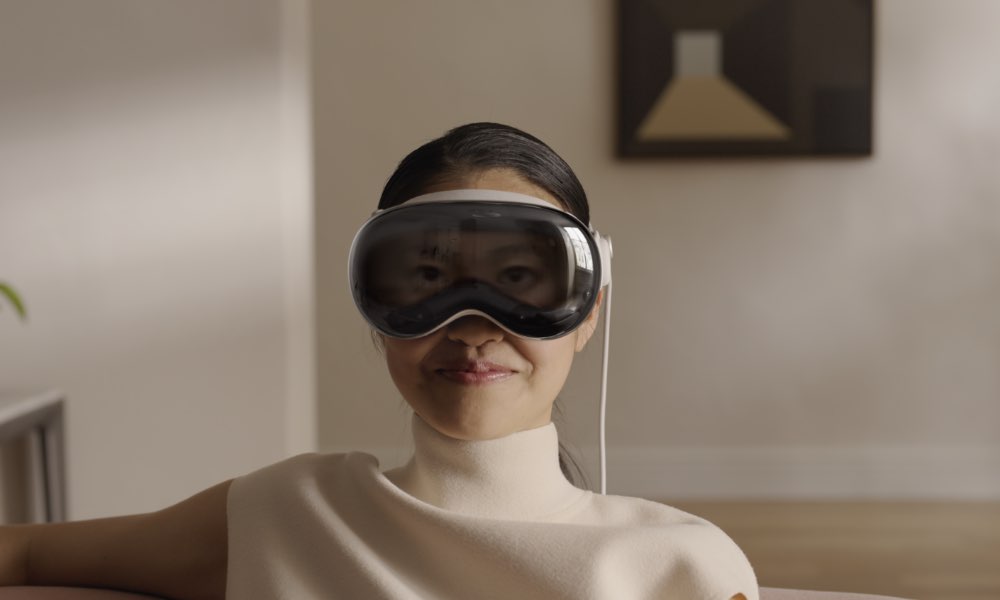 Cook didn't have much to say about Apple's Vision Pro AR/VR headset, saying only that Apple is "very excited" about the device. He also said that "Everyone who has gone through the demos has been blown away, we're looking forward to shipping it next year."
Artificial Intelligence
When asked about Apple's approach to Artificial Intelligence (AI), Cook replied that AI and machine learning are "core fundamental technologies integral to virtually every product" that Apple makes, which is the same well-rehearsed answer that Cook has provided when asked about that subject in the past.
Cook said AI is "absolutely critical" to Apple while also saying that Apple has been looking into AI and generative AI "for years." In an interview with Reuters following the call, the Apple chief executive also suggested that Apple's investments in AI are a big part of its $22.6 billion spending on research and development.
Cook added that Apple will work to "responsibly advance our products" with AI technologies and will continue to announce products as they are ready for market.
Services Revenue
Apple's all-time Services revenue record for the quarter was driven by over one billion paid subscriptions, with revenue of $21.2 billion, up from $19.6 billion for the same quarter last year. Subscriptions grew by 150 million over the past 12 months, more than doubling over the last three years.
Revenue records were set in AppleCare, iCloud, Apple TV+, and Apple Pay payments. The Cupertino firm also set June quarter revenue records for its App Store, Apple Music, and advertising revenue.
Mac, iPhone, and iPad
There was one sore spot in Apple's financials, as Mac, iPhone, and iPad revenue for the quarter dropped in all three categories. iPhone revenue was $39.7 billion, down from $40.7 billion in Q3 2022, while iPad revenue was $5.8 billion, down from $7.2 billion during that same period.
Mac revenue was $6.8 billion, down from $7.4 billion in the year-ago quarter. There was some good news for the Mac category, though, as nearly half of all Mac buyers during the fiscal third quarter were new to the platform.
Wearables, Home and Accessories
There was growth in the Wearables, Home, and Accessories category, which saw revenue of $8.3 billion, up from $8.1 billion a year ago. Two-thirds of Apple Watch purchases during the quarter were to new users.
Research & Development
Although Apple has already spent $22.6 billion in research and development this year, the company is slowing down its research and development investments. Apple CFO Luca Maestri said Apple is being more careful about controlling spending. Apple has slowed hiring and plans to continue to "manage deliberately."
September Quarter
Apple expects the September quarter's year-over-year performance will be similar to the June quarter, as long as the macro outlook doesn't worsen. iPhone and Services revenue is expected to be up quarter-to-quarter. However, Mac and iPad revenue is expected to drop by double digits.
Maestri said Apple is expecting a gross margin of 44% to 45% due to the company's strong product mix, cost savings, and Services.