6 Tips to Charge Your iPhone the Right Way
Scroll down to view all tips.
What if we told you that you've been charging your iPhone the wrong way all this time?
Fair enough, that might be a bit of an overstatement on our part. Still, there are better, and safer ways to charge your iPhone that you're probably not using.
Just by making a few changes to how you charge your iPhone, you can prevent your battery from aging too quickly. Of course, battery aging is completely normal as it happens naturally to batteries on all devices. Previously, we published an article on how to check your battery status on your iPhone.
With that said, by using some or all of these tips, you can make sure to keep your iPhone's battery as healthy as possible.
Scroll down to move to the next tip.
---
Use the Right Cable and Charger
The first thing you need to consider is the charger and cable to charge your iPhone.
If you're using a third-party charger or cable, make sure they are capable of charging your iPhone without any long-term issues. Unfortunately, modern iPhones don't come with a charging brick anymore, so you'll have to buy one yourself.
A good way to get started is to make sure that the chargers you search for are part of Apple's MFi program. MFi, or Made For iPhone, is a certification that Apple gives third-party manufacturers in order for customers to know these products are safe to use on iPhone.
Of course, that doesn't mean that any charger that's not MFi certified is automatically useless. You just have to be careful with what you choose. There are many ways to find the right charger for your iPhone, so make sure the charger you choose has the right wattage and safety specifications.
---
Optimize Your iPhone's Battery Charging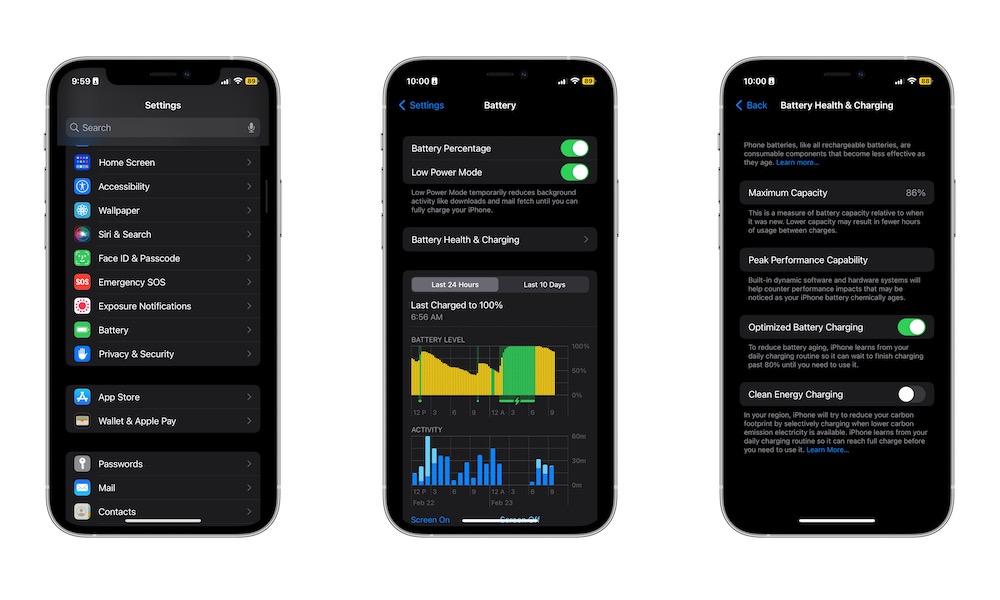 Apple has made the iPhone so smart it can even learn how you charge your iPhone and make adjustments based on that data.
Enter Optimized Battery Charging, a feature that makes your iPhone charge slower. When this feature is on, your iPhone will learn your daily charging patterns.
Then, with that information, your iPhone will charge at a slower pace after it reaches 80%. This prevents aging of your iPhone's battery while making sure you have enough charge to last you through the day.
By default, Optimized Battery Charging should be enabled, but you can turn it on or off yourself by doing this:
Open Settings.
Scroll down and tap Battery.
Tap Battery Health & Charging.
Toggle Optimized Battery Charging.
---
Use Clean Energy Charging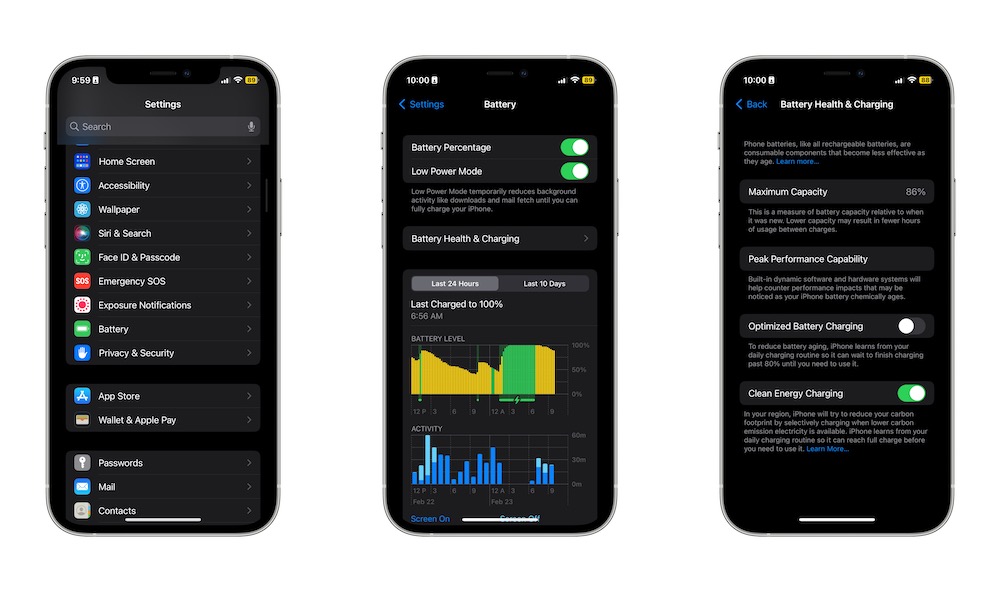 Clean Energy Charging is a feature that will help your iPhone and the environment.
With this feature, your iPhone will optimize to reduce your carbon footprint by charging when the lower emission electricity is available. Of course, this will depend on your location.
The best part is that your iPhone also learns your daily charging routine, so it'll also charge based on when it thinks you'll need a full charge. Here's how to start using this feature.
Open Settings.
Scroll down and select Battery.
Select Battery & Charging.
Turn on Clean Energy Charging.
---
Don't Charge Your iPhone in Extreme Temperatures
Charging your iPhone in extreme temperatures can be detrimental to your battery. Extreme heat and/or cold are not your friends when it comes to battery preservation.
Apple recommends charging your iPhone (as well as other Apple devices) when the temperature is between 0º and 35º C (32º to 95º F). If the temperature is too cold, your iPhone will stop charging until the temperature goes back to normal.
Similarly, if it's too hot, your iPhone will shut off and notify you with an alert. Wait until the temperature drops to re-start charging your iPhone.
---
Don't Use Your iPhone While It's Charging
Not using your iPhone while it's charging can be hard. But if you want your battery to stay healthier over time, avoid intensive tasks like video games while charging. The best solution is to stop using your iPhone when charging it.
---
Avoid Running Out of Battery
Modern lithium-ion batteries have a number of cycles before they start aging or completely die. Needless to say, the more circles your battery has left, the healthier it is overall.
Many of us agree that running out of battery on your iPhone will damage your battery in the long run because it reduces the number of cycles your battery has left. It's recommended that you start charging your iPhone once the battery is at 30% or 20%. The more you let your battery drain, the more it will have long term effects on its health.
Of course, it's easier said than done. Your battery won't instantly age if you let that happen once or twice, but you shouldn't make it a routine.
If you've let your iPhone run out of battery, you can check the overall battery health by going to Settings > Battery > Battery & Changing and checking the Maximum Capacity. The lower the percentage, the worse your battery capacity, and you should consider changing batteries.
Happy iPhone, Happy Life
We don't think about it that much, but the battery is one of the most important parts of any electronic device.
Keep these tips in mind next time you charge your iPhone, and consider talking to Apple support if your battery's in bad shape already.