7 Excellent VPNs That Allow Your iPhone to Access Any Content Anywhere
It's commonly known that iOS is one of the most secure operating systems available. While that's true to some extent, that doesn't mean it's unhackable.
There are still many ways for cyber attackers, companies, and scammers to get a hold of your private information online, and one of the easiest ways to expose yourself is simply by browsing the web.
That's right, thanks to third-party trackers, shady websites can get a hold of your exact location with your IP address and other sensitive private information.
That's where Virtual Private Network (VPN) services come in. A VPN helps hide your IP address and secures your data behind a digital wall, so it's harder to get any information from you.
VPNs are also an easy way to access content from any library in the world. Some streaming services, for example, don't offer the same movies and shows in every country; using a VPN can make them think you're connecting from a different location, giving you access to a whole new world of content.
While there are so many VPN services available, not all of them work the same. Consider these seven VPNs if you're looking for premium protection.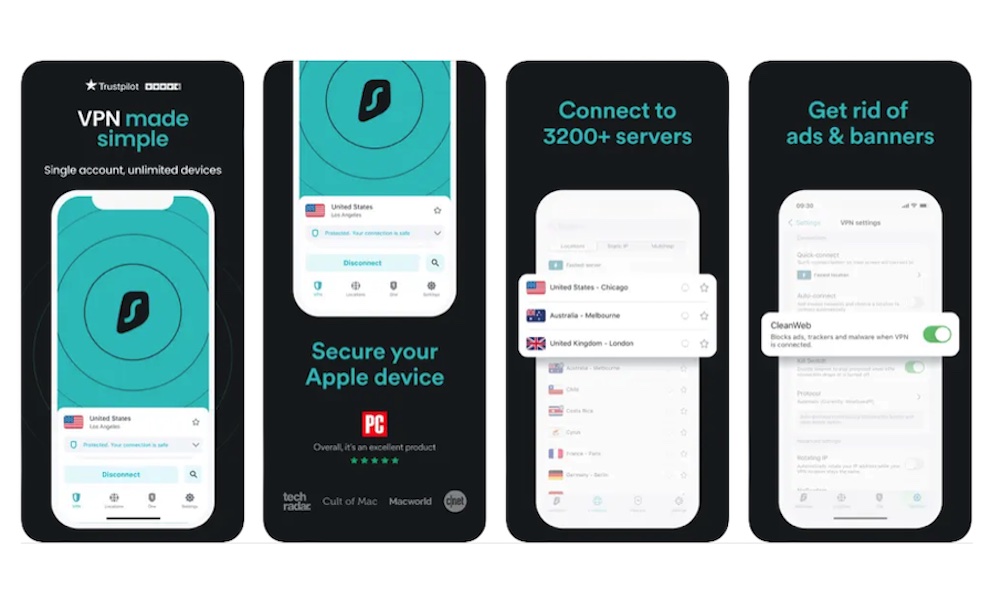 Surfshark is one of the most popular VPN service out there, and it's perfect if you have a lot of devices available.
At its core, Surfshark is a simple and effective VPN. You can connect to one of its 3,200 servers located in 100 different locations and browse the web safely. It also comes with a Kill Switch feature to disconnect your devices automatically in case of an issue and a CleanWeb feature that you can use to stop looking at banners or ads.
But where this VPN shines is in its capacity and connection peed. Unlike other VPN services that have a limited number of devices you can connect with, Surfshark lets you use its services on an unlimited number of devices without any extra fees. If you're part of a big family, this might be the best option for you. The speed of data transfer is impressive as well.
FastestVPN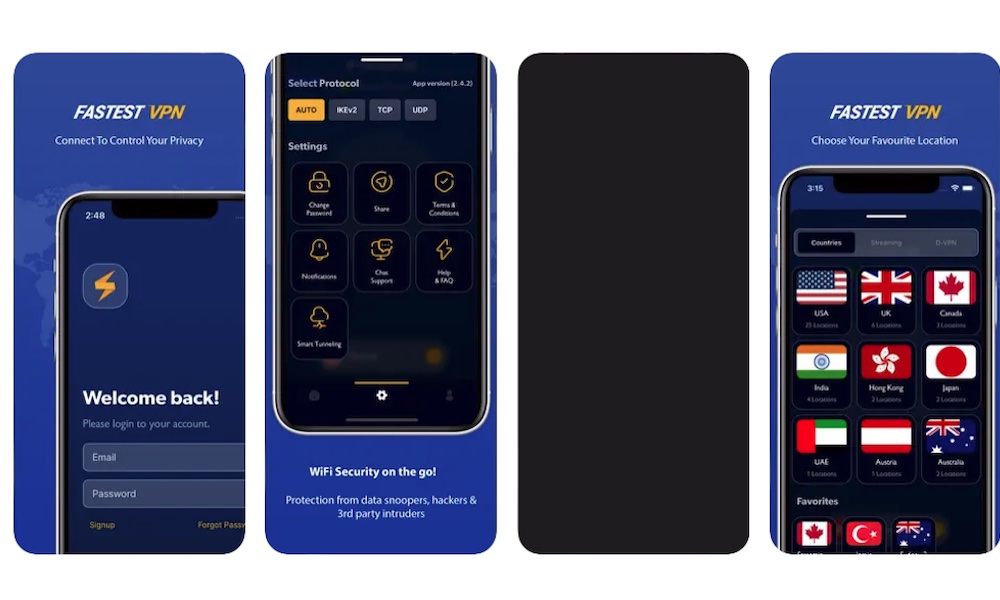 As you can guess by its name, FastestVPN is a really fast and secure VPN service. It has servers in over 30 countries, and you can connect up to 10 different devices at once.
While FastestsVPN might not be the most popular option on the list, it still has everything that makes other VPNs great and then some.
For instance, you get a DNS leak protection feature. Usually, DNS sends your requests outside the VPN, and someone might use this to get a hold of your IP address. But FastestVPN uses its own built-in DNS, so you don't have to face those issues.
It also comes with an instant Kill Switch feature to disconnect you in case of emergency and an Adblocker to browse the web without interruptions.
Norton Secure VPN
Norton is one of the most popular security apps in the world — and for a good reason. Not only does the company provide a secure and reliable antivirus, but Norton also has a powerful VPN you can use on your iPhone.
You can use Norton Secure VPN on up to five different devices at once. Each device will get complete protection against malware, ransomware, and many other online attacks. You can also use this VPN to control how your kids use it, thanks to its parental controls available.
Overall Norton Secure VPN offers a wide number of servers across the whole world, so you can connect anywhere you want and protect yourself. Moreover, you can also browse the web safely thanks to its ad-tracker blocker.
Windscribe VPN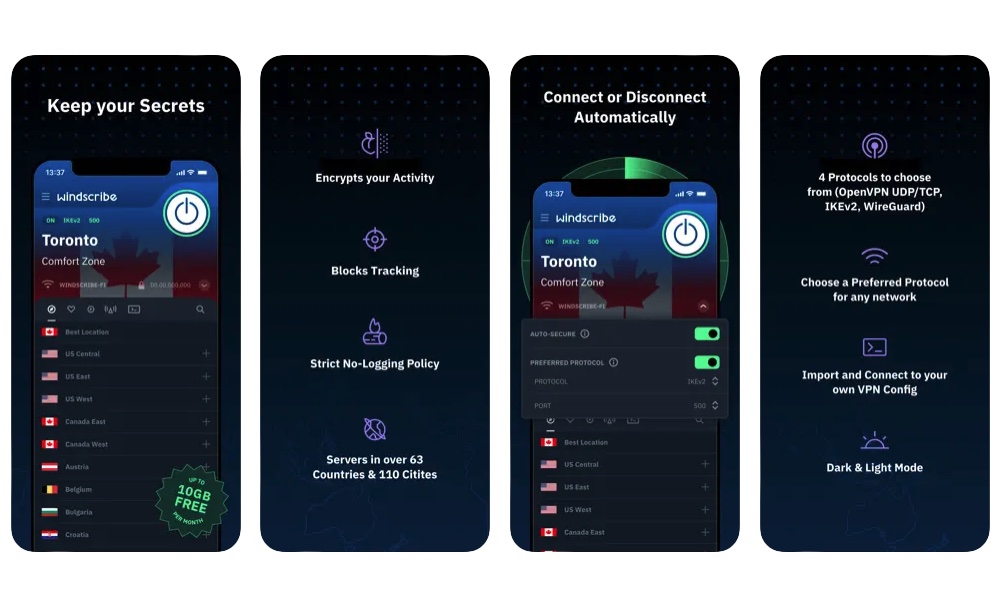 Windscribe is the perfect VPN for people on a budget. Not only will you get to browse the web safely, but you'll also be able to use an ad-blocker to get rid of those pesky ads.
If that isn't enough, it also has a tracker blocker. That means no third-party companies will be able to track your online activity while you visit any website.
This VPN has servers in 60 different countries, but the best part is that you can use it for free. Unlike many different virtual private networks, Windscribe gives you up to 10GB of bandwidth you can use for free every month. Whether you're looking for a great deal or just want to try a VPN before you buy, Windscribe is a solid choice.
NordVPN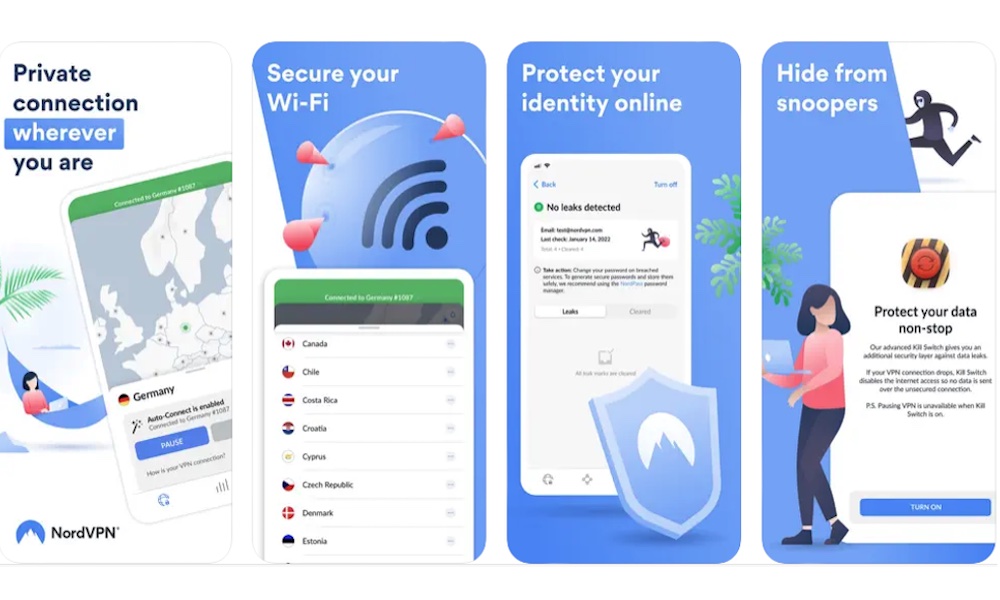 Another name you're probably familiar with is NordVPN. With 5,200 services in a total of 60 countries, NordVPN is one of the most popular and secure virtual private networks in the market.
With NordVPN, you can protect up to six devices simultaneously. While that may not sound like much, you can actually connect your router to NordVPN and protect your whole home instantly.
It also comes with handy features like Quick Connect, which lets you connect to your VPN in just one click, and a Kill Switch, which will automatically shut down your connection if NordVPN can't connect properly.
However, where NordVPN really shines is its connection speeds. Some VPN services will slow down your internet connection in order to protect you. NordVPN, on the other hand, will keep your connection fast and reliable, which is perfect for gamers or people who stream content.
McAfee VPN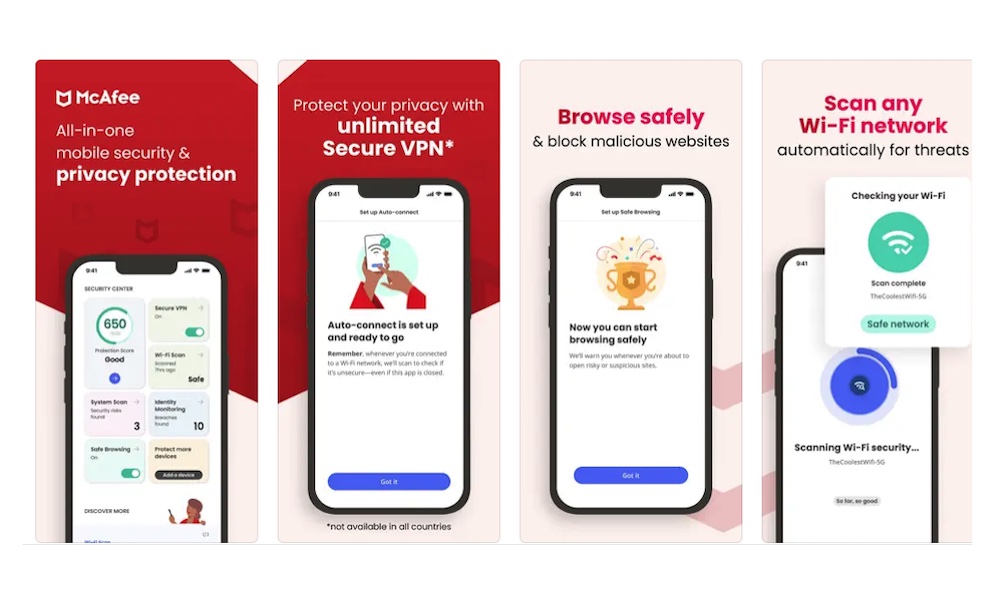 You're probably familiar with the McAfee antivirus, but the company also offers a VPN service that's just as secure.
For starters, McAfee VPN features bank-grade encryption that'll help you browse the web as safely as possible. It also comes with a feature called Identity Protection that you can use to monitor up to 10 different email addresses, ID numbers, passports, and even credit card information. McAfee will scan the world wide web for your personal data and notify you if it ever finds any data breach you need to know about.
Lastly, its Wi-Fi scanner will let you know if the internet connection you're using is unreliable. You can use all these features and more on up to five devices at once.
ExpressVPN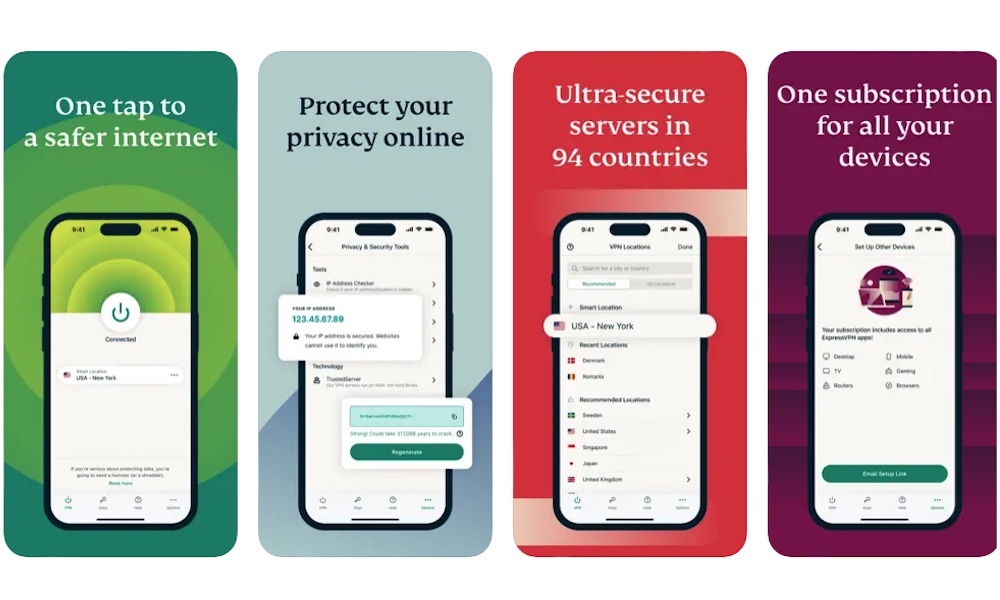 ExpressVPN is one of the most popular options on the list, and it's part of a really fast and secure network you can use on your iPhone or any other device.
Not only does it protect your online activity from any online trackers and cyber attacks, but it also comes with a pretty useful password manager. On top of being able to save your passwords, you can also safely store other private information like your personal notes and your credit card details.
The app is also available in 17 different languages, which is something not every VPN offers. If you have family members who don't like using English, this might be a good choice for them.
Keep Your Data Safe
There's only so much your iPhone can do on its own. If you really want to protect yourself or just want to watch content from other regions, getting a fast and reliable VPN service is the best option.
While most options on the list require you to subscribe to a service, you can try their free trials and make the most of the app before you commit to a subscription.
We may earn a commission from affiliate links. Continue Below.