Apple One
What better subscription service than one that gives you all of Apple's subscription services for one monthly price?
Apple created Apple One as a bundle for all its offerings. Granted, Apple One isn't necessarily budget-friendly, but it's far less expensive than paying for each of Apple's subscription services separately.
The basic Apple One Individual plan costs $16.95 per month, and gives you access to iCloud+ with 50GB of cloud storage, Apple Music, Apple TV+, and Apple Arcade. Even though this is an "individual" plan, that only applies to Apple Music; all of the services can be shared with up to five other members of your family.
However, if you go for the Apple One Family plan for $22.95 per month, you'll get access to the same services as the individual plan, plus the ability to share Apple Music with your family and a more family-friendly 200GB bucket of cloud storage.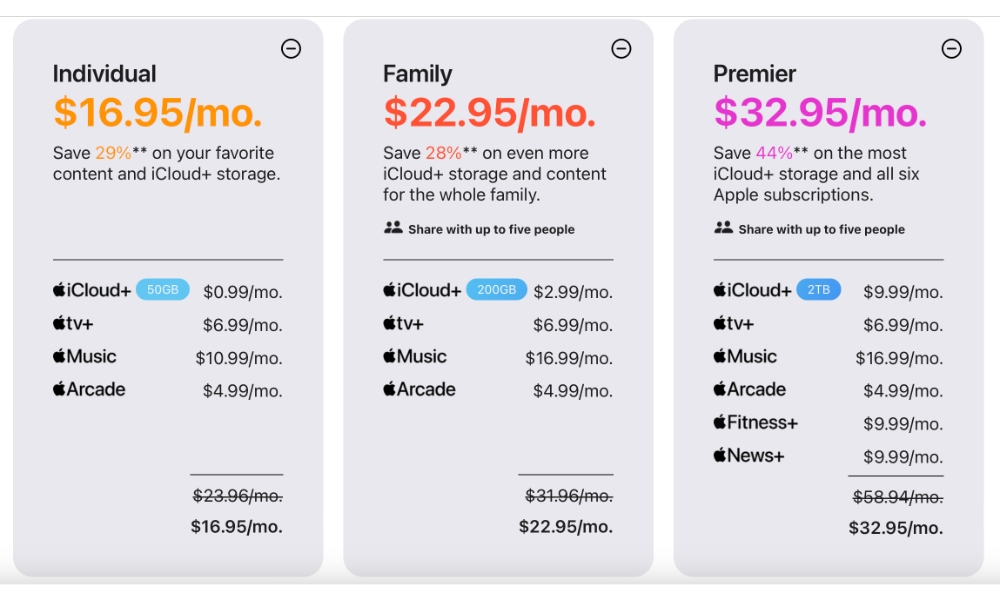 Last but not least, if you want access to all of Apple's services, you can go for the $32.95 Apple One Premier plan. You'll get access to the same services as the other two plans, plus Apple Fitness+, Apple News+ (where available), and a whopping 2TB of cloud storage. Of course, you can also share this with up to five other family members. Just keep in mind that Apple News+ is only available in Australia, Canada, the UK, and the US, so Apple One Premier plans in other countries don't include it, and have slightly lower prices to reflect that.
If you're already a subscriber to many of Apple's subscription services, then Apple One is a no-brainer and is the best bang for your buck.